The GreenWorks 24252 G-Max Cordless Blower is one of the most powerful tools, designed to clean leaves, sand, grass clippings and other debris from hard surfaces. It is also an excellent replacement for your electric or gas powered blower and leaves no carbon footprint, so it's good for you and the environment.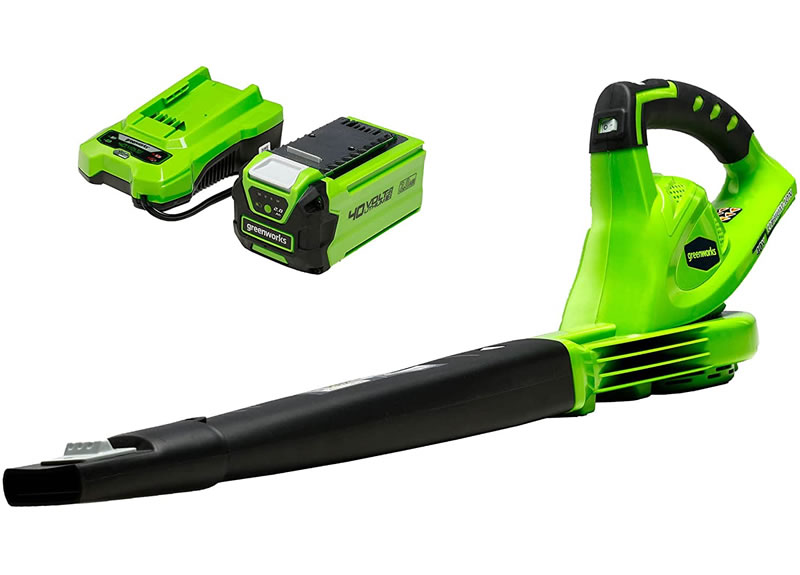 All of which makes it tops in its field and number one on our list of must-have tools. In this article, we'll describe in detail the features and benefits of owning this model so you can be sure you're making an informed buying decision.
Types of Blowers
You may be asking: "do I need a blower?" Well, if you own a home and have a yard or lots of trees, odds are you do. A blower is also known as a"fan" in many industries, and they are quite similar. Both are mechanical devices used for the circulation of air, but blowers have a specific purpose, using focused air to eliminate dirt and debris. The most common types are as follows:
Corded models are typically well designed for one-handed use and zero exhaust emissions. No-hassle push-button when starting but the power cord may limit your mobility. Consider a corded electric blower where a power outlet is within few feet to the work area.
Cordless-Electric Blowers
Cordless models are lightweight and very easy to maneuver; these models are gaining popularity from people who don't like to be tethered to a power cord. They are rechargeable and work for some minutes. They don't have any range limit.
You do need to pull a cord to start the engine. Gas-powered blowers are the most capable models packing more sweeping and loosening capabilities in a single go-round. They require mixing fuel and oil, and those with four-stroke engines do clean and weigh more than two-stroke engines.
Features Of The Greenworks 24252 G-Max Cordless Blower
Many love the convenience of a cordless blower because it gives them the unrestricted access to any outdoor area. Below, we'll explain some features that make this pair of blower special: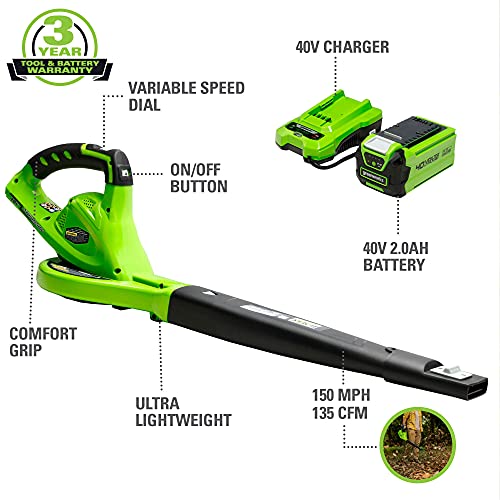 The 24252 belong to the category of small cleanup blowers, meant to be used on harder surfaces. The ergonomics are perfect, well balanced and comfortable to use even with just one hand.
The 40V G-MAX lithium-ion battery provides more power and longer run time depending on the selected speed. The charge time is about 1 hour and is enough to give you 35 minutes of quality run-time. The batteries are interchangeable if you own any of the other GreenWorks 40V G-MAX tools such as string trimmer, hedge trimmer, chainsaw, mower, and much more.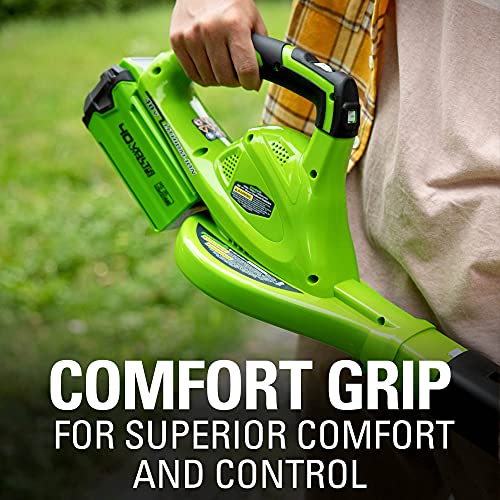 Bulky one-piece blower tubes are hard to control, which means they take longer to get the job done than the GreenWorks 24252 blower that features two-piece blower tube. It is easy to control the tube while you sweep and gathers debris. The operation is far more efficient.
The low blower settings let you clean up dry leaves without kicking up too much dust, while the 150 mph wind speed clears even wet leaves from stubborn areas.
You can count on consistent performance year after year, without having to continually repair or replace broken components due to the GreenWorks 24252 blower durable design. The material and build quality seem above average, and the assembly is quick and easy.
The Greenworks blower 24252 is electric powered, so there is no oil and gas mess or worry about getting the right mixture for optimal performance. You won't blow out your eardrums or wake up the whole neighborhood every time you do yard work because the blower doesn't run on a loud gas engine.
GreenWorks 24252 Similar Product/Close Competitor
The GreenWorks 24252 G-MAX 40 Volt 150 MPH Variable Speed Cordless Blower is one of the best blowers because of their advanced and unique features that give users exactly what they have been asking for when compare to it competitor blower like BLACK+DECKER LSW221 20V MAX Lithium Cordless Sweeper. The GreenWorks 24252 feature 40V 2 AH Lithium-Ion when compare to the 20V MAX Lithium it close competitor features.
The variable speed dial offers up to 150 MPH while the competitor has airspeed up to 130 MPH. The noise levels are low, so your neighbors can sleep comfortably without hearing a whirring sound coming in from your place. The GreenWorks 24252 G-Max Variable Speed Cordless Blower price is just right, although it is a high price product. They have an excellent value for money irrespective of your usage.
Frequently Asked Questions:
Q. Does it come with the charger?
A. It depends on the option you choose. It may come with or without it.
Q. Does this blower have speed setting?
A. Yes, it has a variable speed switch.
Q. How long does it take to charge the battery fully?
A. It will be fully charged in one hour.
Amazon Customer Reviews
There are excellent customer reviews for the GreenWorks 24252. Many customers report outstanding performance from the sweeper while using. According to a customer, the fully charged battery lasts for as long as twenty minutes.
Another customer says that the best leaf blower is easy to handle due to its lightweight and stores easily without any issues. A few customers' complaints cropped up in Amazon reviews but had to do with expectations. The GreenWorks 24252 is apparently a very decent purchase, and a great addition to your appliance shed.
Final words
Buying a quality blower at a reasonable price can be challenging if you know nothing about its features and benefits. We recommend purchasing the GreenWorks 24252 G-Max Cordless Blower if you need a lightweight blower for cleaning and don't want to mess with an electric cord and prolonged maintenance on an inefficient tool that consume more of your time.
It's an excellent choice for you and so easy to get started, just charge the battery before uses and store the blower in a neat and secure area after use.