There's little that you can eat that's as tasty as barbecue. It's also hard to imagine a better way to spend a summer holiday or steamy summer night. Lay outside with your friends and enjoy the grill, putting even sear marks on your meat without having to worry about lighting charcoal or waiting on it to get to temperature.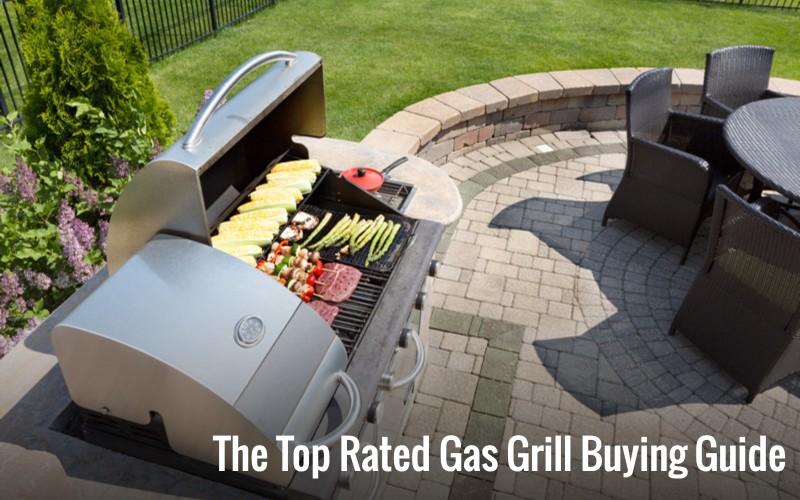 Gas Grills are far more reliable than charcoal grills, and they are often cheaper too. There are a lot of different options to choose from (and while we haven't physically tested out every grill option out there) we've compiled a list of the top rated gas grills as well as a "gas grill guide" that ensures that you know what to look for when you're making a purchase.
It's about time you had help making a decision on which grill you should choose?
Whether you're a novice or a professional, you've got some tough decisions to make. Every manufacturer offers a different feature that you might not have considered. Because there are so many "official barbecue professionals, we decided to compile all of the most common features that people look for, as well as the features that we think are the best. We'll also cover some features that are a complete waste of your hard earned money.
After that, we'll explain some of the many benefits of gas grills over charcoal grills, and present you with a few tough choices to help you make the best decision that you can make. We'll also cover some of our favorite models and explain how you can pick the grill for your needs. Hopefully, by the end of the article, you'll understand more about what makes a quality gas grill.
Ask yourself the following questions:
Q. How many people are you cooking for, and what do you plan on cooking?
A. Gas grills are great for cooking food slowly, roasting, and cooking vegetables as well as meat.
Q. What features are most important to you?
Q. How often are you going to be grilling? If you're only grilling occasionally, why not get a more affordable gas grill?
How do I know if I should Choose Charcoal or Gas Grills?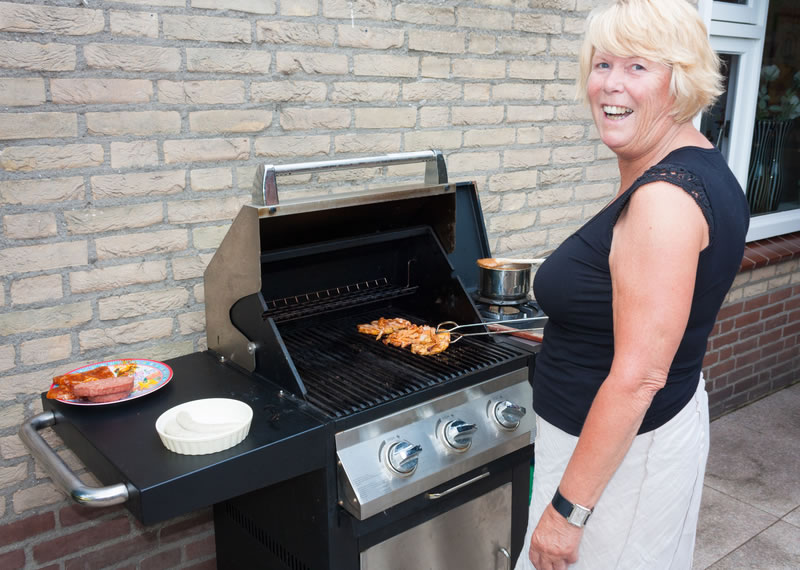 The biggest thing that people consider when they think of charcoal grills is the excellent smoky, mesquite flavor that grills provide. Charcoal is a real pain, however:
If your charcoal isn't completely dry, you're not going to be able to get it to start and use it.
You have to clean out your charcoal grill of refuse, ash, and charcoal that hasn't been burned every time you want to grill.
Another huge aspect of charcoal grilling is waiting for briquettes to get ready, but if you miss the sweet spot, you might not have enough heat to finish grilling (and have an angry family on your hands).
In many cases, the costs of charcoal and propane are pretty equal.
On the other hand, gas grills are incredibly convenient, because all you have to do is head outside, switch on the grill, and turn on your burners. While charcoal doesn't gets a lot hotter than gas grills do, it usually doesn't matter, because charcoal regularly overcooks or under-cooks your meat. You really don't have to compromise a lot, unless you're a serious, competitive griller. For the average family, gas grills are often the most economical.
Best Gas Grills Review 2020 – Time for BBQ this summer
To help you make the best decision possible, we've compiled a list of five of the top rated gas grills: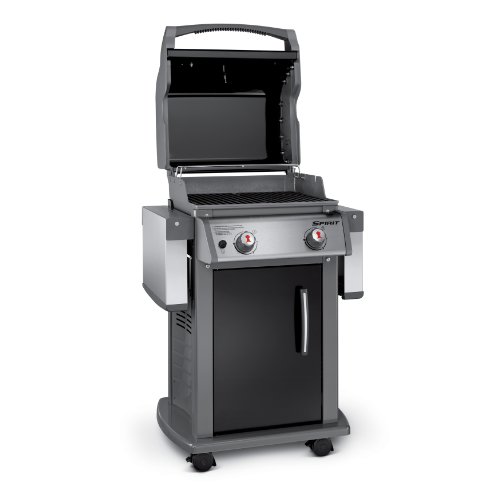 What can we say, if you're going to buy a grill, you might as well go with one of the most trusted brands in the industry. The Weber Spirit E210 has all of the features you need at a premium price, including:
Plenty of space to cook on
Extra burners to get your food finished fast
Has one of the best warranties on parts
It's built like a tank and has an excellent propane gauge
>> Read other Customer Reviews and check the Price Here. <<
When you're looking for a grill that you won't have to replace, this is the best one. It's built to last, has handy side tables, and is compact. It's also built with high quality porcelain-enameled steel. This grill is small enough for apartments, but powerful enough for large families.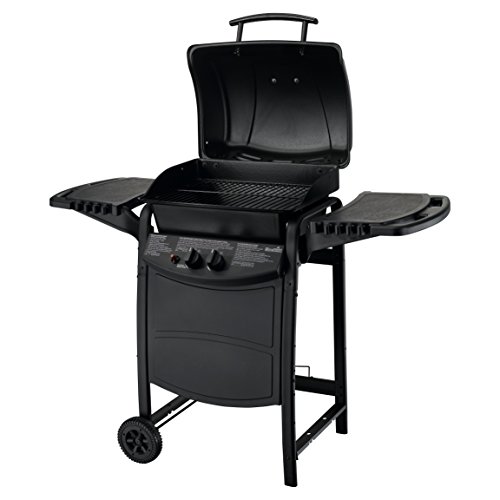 For only $100, this Char-Broil model is a winner. It's got 26,500 BTU over 280 square inches, on porcelain coated wire grates. Additionally, it has two solid plastic shelves and a
durable porcelain firebox
giving you value for your money. Plus it's a Char-Broil, which means that you can trust that it's going to start every time you push the ignition.
Our favorite features of this model are:
It's portable, yet powerful
It's aggressively priced for people who might not be able to afford more robust models
You can even get this Char-Broil model delivered to your door completely assembled, for a small fee- but the process is more streamlined than you'd think- so we suggest holding on to the extra money. It's designed to withstand the elements, and will look great on your deck or patio.
It's very affordable and doing the job right. Why wait?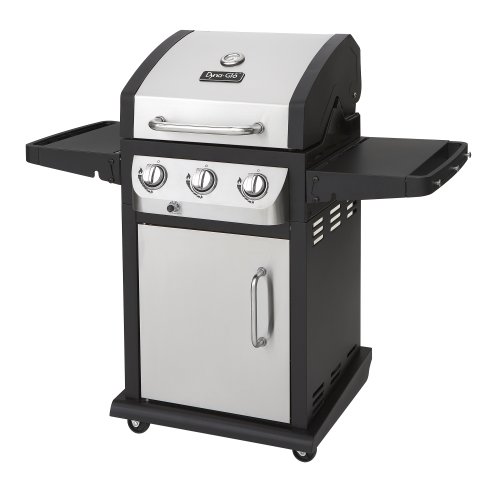 The Dyna-Glow considers itself "the next step for a serious griller" and at about $250, it's definitely a stepping stone between better models. Our biggest issues with this model are that it has a lot of unnecessary features that we warn against, like the stainless steel exterior and built-in thermometer. However, it does have several redeeming qualities:
36,000 BTU in three burners – More power to heat things up
503 square inches of cooking space
Compact side tables that free up space for storage
Commercial-grade stainless steel gives you long-lasting burn quality that protects the flavor of your meat
We wouldn't say that "great grillers have a Dyna-Glow," but we would say that it's a good option when you consider a few erroneous features that could seriously improve the price.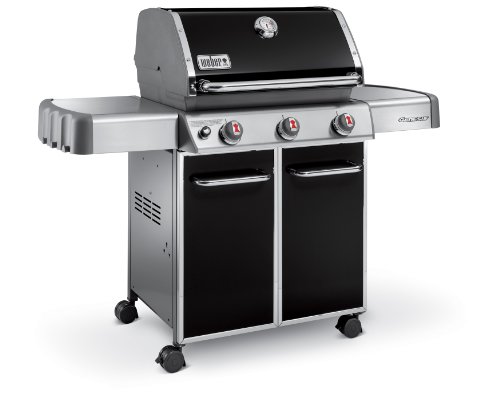 If you're looking for all the bells and whistles, the Genesis E-310 appeals to those
who want the flashiest grills
that make their neighbors drool. On the other hand, these models are generally more than most people would want to spend (around $700), it has the largest space of all the models listed here, more
sophisticated tank replacement features
, and an electronic ignition system that lasts practically forever.
Plus, it's insanely rugged and built to last. Remember however, it provides the same amount of BTU and actual cooking space as the less expensive Spirit E-210 with an identical warranty.
This models are large and cumbersome. Many people who live in apartments or condos probably wouldn't be interested in these premium gas grills, but they appear as if they'd be a joy to grill on.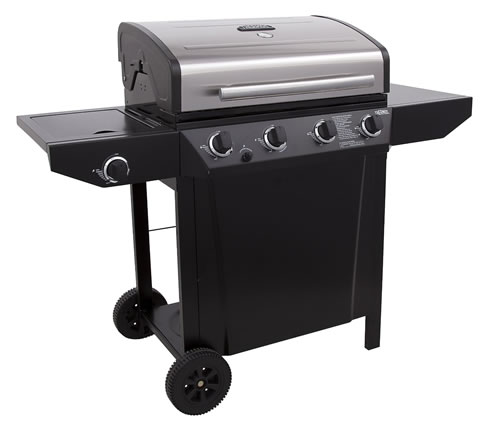 We love the Thermos because it delivers an unprecedented 48,000 BTU over 480 square inches, giving you the crusting on your meat surfaces that you crave. It's got a ton of "secondary cooking space" with 208 square inches of porcelain-coated swing-away grates. We also
love the price under$200
(which is cheaper than the Dyna-Glow, but provides more power and an extra burner).
This model really highlights the importance of getting what's important in a grill rather than what's flashy or shiny.
Unfortunately, several reviewers complained of rust- which means it might need to be maintained more than other models. The grates, according to reviewers were the first to go, but the parts are cheap for the price!
How to pick the Top Rated Gas Grill: Features to Look For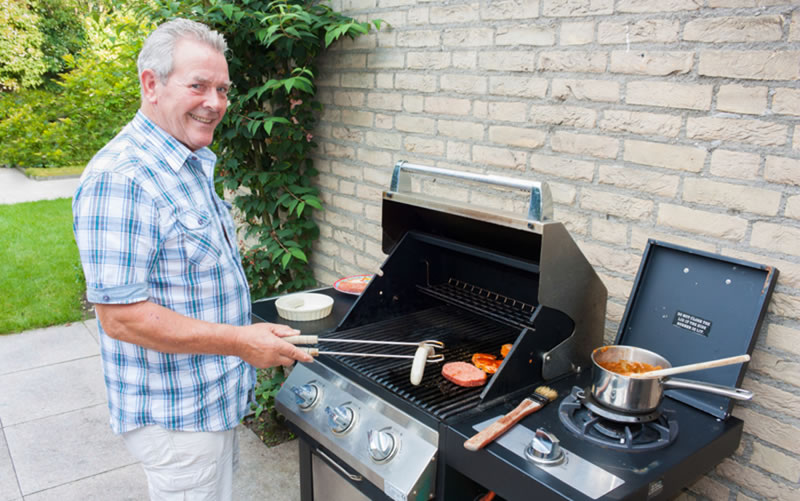 Your grill should have a minimum of two burners. If it has only one burner, don't buy it. More burners is usually better. Plus you're going to want to have different heating zones to choose from, especially if you're cooking different kinds of meats or vegetables.
The burner arrangement depends a lot on the model, but more often than not, linear burners that run from front to back (rather than side to side) are the best to accommodate for different food choices that need a better controlled heat source. Better grills have more burners (and they're more versatile) but the price tags are usually higher.
You should always allow about a 100 square inches of grill space per individual. For example, when you're cooking for a family of four, you should have at least 400 square inches of heat to make sure that you have enough space to move things around and have more space to manage your temperatures.
There are three distinct classes of burner: aluminum, steel, and porcelain. The differences aren't immediately obvious either. Aluminum burners heat up the fastest, but corrode fast and don't stand up well to food. Steel burners last longer, but take longer to heat up and don't hold heat well. Porcelain grates are the most expensive, but the offer the best heat transfer, as well as longevity and durability.
Solid warranties make for the best purchase options, but you have to be willing to read the fine print. Often, burners and internal parts get two year warranties while exterior parts get 5-10. Other warranties try to sell owners parts at a "reduced cost," but usually only if you bought them at a physical store.
Features, features, features. Some options offer pull out tables to help you prepare food, and others even have tabletop burners to help you keep pans hot, extra shelf-storage, spots to place griddles (we suggest grilling your next breakfast) or toasting racks to keep buns warm. These features can really jack up the ending price, and they often cost a lot, needing small amounts of regular maintenance.
Newer, robust options have a special section that lets users sear meat directly on the grill. These burners make your grills more like a charcoal grill, but they require a lot of maintenance and upkeep.
Many models can make sure that you have a close estimation of how much fuel you have to use before you actively start grilling. This ensures that you can get finished without running out of fuel and having to finish your cooking inside. They can offer estimates at increments like "half storage", "third storage," and "quarter storage."
Here are some features that you should avoid spending extra money on:
You really don't need built-in thermometers. When they're included, they're either in poor locations (like the top of the grill), or made of low-quality materials, usually the cheapest metals they can get their hands on. In these situations, thermometers can mistake the actual temperature in a grill by as much as a 100 degrees or get stuck in position.
All you really need is a digital thermometer and a probe that you can put next to the meat, so you know the real heat that you're dealing with.
Stainless steel exteriors are expensive and unnecessary. This is because stainless steel is thin and makes a poor insulator. Additionally, it discolors when exposed to high heat (like that of a grill), which completely negates your purchase. Unless you want to spend all of your time cleaning finger prints off of your grill, we'd advise getting a dark color, preferably solid plastic that's easy to maintain.
After you install, but before you grill: How to clean and condition a new gas grill
The best way to make the most out of your investment is by cleaning and maintaining it. To maintain it, you're going to need to get out your scrub brush and put in some elbow grease. Before you cook, light all of your grill's burners, leaving them on the highest setting for 15 minutes. This lets you scour the burnt material from the surface of the grill.
Next, clean the outside, wiping the burners down with glass cleaner and microfiber cloths. This applies to side tables too- make sure they're disinfected.
Finally, clean the inside of the grill. Remove the grates and clean them off, as well as the cooking grates, heat vents, bars, and grease traps. Use a stainless steel brush to completely remove all grease and debris from the grill.
Making the Big Purchase
When you decide what you want, consider what you've learned in this report. Think about the features you need, how often you grill, and how big your family is. Think about your favorite foods, and how great they'll taste grilled. Imagine just stepping outside, starting your grill, and getting cooking. Imagine all the family time you'll have without waiting around on coals to get hot.
Summer just got a whole lot more delicious, didn't it?

[rwp-review id="0″]