Gardening can be a very relaxing and rewarding hobby. It's exciting watching your plants grow, flower and fruit as you tend to them and nurture them with time and love. But if you're new to gardening, it can be a bit overwhelming. You first visit to your local garden center or hardware store can throw you into confusion with all the gardening tools and accessories available.
But not to worry, we're here to help with our Ultimate Garden Tools Guide. We'll help you figure out the type of gardener you are, which garden tools you need, and why, so you can create the garden of your dreams and give it 2 "green" thumbs up!
What Kind Of Gardener Are You?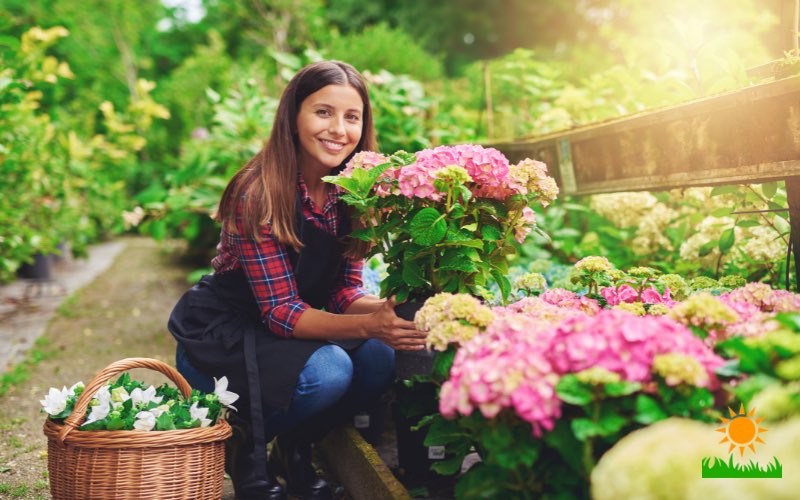 There are as many different types of gardeners and gardens as there are plants to grow so first let's work out what kind of gardener you are.
This will depend on the space you have available and how much time you have to tend to your garden. Here is a list of the most common types of gardeners:
If you live in an apartment and only have a small balcony or patio as your outdoor area then you'll most likely be doing your gardening in containers. Don't let that discourage you; you'll be amazed, at the variety of plants you can grow just in pots. Containers lend themselves to growing all sorts of things, like herbs, vegetables and of course flowers. Consider growing strawberries in hanging pots and various types of herbs in pots that you can attach to your balcony railing.
Plus if you do have limited space you might want to take advantage of vertical gardening by using hanging pots and planters you can attach to a wall.
If you have the space for a couple of large pots you could even have a lemon or lime tree, which are small, or dwarf size. In fact there are many dwarf varieties of fruit trees available now especially for gardeners with limited space.
Many people with a small back or front yard grow their own vegetables. This can be immensely rewarding as you can go out and pick some vegetables for your dinner table which will taste fresh and delicious.
Vegetables need fairly good soil though and of course regular feeding, so if you don't have a good patch of ground available, you may want to consider growing your produce in raised garden beds. These have become increasingly popular over the last 10 years or so because they don't take up a lot of space but allow you to control the type of growing medium that you use.
The roots of most vegetables, because they're annuals, don't tend to go too deep, so you can set up a raised garden bed almost anywhere, including a concreted or gravelled area. Just make sure you fill the bed with good compost and you can happily grow a huge variety of vegetables to feed your family and even your neighbors.
The Lawn And Shrub Gardener
If you live on a normal suburban block and have children and pets, you're most likely have a lawn to care for and probably some trees and shrubs to keep trimmed. You may also have some garden beds with flowers and maybe a backyard vegetable patch.
Your lawn needs to be mowed regularly and you most probably like order in your garden. Your shrubs need to be neatly trimmed and your garden beds will be edged and tidy. With this type of gardening, you can choose a variety of plants and vegetables to grow and can really experiment.
Cottage gardeners love flowers and have them everywhere. Whether it be rose bushes, flowering bulbs, annuals and of course masses of flowering perennials. Cottage gardens generally don't have any lawn area as every patch of your garden is devoted to flower beds, usually bordered by a path consisting of pavers, stones or gravel meandering around the entire garden.
The type of gardener you are will determine what types of garden tools you'll need. Let's look at each garden type individually and discuss the necessary tools that each gardener will need.
The Ultimate Garden Tools Buying Guide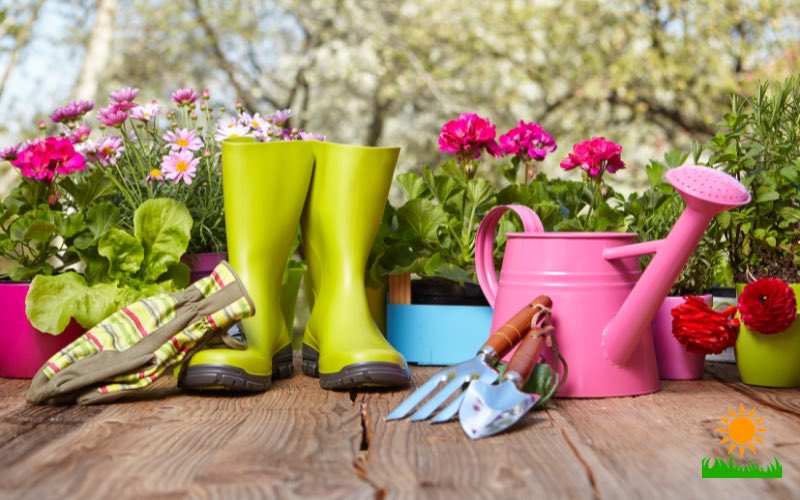 To make buying what you need as simple as possible, I've broken up the tools you'll need and why based on the type of gardener you are or intend to be. Let's take a look at what you should buy:
Tools For Container Gardeners
Assorted pots
Hangers
Fertilizer and Potting mix
Trowels
Watering can
Pruners
If you're growing in containers, the first thing you'll need are pots to grow in, of varying shapes and sizes. Self-watering pots are absolutely ideal as they have a water reservoir on the bottom and won't dry out as quickly as normal pots. You'll also want some hanging planters as this helps to use up as much available space as possible. Strawberries and herbs grow really well in hanging planters.
as possible. Strawberries and herbs grow really well in hanging planters.
If you have a balcony you can also get special planters which can clip over the railing and these are also perfect for herbs and flowers. With a collection of different pots you'll be able to grow a wide variety of plants and create a lovely green oasis on your balcony or patio.
Make sure you get yourself a good quality trowel as you'll need this for planting and filling your pots. Some good quality potting mix is also essential. In fact, try and buy the best quality you can afford so your plants will be healthy. Also, if you work long hours or go away frequently, you may want to get some water saving crystals to incorporate into the potting mix to help your pots retain water better.
And speaking of water, you'll also need a watering can. Potted plants tend to dry out much faster than plants growing in the ground so they need regular watering, definitely on a daily basis in the summer months. If you choose not to have self watering pots make sure you get some saucers for your pots to retain the water run off.
You'll also need a quality pair of pruners. These will allow you keep your plants trimmed and to cut off any dead foliage. Regular pruning keeps your plants healthy and growing well.
Some slow release fertilizer is also essential, as nutrients will leach out of the potting mix each time you water your pots and need to be replenished.
Finally, if you're growing plants like tomatoes, you'll also need some stakes to stop them falling over and maybe a small trellis you can use in longer rectangular planters if you want to grow climbing plants like beans or peas.
Tools For Vegetable Gardeners
Garden Beds
Compost
Tiller or Broad Fork
Manure
If you've opted to grow in raised garden beds, you'll first need to set up your beds. You can either construct these yourself from timber or Besser blocks or you can purchase kits which just need assembling.
Once you've assembled your beds you'll need some good quality compost to fill them so you can start planting. Bear in mind that the compost will settle over time so this will need replenishing after each crop.
If you're planning to turn a part of your garden into a vegetable patch, on the other hand, then you'll need a broad fork or a tiller to first break up the soil as vegetables do much better with loose, un-compacted soil. While you're doing this remember to incorporate some manure into the soil as vegetables are heavy feeders.
Here's a selection of must-have tools whether you're growing in raised beds or your garden soil:
Shovel – for digging in the manure and turning over the soil.
Rake – to smooth out the surface of your patch and remove any large clumps. You can also use the handle of the rake to mark out rows for planting seeds and then to backfill once they're planted.
Hoe or hand weeding tool – you'll want to keep your vegetable patch weed free during the growing season, so having the right tool to remove weeds along with their roots is essential.
Garden Fork – very useful for loosening up the soil and incorporating compost into your garden soil.
Watering system – unless you live in an area with regular rainfall, you'll want to rig up some sort of watering system as vegetables like a good supply of moisture. You could just hand water with a hose, however you need to ensure to adequately water the roots of your plants. A drip system is a much more convenient way to keep your vegetable garden watered though and it's not difficult to set up.
Trellis and plant support stakes – this will be for supporting climbing plants such as beans and peas and fast growers like tomatoes. To save on space you can also grow fruiting crops like cucumbers and squash up a trellis as long as you provide support for the growing fruit.
Tools For Lawn And Shrub Gardeners
The first tool you need is a good lawn mower to keep your grass neat and trim. The current trend is toward cordless lithium-ion mowers as they're more eco-friendly and quiet to run. There's a large variety available now and your choice will depend on the size of your yard.
Next, you'll need a tool to keep the edges between your lawn and your garden beds, trimmed such as an edge or line trimmer. You can get manual edge trimmers but to make the job quicker you could easily invest in a powered trimmer. Depending on the amount of trimming you need to do, you can get an electric corded trimmer, a gas trimmer, or the preferred choice of most gardeners, a cordless lithium-ion battery trimmer. You can even get battery trimmers which can use the same battery as your cordless lawn mower.
In addition, you'll need some tools to keep your shrubs neat and tidy. Here's a collection of recommended trimming tools:
Pruners or secateurs – we strongly recommend that you invest in a really good pair of pruners, as you'll be using them frequently;  if looked after correctly, a good pair will last you for many years. Brands like Felco and Fiskar are excellent quality.
Hedge trimmer – these are great for quickly trimming bushes and especially useful if you're looking for that formal look. Once again, you can get manual hedge trimmers or make your work quicker with a powered one. These are also available as corded electric trimmers, gas powered, or battery powered and will make light work of heavy pruning.
Long handled loppers – for thicker branches you'll need a good pair of loppers; those with extendable or telescopic handles will make it easier to reach higher branches. Manual ones are great especially if you invest in a ratchet type as they make cutting through thicker branches a breeze. You can also get gas powered or battery powered ones.
Pruning saw – this is necessary for really thick branches and can be purchased as a manual saw or a powered one.
Leaf rake – essential for raking up autumn leaves and fallen branches from your lawn and path ways.
Weeding tool or hoe – to weed your garden beds.
Blower or good yard broom – to clean your paths and driveway after you've finished mowing and edging.
Tools For The Cottage Gardener
Here's our selection of recommended tools for cottage gardeners.
Pruner or secateurs – essential for removing dead foliage and pruning rose bushes. Never prune your roses with a hedge trimmer as this will produce unsightly dieback. Rose branches need to always be pruned to an emerging bud to encourage lots of new growth and flowering.
Garden snips – these are for dead heading flowers so that your plants will produce more blooms and also great for harvesting herbs.
Hoe or manual weeding tool – to easily remove weeds in your flower beds.
Spade – for digging larger planting holes and removing plants you no longer want or need to replace. A spade is also useful for digging up clumping plants like agapanthus and to cut through the tubers so that you can replant them in different areas.
Trowel – for smaller planting holes and to plant bulbs. You can also get a special bulb planting tool which has depth measurements on it so you can easily plant your bulbs at the correct depth.
Gardening Must-Haves For All Gardeners
No matter what kind of gardener you are, the following items should be on your list of essentials:
Gardening gloves – to keep your hands and nails clean and to protect them from insects and thorns.
A compost bin – no matter what size of your garden you have, you can get a compost bin to suit it. Put your vegetable scraps, lawn clippings, dead leaves and other garden waste to good use by producing a nourishing, rich compost to feed your plants. Try to avoid putting invasive weeds in your compost bin, however, unless you know that it will get hot enough to kill the weed seeds.
A garden cart – these come in different sizes to suit any style of garden and are invaluable for transporting your garden tools, compost, clippings and mulch around the garden. You can even get carts with special storage attachments to hold your tools.
Knee pads or a kneeling cushion – makes kneeling down in your garden much more comfortable. If you find kneeling difficult, however, you can get a small, low stool instead so you can sit while doing your weeding and planting.
A garden sprayer or small spray bottle – to mix up pesticides or herbicides to help control the unavoidable pest and weeds that are likely to visit your garden. If you like the idea of being eco-friendly there are now many organic products available or you can make up your own.
Gardening is a rewarding hobby for anyone, whether you have a sprawling yard or just a balcony or patio. It allows you to spend time outside and rewards you with fresh vegetables, herbs, and gorgeous flowers. We hope that our list of essential gardening tools has made it easier for you to get an idea of what you need to make your gardening adventure easier.
Armed with the correct tools you'll be gardening like a professional in no time.