Summer is here!  Are you ready for your first barbecue of the year? There are people in Minnesota that barbecue in January so there's really no set time to start, but when you smell the aroma from your neighbor's grill, you know it's time to get yours going too. And to make sure you avoid any grilling disasters, you'll need the Char-Broil Performance 475 4-Burner Cart Grill. It will make barbecuing a success because it is the grill you can count on to perform, with features that bring all the convenience of indoor cooking outside!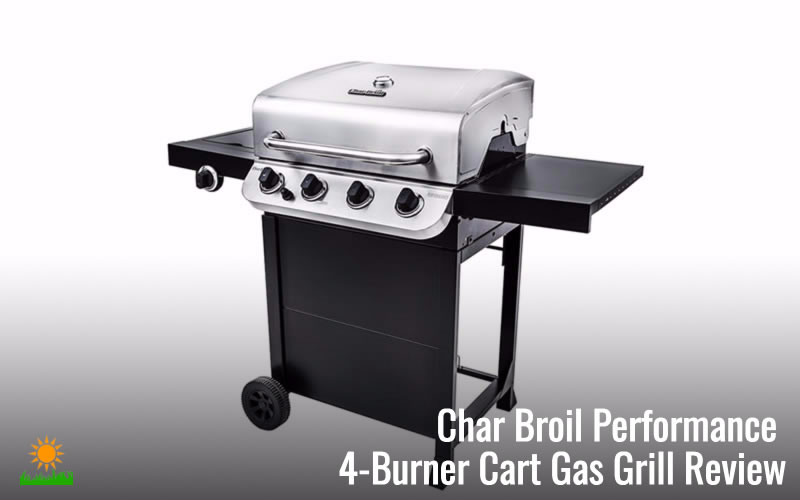 Grilling History and Basics
Outdoor cooking has been around since cavemen, but the first backyard grill didn't make its appearance until after WWII. Consisting of a shallow metal pan with legs, it wasn't very functional, as food wouldn't cook all the way through before it was burned. Which, let's face it, still happens today of you don't know what you're doing. Thankfully, that issue was soon resolved with the debut of the Weber grill, by George Stephen Sr., in 1952.  He took a metal buoy, cut it in half and put legs on it resulting in food that cooked all the way through without burning. From there, propane and then electric grills made their way to our homes.
The beauty of grilled, or barbecued food, is that it is healthy, yet packed with flavor. A barbecue will seal in juices and seasonings while letting fat drip off, for food that is succulent and good for you. And it lets you prepare meats, fish, and vegetables in a variety of ways, from smoking to steaming. There are three types of grills for cooking—charcoal, gas, or electric; the type you choose will depend on your tastes and they types of meals you want to make.  Having a barbecue or "BBQ" is also a great way to share good times with your friends, neighbors, and family.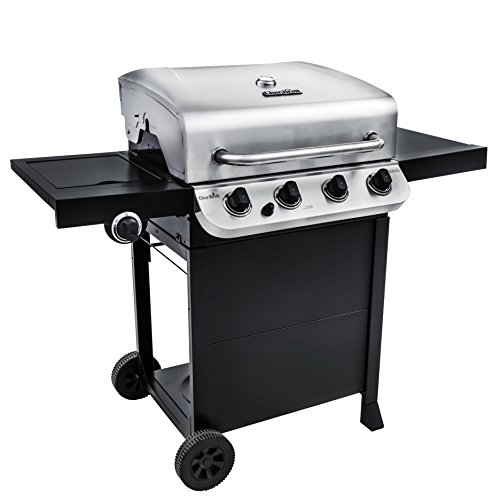 One of the basic benefits about the Char-Broil Grill is that it's a gas grill, so you don't have to worry about all the smoke that charcoal grilling causes. Listed below are a few other great features and benefits.
The dual surface is just what you need and is easy to use. You can either grill or cook with the four burners and keep the heat even by just closing the lid. The four durable metal burners emit flames from the top to make sure the food is evenly cooked and have stainless steel heat tents to protect them from dripping juices.
A key feature of the Char-Broil Performance  Grill is the 36,000-BTUs that will cook up a storm on the 475 square inches.  That gives you plenty of room to grill different types of food and it's enough room for you to cook 20 burgers at a time. You'll be able to control the heat of each of the four burners with the four knobs on the front panel.
What's even more beneficial is the 175 additional square inches of the secondary area of a side burner that is 10,000-BTUs to use for warming up sauces or side dishes to go with your grilled items. It is hidden under a cover on the left side of the cart and when the cover is down, you can use it for a workspace.
A is that the cooking grates are porcelain-coated cast iron, which makes them resistant to rust. The porcelain coating makes cleaning them as easy as wiping them off with soap and water; No scrubbing for hours trying to get them like new. The grease pan is porcelain coated as well, so you can wash and wipe it quickly.  It also has a stainless steel lid, handle, and control panel for the burners that add durability, as well as a bit of style. It's one of the best Gas Grills.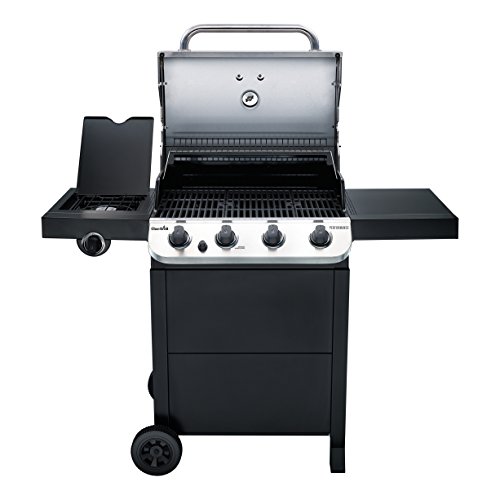 This grill is packed with extras to make outdoor cooking convenient and simple. The cart is made of sleek, black, rust-resistant metal with a stainless steel cover that is attractive and sturdy. The quality material makes it a solid investment and ensures you will get years of performance out of it. Another perk that comes with this grill is that you won't need matches to start the fire since the electronic igniter gets it turned on with just the push of a button.
As for actually barbecuing, you never need to worry about burning food thanks to the temperature gauge that is mounted on the lid. It lets you preheat and monitor your food without ever lifting the lid, keeping heat in.  In addition, you have a side shelf for putting cooking accessories, grilling tools, or to use for extra work-space. This gives you a clean, steady surface to prep and rest your utensils. And if that wasn't enough,  there is also a swing-a-way warming rack that swings back when you open the grill, to keep food ready until it's time to eat.
Finally, there is a heavy-duty grill cover that you can buy separately to protect your grill made of 300D polyester with durable PVC coating and straps to keep it secured. So, in bad weather, your grill will stay dry and won't move or topple.
Pros and Cons of the Char-Broil Performance 475 4-Burner Grill
The Char-Broil Performance 475 has several customer reviews and here are the most common pros and cons of them:
Pros
Very nice for the price – lower than others with more features and less complications.
Food turned out fabulously – meat turns out perfect every time and veggies were just right; There was no issues with charring or ruining foodfs, even for beginners.
Quality porcelain grill – it's easy to clean up, doesn't break easily and allows for nice grill marks.
Removable grease pan – collects fat and other drippings without spilling and is simple to wash and clean.
Assembling was easy – thanks to well-written instructions, set-up is quick and frustration-free.
Cons
Cooking with the hood open will cut down the heat a lot; but thanks to the temperature gauge you can easily avoid this issue.
Assembling took over an hour; However, once it's set-up you are ready to go.
Comparison TheChar-Broil Performance 475 Grill Vs. The Thermos 480 4-Burner Gas Gill
The Thermos 480 4-Burner Gas Grill with Side Burner is very similar to the Char-Broil Performance 475 except that the Thermos has higher BTUs (48,000) and five more inches of primary cooking space; However, the Char-Broil's total measurement is a few inches more so it has more working space than the Thermos.
And while the Char-Broil is about eight pounds heavier than the Thermos, that weight comes from the grade A steel, making it more durable and lasting.  They both have the same extra features and the prices are about the same, so I give the edge to the Char-Broil thanks to it's superior construction.
Q and A
Question: Could you cook a beer can chicken on it? What is the height from the grill to the lid?
Answer: Yes, it should work. The height between the grill grate and lid is 8 inches.
Question: Does it take propane? If so, does it come with it?
Answer: It takes propane gas but no tank comes with it but you can buy them at any type of store that sells camping gear, gardening or hardware supply.
Question: Can I set it up for natural gas?
Answer: No, but the Char-Broil Signature Series grills can be used with natural with the purchase of a gas conversion kit.
Question:  Does the ignition use batteries?
Answer:  Yes, and it comes with one.
Recipe Ideas for Grill
My husband is a coke fanatic and this is his favorite grilling recipe. You can serve these ribs with your favorite side dishes. I like to make potato salad, baked beans and corn on the cob to serve to my family in the backyard around the grill at my home as we watch one of the many awesome sunsets in the mountains of Arizona on a beautiful summer's eve.
Coke & Molasses Baby Back Ribs
Ingredients:
4 – 5 pounds pork baby back ribs
1 bottle of 2-liter cola
1/2 teaspoon salt
1/2 teaspoon garlic powder
1/2 teaspoon onion powder
1 teaspoon Paprika
Pepper to taste
Sauce (Prepare while grilling):
1/2 cup plain or honey BBQ sauce or ketchup
1/4 cup honey
1/4 cup molasses
1 tablespoon spicy mustard
Hot sauce to taste
Instructions:
Place ribs in a gallon-size zip-lock bag and pour cola over ribs. Zip bag shut and turn bag over a few times to make sure all ribs are coated. Refrigerate overnight for 8 hours. Discard cola and drain ribs on paper towels. Combine seasonings and rub over ribs. Prepare grill for indirect heat and insert drip pan.
Place ribs over pan and grill covered using medium indirect heat for 1 hour or until tender, turn occasionally. Brush sauce over ribs and grill covered using medium heat for 10-20 minutes longer turning occasionally until browned. Serve left over sauce with your meal of finger-licking yummy ribs!
Summary of Reviews
For those who hate to put things together, you can ask the place buy it from to have it assembled for a few more dollars. Several customers were pleased with the Char-Broil Performance 475 and what they got for such a good price. Almost every review said how evenly cooked and great tasting the food comes off this grill.
Many liked how easy it was to clean the porcelain-coated grill and that having a grease pan that caught the grease from the meat made it even easier. One man mentioned how his wife never wanted to cook on a grill before but after seeing how easy this one was to clean, she wanted to cook every dinner on it.
Remember the saying, "Early bird gets the worm." It applies to shopping for a grill too! Early Spring is the time for grill discounts so if you don't want to go all over town looking for a good deal on a grill right before Memorial Day weekend, take advantage of the spring sales online and order the best grill for the best price—the Char-Broil Performance 475 4-Burner Cart Grill!

[rwp-review id="0″]