Once the weather starts to warm up, there's nothing better than cooking and eating outdoors. Whether it's with the family or if you're having a few friends over, a Weber portable grilling cart will make your outdoor entertaining much easier and certainly, a lot more fun.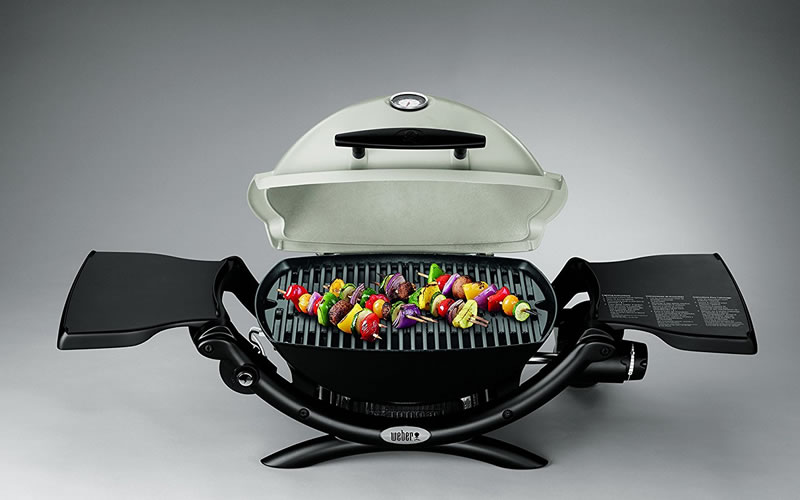 There's no limit to what you can prepare and cook thanks to its versatility. From simple steaks and sausages to tender and juicy roasts, complete with jacket potatoes, grilled tomatoes, and corn, the possibilities are endless. Compatible with many Weber grills and a few other brands, it is the ultimate cooking accessory, as you'll see in my review.
What is A Grilling Station?
Basically, a grilling station, or cart, is a device that allows you to transport your grill from place to place, as well as give you a way to prep and cook your foods. It has an area for your grill to slide into, side shelves for slicing and dicing, and wheels to take your grill wherever you want to go.
The beauty about these stations is that they allow you to take a standard, stationary barbecue and transform it into the ultimate backyard, beach or camping grill. Sturdy and secure, they allow you to enjoy tasty, smoky foods any time of the year.
The front-loading design lets you slide your grill into place and lock it so it's safe and secure. And if that wasn't enough, there's  an indicator on the legs of the cart which shows you when the grill is locked in. So you can rest easy knowing that your Weber won't move around once it's in place. It also has a convenient one-push button to easily fold or unfold it, with or without the grill.
Wire Transport Handle and Strap
The handle and strap make moving this cart easy and fluid. Once the cart is folded down, the extendable wire handle allows you to pull your cart and grill behind you with ease and without having to bend down. And the strap is nice and strong, attaching to the cart and allowing you to secure your grill in place while you're moving it around so there's no risk of it falling off.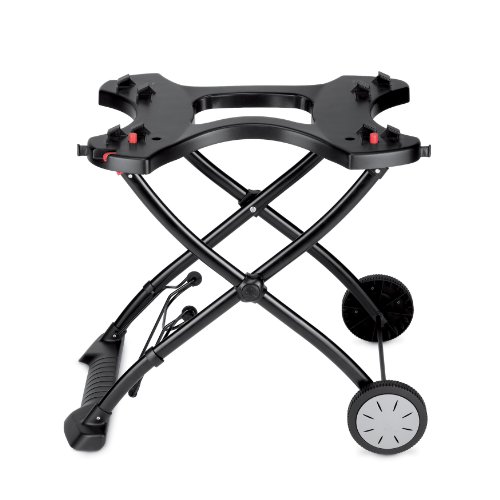 The two durable all-weather wheels make it super easy for you to move your Weber without strain or heavy lifting. It rolls smoothly on grass, sand, or concrete, making every trip effortless.
Tool Hooks

There are two convenient tool hooks on either side of the stand so that you can hang your utensils while you're not using them. This gives you a clean, secure place to lay your tongs when you're prepping or waiting.
Suitable For Weber Q 1000 and 2000 series
Whether you have a Weber 1000 or 2000 series, this cart will accommodate it. This makes your grill truly portable and makes it super easy to take it camping or in your RV.
The Weber grilling cart is made from quality materials. The solid legs and base give you a level of durability you won't find elsewhere. So you'll get years of use out of it, whether you use it at home or while out traveling the countryside.
Pros & Cons of the Weber Portable Grilling-Cart
Pros:
The biggest plus with this device is that it is sturdy and well-built. After all, it's holding your grill, you want to know it won't tip, wobble or fall apart. It's also easy to assemble: all you need is a Philips head screwdriver and you're ready to go. In addition, it folds and unfolds with ease, alerts you when it's locked in place and fits easily into the trunk of your car.
Cons:
The biggest drawback is actually not that bad.  Because it is very lightweight, the stand can appear to be a bit flimsy when it is standing alone. However, once the Weber is securely attached it is quite stable and secure.
How Does The Weber Portable Grilling Cart Compare To The Weber Rolling Cart?
While the Weber portable grilling cart is designed for the Weber 1000 and 2000 series, the Weber rolling cart is designed to fit the Weber Q 100 and 200 series as well as the Weber Char Q.
The portable cart does appear to be a little sturdier but other than that there doesn't seem to be a great deal of difference between the two.
Therefore it comes down to which Weber series grill you own and the type of grill station discounts you can find.
FAQ's
Question: What is the height of the stand without the Weber on it?
Answer: The stand is about 24 and 1/2 inches tall.
Question: How tall is the stand in the collapsed position?
Answer: The stand is 20 inches high including the grill when collapsed.
Question: What is the wheel base width?
Answer: The wheel base measures 21 inches including the flare of the hubs.
What Customers Are Saying
Most customer who have purchased this cart say that it is perfect and exactly what they were looking for. Everyone has said that it fitted their grill perfectly and is the perfect height for cooking. Almost everyone said that it was easy to assemble and also easy to fold down and unfold even with the grill securely attached.
A few customers said that they thought the stand was a bit flimsy but did the job perfectly, and many noted that its light weight made it easily transportable.
Final Verdict
If you own either a Weber 1000 series or a 2000 series, the Weber Portable Grilling Cart will work perfectly for both transporting and using your grill. It's easy to fold up or down and can easily fit into the trunk of your car or in your RV for taking camping or on picnics. The Weber clips in securely making it stable and safe both while you're using it and transporting it.
This stand is the perfect addition to your Weber grill allowing you to move the Weber around easily depending on how or where you want to use it.
[rwp-review id="0″]