Mowing the lawn is both tiring and rewarding. Your lawn can seem impossible to mow, impossible to finish, and can regularly kill your mower. Then you're pulling and tugging, trying to start a mower that doesn't work that well, or can't finish the job. Grass grows quickly, thickly, and takes over your space- no matter how hard you try to keep it under control.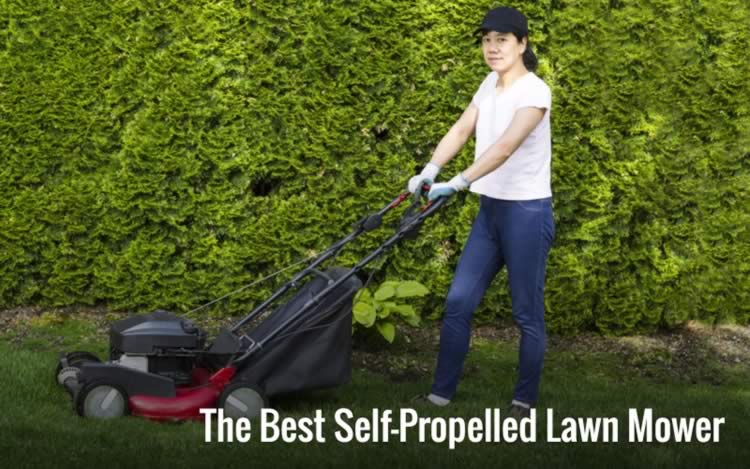 It's a time consuming full-body workout, and it's exhausting most of the time. That's why it's so important to get the best self-propelled mower that you can, so that you aren't struggling when times get hard, and sweat is dripping from your forehead. You have to take the time to pick the perfect mower NOW before you really get started, to make sure you get the best product possible.
The first thing to remember is that self- propelled lawn mowers are pretty much the same as push mowers. Self-propelled mowers have a fully functioning gear and clutch system that let users walk behind a mower instead of actively pushing it. The best part about this design is that you can just walk behind the top rated self propelled lawn mowers, guiding and directing them where you need them to go as it cuts your lawn.
The Top 5 Self-Propelled Lawn Mowers – Which One is the Best?

Many of the people that own the Lawn-Boy say that it's one of the most reliable models on the market, and it doesn't even blow grass across your yard. It's lightweight, easy to use, and it glides across the grass. It's highly affordable, and built to last, with rear wheel drive and a full two year warranty. There are a couple of features on this mower that really help it stand out:
Powerful Kohler XT6 OHV engine delivers commercial-grades features, great performance, and an operator-centric design that makes maintenance easier (removing grass)
Tri-cut cutting system that's lightweight and mulches grass to a pulp
Cuts grass at two points, giving you exactly the height you want.
Larger bag capacity holds more clippings, makes you have to stop less, and open the bag less option.
The 3 in one discharge system lets you choose whether the mower is going to mulch the grass, bag the grass, or shoot it out the side

There's really not a lighter mower model on the market. It's great up slight inclines and hills with front wheel drive, but fails to deliver rear wheel drive that you need to power up steep hills. You'll feel good buying it, too- it comes with a 1 year residential warranty to help you make any necessary repairs.
One of the best parts of this mower is the powerful Commercial-grade Honda GCV170 4-Stroke engine, self-propelled side discharge, and a sharp 22 inch blade that makes the most out of your mowing experience. There are a lot of features that make this model stand out:
Single speed belt driven system that keeps your mower traveling at a consistent 2.5 MPH
Has ball bearings that help keep it on a straight path, even if there's obstacles in your path
High quality ergonomic handle to help keep your hands and arms comfortable.
You can easily change the chute to mulch settings to eliminate mess and spread.

The Power Smart gives you enough power to blast through the grass without having to worry about your mower getting stuck. It provides over 163 cc of power, and a 21 inch blade that's perfect for smaller lawns. It's completely adjustable for your ease of use, and it folds up conveniently for storage purposes.
This mower has a lot of cool features too:
Auto walk speed self-propelled wheel drive for hard to manuever yards
Smooth design and big wheels to keep you from getting stuck
Great maneuverability and light-weight

The Husqvarna Self-Propelled version is spectacular when your yard is full of obstacles or has a difficult to traverse landscape. It's rugged, propels itself with ease, and has a powerful 160 cc engine to blow away the competition. It's got a lot of extra features that really make it a great purchase:
Wide 22 inch frame
3-Position adjustable handle that let you set the handle height you want
Easy to use side discharge shoot to help push clippings across the lawn
Includes an easy to use 3-in-one clipping catcher bag
Blade brake clutch system to prevent running over things that you might regret (lawn furniture or toys)
Exclusive Features that other models don't have and 120+ 4-star reviews

Poulan pulls all the stops in their 9614 model with discharge bag, mulch options, and hi-wheel front options that allow you to adjust the height in 9 different positions. The wheels are 8″ on the front and 12″ on the rear wheels.
The blade is 22 inches, and the engine provides up to 150 cc of power to a Briggs and Stratton anti-choke engine. There are a ton of mowing options on the market today, but few match the capabilities that Poulan has:
3-in-1 bagging, mulching, bagging system
All wheel drive
Speed control
Two starting systems(traditional primers or anti-choke systems)
Easy to set-up
What Kinds of Features Are You Looking For?
Mowers have a wide variety of features, depending on the model. Many have designs that incorporate the process of cutting grass, bagging grass, and mulching/discharging it all at once. You can adjust the height of a mower, measure the precise height that's best for your turf, while giving you a precise, finely measured cut.
Different mowers take different approaches to your cut:
Automatic speed adjustments
Ergonomic designs
Wash ports
One touch starts to save the ease of pulling the thrust
Which is Right for You?
When it comes down to it, consider the size and thickness of your yard. Electric mowers are typically cheaper over the long run, pollute less, and are easier to start, while gas mowers last longer, have easier to use functionalities (no cords) and a little more power.
Several factors to consider when buying a self-propelled lawn mower
Buying a self-propelled lawn mower isn't a huge decision, but they are pretty expensive. You want to pick the perfect model, rather than just buying one without doing the research. Here are the most important considerations you should make when you're picking the best self-propelled lawn mower for your needs:
The Size of Your Lawn
The first thing that you should consider is your yard size, but realistically, self-propelled mowers can be best for any yard that's medium to large sized. Push mowers and reel mowers are often cheaper alternatives to for people with smaller yards, and these models are often far more cost effective. Medium to large sized spaces are far better with the best self- propelled mowers, because they lower the amount of stress to you.
Gas mowers are the best options on bigger yards (rather than electric mowers). Electric mowers might now have the range, unless you've got many feet of extension cord available. Cordless mowers are awesome, but when you've got a long way to go, they just may not have the juice to make it without several batteries (especially after a while). For even larger lawn, one shall consider riding mower to save time.
The Terrain in Your Area
Push mowers are really only effective when you have very flat, easy lawns. As soon as yards get steep, or have uneven or sloped terrain, self- propelled mowers make it far easier to finish your yard. When you've got a widely varying yard slops, you'll appreciate the ease of use that self-propelled mowers give you.
How Wide Do You Want Your Mower to Cut?
If you've got a big yard, you should get a wider mower. It might not seem like a big deal, but several inches every single pass makes a huge difference. Of course, wider mowers are going to weigh more, be bulkier, and be harder to store. This means that you have to seriously consider storage and mowing needs.
How Fast Should Your Mower Operate?
Modern day self-propelled mowers usually have several speed options. You can typically adjust these speeds as you mow. Many mowers have specific pace settings that let you adjust the mower to your specific foot length.
The fastest that self-propelled mowers move is around 3-5 MPH, and you won't want a mower to move faster than that, unless you're looking to jog after your mower.
The Weight of Your Self-Propelled Mower
Lawn mowers can be very heavy, and if you get a big mower, you might not even be able to pick it up, move it around, or push it easily to start it. If you think you might struggle to move your lawnmower, don't purchase it. The point of self-propelled mowers is to make life easier, so they should be relatively easy to move.
If a mower is larger and more powerful (with more features and functionalities) it's going to weigh more. Eventually you have to decide if you want a lighter, more basic mower, or a heavier more robust option.
How Much Noise Will Your Mower Make?
Smaller mowers often make less noise than bigger mowers. This might sound obvious, but you don't always know how much a mower sound a mower will make. Electric mowers make far less noise than their gas counterparts. If you have a smaller yard and live in a community where people might complain about noise, you should always go electric.
Many models have specific designs that allow them to be as quiet as possible, and are specifically designed to eliminate extra noise without sacrificing power. All mowers make noise except reel mowers, which are the only model that are completely sound-free.
Rear-Wheel Driver Versus Front-Wheel Drive
The best parts about self-propelled mowers is that they can handle a wide variety of terrain. Many have powerful wheel designs, good cranking features that make it far easier to make it up and down hills.
Front wheel drive mowers are fine for flatter slopes, but rear wheel drive is better if your yard has steep or hard to push features like hills or trenches.
Warranties and Price Range?
Get used to doing a little bit of maintenance because self-propelled mowers have more moving parts. They have belts, clutches, and require blade maintenance to keep everything up to date. Often, electric models have to have new batteries replaced after they've been in use for a while.
To keep up with these maintenance features, you should look for a warranty. Most mowers come with a simple two year limited style warranty, or even four or more years on some models. Often, if you're really worried about it, you can get an extended, long-term warranty on the most robust models.
Types of Self-Propelled Mowers
There are really two basic types of mowers:
Electric
Electric mowers have a bunch of advantages, but also several decided disadvantages. One of the most obvious is the need for cords and other electrical devices. If you have a large lawn, sometimes, even electric mowers with batteries just don't have enough juice. Many times it is awkward and slightly difficult to use electric models, but you can plug them in, and mow continually. They're also quieter, cleaner, and much easier to start than gas models. The best models have robust, powerful batteries to eliminate large fields of grass.
Cordless models are handy, but you have to plan on charge time. It usually takes about a hour (sometimes more depending on the model) and you can expect to get about 45 minutes of use out of your battery, depending on how thick and tough a lawn is. If a yard is of less acreage, electric models should have plenty of power. If the thought of charging the battery is unappealing, go for a larger, more robust model to make sure that everything works well for you.
Gas- Powered
Gas powered motors have several huge advantages than other mowers. They're pretty much the only affordable option for people with large lawns who are still looking for convenience, and they're usually far cheaper.
Typically speaking, the cheapest models aren't the best. Quality mowers are few and far between, especially when it comes to lower priced gas models. Fuel can also get expensive compared to other types of mowers, plus you have to pull them to start- which is a deal breaker for some.
Performing Maintenance on Your Self-Propelled Mower
No matter which mower model you choose, there are several important features to consider when picking your model:
All excess grass and weeds should be removed from a mower before it's stored
Changing out spark plugs and oil levels can prevent clogs and leaks in the future
Because there are so many moving parts, they should be regularly oiled and stored in a garage during bad weather or during the spring.
Consider purchasing extended warranties that protect your purchase!
Picking the Perfect Product for Your Needs
It's important to take time to consider the best aspects of a self-propelled mower before you make your purchase! There are a ton of options on the market when purchasing a self-propelled motor, and the options that we show in our top 5 are the best of the market! Take the time to investigate your particular needs as well.
It's essential that you think about maintenance, blade preparation, and the terrain in your environment. The bigger the yard, the more extreme the angle of hills and troughs, and the more grass that you're going to have to mow makes the biggest difference when you're making your decisions on your purchase! If you have a medium to large sized yard, you're going to love your new best self-propelled model of lawnmower.

[rwp-review id="0″]