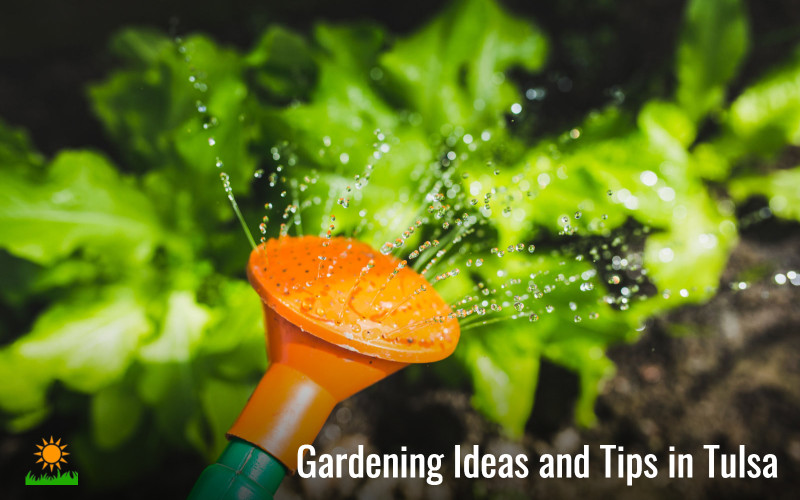 Creative Side Outside
This time of year hardware stores and nurseries are overflowing with flowers and shrubs like colorful waterfalls spilling out onto the sidewalks. It would be no surprise if personal injury lawyers near Tulsa weren't being overloaded with calls due to rear-end car accidents from all the floral gawkers.
Foliage opportunities abound but to really enjoy the gorgeous summer days, plan ahead and avoid any unwanted problems, park the car, and shop with care to soak up the sun and indulge your creativity outside.
Get Inspired
First things first – you need a muse, your very own green stream of consciousness. Browse home and gardening magazines or websites for ideas, think about what space and resources you have available, and don't be afraid to experiment. Repurposing items is always fun in the garden! The garden is a place to express yourself and really anything goes.
What to Do First?!
Three of our favorite early summer one-day gardening ideas are detailed below. Each of these gardening ideas is fun to complete and will brighten your home.
Color Me Happy
Color bowls brighten up any yard. These can cost up to forty dollars at the store, but you can make your own with little to no expertise. Just follow these steps:
Find an interesting container of any sort with several 1/8" drain holes in the bottom (some ideas include a vintage bathroom sink/toilet, old wheelbarrow, a handle basket – be creative!).
Line the container with peat moss to help hold in the moisture.
Fill with potting soil about 2/3 full.
Sprinkle all-purpose plant fertilizer.
Water the contents.
Add your favorite color flowers in a multiple heights with taller ones in the middle.
Alternate some green plants or other varieties to get the most pop out of the color.
If your plant will hang or sit atop a higher pedestal, allow some plants around the edges that have the ability to droop down (ideas that grow well in Tulsa might be petunias, lantana, alyssum, ivy geraniums).
Be sure you add soil to fill any gaps and then water again.
This beautiful container should last all season with adequate care.
Yum-yums
Another gardening idea that is sure to please and won't land you in any sort of accident or problem area is growing something edible. Whether your space is large or small, green beans can make even the biggest newbie gardener look like a pro. Not only that, but green beans look great in your yard the entire season. They are so easy to grow, even your kids can do it with a little help and make it a family affair.
Green beans like to grow upward and wrap themselves on anything around, so you can use something already existing like a fence or arbor, or create one fairly easily. The latticing itself can be done in twenty different creative ways and many people enjoy the fun of letting their imaginations run wild. Green beans usually sprout within just a few days and start their climb within one to two weeks.
Whether you build your own lattice or buy one at the hardware or garden store, be sure to guide the tendrils as they grow and weave them in and out to get them started. Once the vines begin to fill in, trimming the errant tendrils sometimes helps the flowers and beans to sprout more rapidly. Once you begin to see green beans, you will have your hands and buckets full for weeks.
Most Tulsians will find that they have more than enough beans to last them many a dinner and the kids will be entertained with picking them all summer and into the fall.
Tulsa Trees
If you plan to stay for some time in your current home, a legacy fruit tree can help you put down your roots. Apples and pear trees are nostalgic favorites that will be talked about for years to come. A pair of apple or pear trees might take a few years to bear fruit, but once it does you and your family members will look forward to it every year.
From the first blossoms, to seeing the beginning fruit buds and then watching the fruit develop over the next couple of months, the anticipation seems to make it even sweeter.
There is nothing like a big fruit harvest, and both apples and pears keep for months in the refrigerator. The trees require minimal care and yet add that homey touch. Imagine the apple pie coming out of the oven, cinnamon hanging in the air. There is nothing like your very own homegrown fruits. They make great gifts for family and friends too – people will be asking year after year when the fruit is coming.
Find Your Chi
It is easy to do ADD-style gardening, with all the colorful distractions of the garden section. It is even easier to be running amok and doing a little here and a little there, but if you go to the garden or hardware store with a plan, you can do one or more of these one-day projects and really accomplish something that not only beautifies your home, but can also be a creative outlet and a rejuvenating inspiration to get through the next week.
Instead of attacking the yard and garden as a chore, make it count, breathe and let the sky literally be your limit!