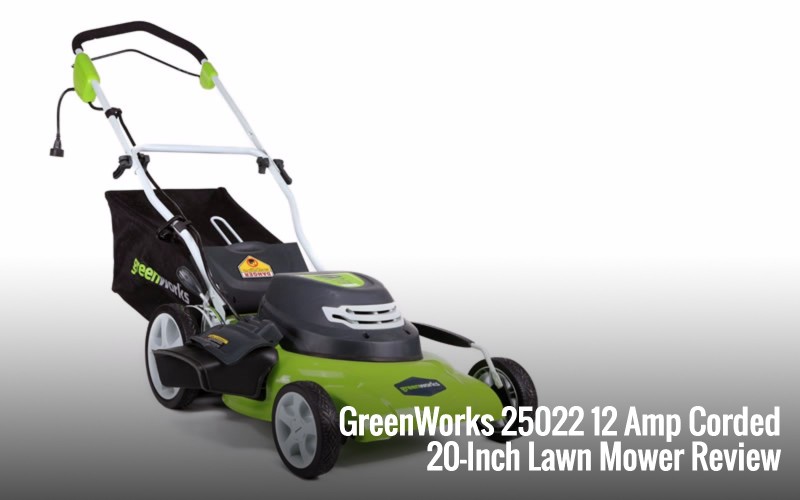 Odds are if you own a home you also own a lawn mower- probably an old, gas-guzzling machine that makes you dread the warm weather. Between the noxious gas smell and the annoying pulley start, they are the bane of most homeowner's lives. I know first-hand how trying it can be, but luckily, there is a solution: Greenwork's electric mower.
As you will see from my in-depth GreenWorks 25022 12 Amp Corded Lawn Mower Review, this machine takes care of all your lawn care needs, so you can spend more time enjoying the warm weather instead of working in it.
Key Features of The Greenworks 25022 Lawn Mower
Now that you see how using an electric mower can make yard work easier, let's look at the key features of the Greenworks 25022 mower: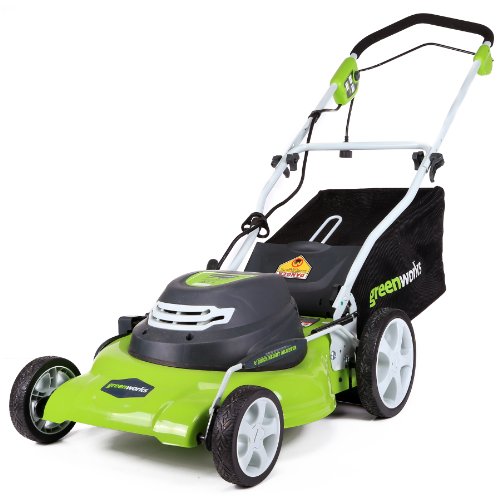 12 amp Motor & Steel Cutting Deck
This powerful motor can cut through tall, thick grass without stopping or clogging. The 20″ steel cutting deck makes it perfect for small to medium/large yards and helps cut evenly no matter what the landscape.
3-in-1 Design
The 2-in-1 design lets you choose between rear bagging, side discharge and mulching, so you can use it any way you want or need to.
For those who compost or like to fertilize, the mulching is a nice bonus while the side discharge and rear bag features make it simple to put the cutting where you need them.
Adjustable Height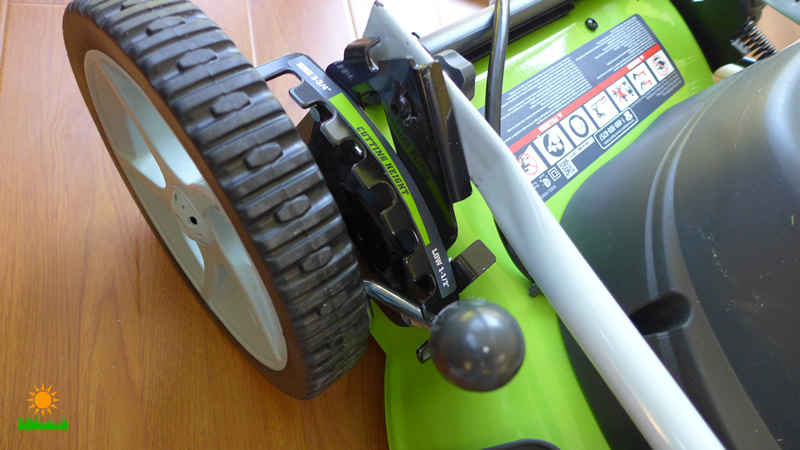 The 25022 mower has 7 height adjustment, so you can mow flat, uneven or bumpy surfaces without blinking. It can cut from 1 1/2-Inch to 3 3/4-Inch, so it works on all lengths of grass.
Lightweight Body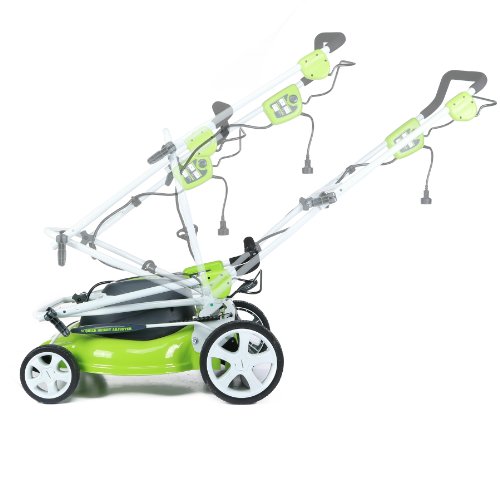 The strong, but light frame makes it easy for both men and women to use this machine. The thick rear wheels offer support as well and make it easy to move the machine over multiple surfaces.
Easy to Install and Store
It would just take about 15 mins to put it up together. Also one can store it with the folded flexible arms.
Check out the GreenWorks 25022 User Manual Online Here.
Budget Friendly
At just under $180 this machine more than pays for itself, especially when you factor in the money you save on gas and oil.
Pros & Cons
Now that I have outlined what the 25022 mower can do, let's look at the pros and cons of owning this machine.
Pros

Check out how it iseasy to install and its effective mowing experience Here.
On the plus side this machine is easy to maneuver and gets the job done quickly. It's versatility allows you to cut, bag or mulch without having to switch gears or reprogram. It also has no extra maintenance needs. You can plug it in to charge and in less than an hour it is ready to go.
In addition, the adjustable heights and steel blade make it simple to cut through grass, twigs and small branches without damaging the machine or slowing you down. That means you get the job done in a shorter amount of time, with less raking.
Cons
On the down side, it can be a bit of a hassle having to use a machine that is plugged in if you have a lot of trees. For people with larger yards it can be a bit of an annoyance as well, but an extension cord can help you reach the farthest spots.
Also, there is a side holder to stop the cord from tangling and there is a battery operated version for those with extra large yard areas.
What's included in the Box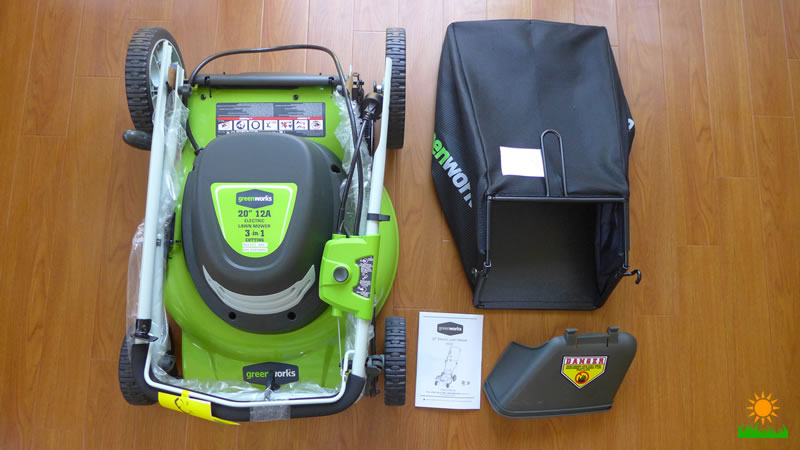 The Mower Motor
Grass Catcher Bag
Side Discharge Chute
User Manual
The In's & Outs of an Electric Mower
As a homeowner I understand how important it is to keep your front and/or back lawn in shape. You want to enjoy your yard and entertain in it- something you can't do if there are weeds everywhere or rocks littering the ground.
Lawn care is a matter of aesthetics and safety. Fallen branches and twigs, as well as long grass, can cause kids or guest to stumble and get hurt, or get bit by hidden bugs.
With an electric mower, you can cut the grass, mulch leaves and more, doing your yard work in half the time it normally takes. Electric mowers are a better option over gas mowers for several key reasons:
Easier to Maintain: Electric mowers require little to no maintenance: just charge them and their ready to go. When your done using them you just wipe them down and store them in your shed.Gas mowers need to have their oil changed and must be prepped for winter- you can't store them in just any place, a drawback for those who live in colder climates.
More Efficient: These machines have stronger motors than the gas variety, cutting down on mowing time. They make it easier to push and maneuver, so you cut through grass quickly and easily.
Environmentally Sound: Electric mowers are better for the environment, as they release no fumes into the atmosphere.
Quieter & Less Interference: These machines are quiet, yet powerful, so they get the job done without disturbing your neighbors. So if you want to mow the lawn at 6 AM go ahead- no one will care.
Same goes for the smell: since there is no gas you don't have to worry about bothering the people who live near you with the smell of gas.
Cost Effective: Since you just have to charge the mower, it costs less over time because you don't need to buy gas, oil or any other extras.
Safer: For parents it gives peace of mind knowing there are no gas containers around that their small children can get into.
The Greenworks 25022 Mower vs GreenWorks 25142 Mower
To help you see how this electric mower stands up against other machines, we will compare it to it's biggest competition: the Greenworks 25142 model. The 25142 model has a lot in common with the 25022 mower. Both machines are corded and can cut through various grass lengths.
The 25142 however, is a 2-in-1 instead of a 3-in-1, with no rear bagging. That means you need to rake if you don't mulch. In addition, it only adjusts to 5 heights instead of 2 and has a 16 inch cutting deck as compared to the 25022's 20 inch deck, which limits what it cuts through.
Finally, it has a 10 amp motor, making it less powerful than the 25022. It is worth noting though, that the 25412 costs about $30 less than the 25022. So while the 25022 is superior and a better value for your money, the 25412 is a good runner-up.
Q & A: Common Questions that Customers Ask
Here are the most frequently asked question in regards to the Greenworks 25022 mower:
Q. Does the electric motor cut down on mowing time?
A. Yes, on average it takes 1/3 less time to mow the lawn using this mower.
Q. Is the mower light?
A. Yes, from young and old to men and women anyone can easily push this machine.
Q. Is it safe to use in the rain?
A. No, since it's electric you should not use it when it's raining out.
Customer Reviews
Consumers who own the Greenworks 25022 love it and give it 5 stars. Many rave about how "super light" it is and how simple it is to push around. Others love how "thin and efficient the metal blade is" making cutting a snap. They like that you can cut most yards, even larger ones, without hassle. They also love how quietly it runs and that there is no gas to store or smell.
Now that you've read my GreenWorks 25022 12 Amp Corded Lawn Mower Review, you can buy one and see for yourself just how great it is. This durable, lightweight machine transforms how you care for your yard, taking a loathsome chore and making it not just bearable, but enjoyable. Cutting the lawn is so fast and effective using this mower that you'll volunteer to do it. The Greenworks 25022 is a great investment and will have you doing what you're supposed to do in your yard: enjoy it!

[rwp-review id="0″]