These days, rakes and garbage bags have become obsolete in the face of all the great electric leaf blowers on the market. Lightweight, efficient and equipped to handle jobs big and small, they make cleaning your sidewalk and lawns quick and easy. All you need to do is choose the right one- and my WORX comparison guide will help you do just that.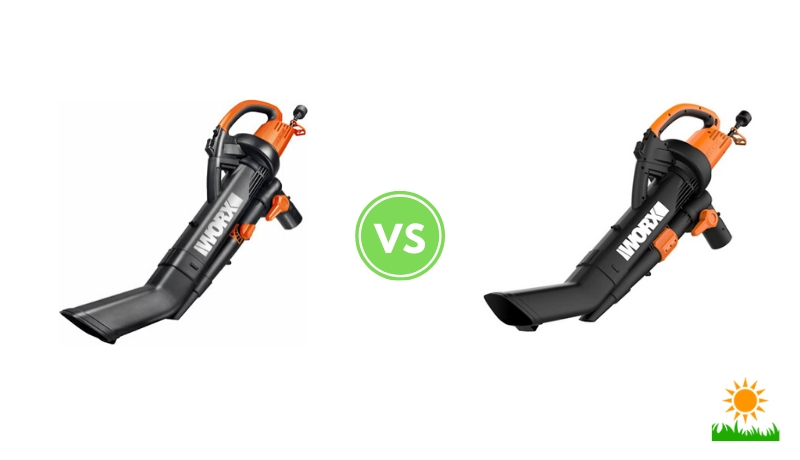 WORX has two of the best electric TriVac blowers on the market: the WG505 and the WG509. Capable of blowing, mulching and vacuuming, they can have your yard clean and neat in no time. My guide will compare these two machines for you, from pricing to features, as well as give you buying tips and advice, so you can decide which works best for you.
What an Electric Blower Can Do for You
As a homeowner, I know first-hand how much of a hassle it is to rake and bag leaves or remove twigs and rocks from walkways. Time-consuming and physically demanding, it is a dreaded, but necessary chore, as a clean sidewalk/yard ensures no one will fall and get hurt, including you and your family.
That's why an electric blower is essential. It can make this unpleasant task not just easier, but much more efficient. Here's how:
Cuts Down on Cleaning Time: Using a blower/mulcher/vacuum can significantly cut down on the time it takes to clean your yard and front walkway. The powerful motors cut cleaning time in half, as they vacuum and bag or mulch in one simple step. So no more raking, lifting, bagging and emptying.
Eliminates Physical Strain: Electric blowers are lightweight and easy to maneuver, allowing you to pick up leaves, dirt and more without having to bend and lift. This makes the job less taxing on your back, shoulders and arms, as you can stay upright as you clean.
Does Multiple Jobs: When you use a multi-blower, it can help you with more than just leaves and twigs. The vacuum can be used to clean gutters, patio furniture, car upholstery and more, making it an invaluable tool.
Environmentally Safe: Since it runs on electricity, it is better for the environment when compared to gas powered machines. Gas machines are loud and emit noxious fumes you won't want to inhale and your neighbors won't appreciate. Electric blowers are quiet and keep the air clean.
The Worx WG505 Versus the Worx WG509
Now that you have a better understanding of what an electric blower can do for you, it's time to look at our 2 featured models to see what each has to offer.
The WG505 has so much to offer, it's hard to know where to start and hard to stop raving about how great it is. Lightweight and easy to use, this machine is powerful and affordable thanks to its $70 price tag.
The machine feel like air, and the bag strap sits comfortably on your shoulder without weighing you down or pinch, making it great for women or those with back problems. Fitted with a one-touch start and one-touch flip switch, you can turn it on and switch between vacuum, blower and mulcher single-handedly.
As impressive as that is, it is the 12-amp electric motor that really makes it stand out, as it can blast leaves and twigs in seconds. The motor also lets you vacuum up leaves, branches and even small pebbles in the blink of an eye. This makes it great for small to mid-sized yards and patios.
Combined with a metal impeller, it can get any job done. The impeller provides you with a 16:1 mulch ratio, making quick work of thick branches and turning everything into fine mulch to compost or landscape with.
Best of all, this machine comes with an extra-long cord, so it can reach any part of your driveway, yard or sidewalk. The perfect blower for mid-sized homes.
The WG509 is the enhanced version of the WG505, making it a great choice for those with larger homes or interested in mulching frequently. Priced to sell at just over $80, you get a great value for your money, thanks to an enhanced speed control and greater mulching ratio.
The WG509 is as light and durable as the 505, but can increase the amount of leaves and debris you pick-up thanks to the new 6-speed enhanced throttle. This throttle lets you control air speed, from 75-210 mph, so you can blast branches stuck to the ground from snow, rain and more with ease.
The new speed control also helps you vacuum greater amounts of leaves in a shorter amount of time, ideal if you have a large yard or long driveway. What's even better though, is this blower's improved mulching capabilities.
With an 18:1 ratio you can reduce large piles of leaves in an instant and use them to fertilize or compost. For those with larger properties, this dramatically reduces the time it takes to clean and eliminates back strain as you don't need to bag and remove leaves.
The WG509 comes with an extra-long cord and bag for 1-2-3 cleaning and also sports an angled tube to reach obscure places, like under your deck and in corners. The best trivac for your money, especially if you have a larger home.
Similarities & Differences in the WORX WG505 & The WG509
To help you get a clear picture of which leaf blower is right for you, check out the charts below, which shows the similarities and differences between these 2 machines.
Similarities
Motors
12 amp motors: Both are fitted with a 12-amp motor to easily remove and crush leaves and twigs
Lightweight Design
Each has a light, but sturdy body that can be comfortably held with one hand for easy manueverability and control.
Use
Multi-Purpose: The WG505 and the WG509 are both 3-in-1 machines that can vacuum, blow and mulch, to handle all your cleaning needs
What are the Differences – WORX WG505 Versus The WG509?
Speed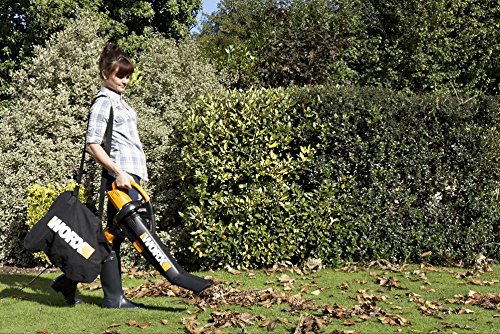 The WG509 has an enhanced, 6-speed throttle, giving you more control and range over speed and power than the WG505. The WG505 has a more limited speed control, for less precision, which can be an issue with larger areas.
Use
The WG505, with increased mulching and spoeed control, is a betetr fit for long walkways, large yards and those with multiple trees, and leaves on their prooperty.
The higher mulching ratio and speed controls make quuick work of bigger jobs than the WG505.
Price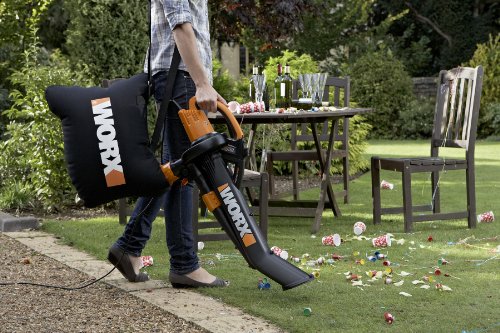 Both machines are reasonably priced, with the WG509 coming in at around $10-$20 more. That amount is minimal for all that you get, but if your property is small, the extra money is not necessary, as the WG505 does a fantastic job.
Buying Considerations – What to Consider when Buying a Lear Blower?
Before buying either machine, here are things you need to consider the make the right purchase:
How You'll Use It: Do you need to just pile and bag leaves or do you want to mulch and clean gutters?What you need the leaf-blower for will determine which model is best. You want a machine that fits all your needs.
Property Size: You need a machine that can reach all the areas you need clean, as well as handle the volume of leaves and branches you have. If you choose a machine that is too small, it will take you just as long as raking to get the job done.
Maintenance: Every machine requires different care, so make sure the one you choose is easy for you to care for.
What You Can Spend: What you want and what you can afford are not always the same. Make sure you are buying within your budget.
Maintenance
Maintenance for these 2 machines is fairly straight forward and simple. Since they are electric, there is no need to worry about changing the gas, or having leaks. First and foremost, store the unit in a cool, dry area. They are not waterproof so keep them away from water and in a dry area during rain and snow.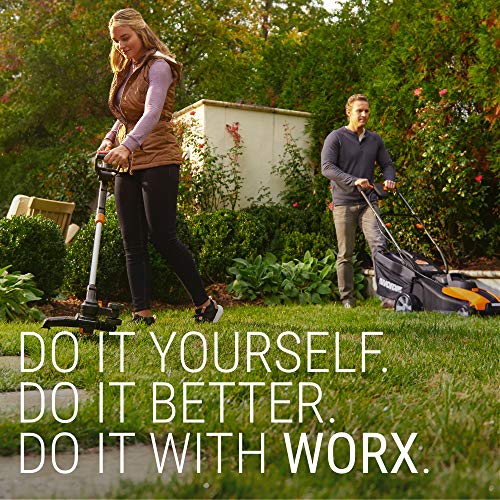 Also, be sure to wipe down the outer casing, as well as the inside and outside of the tube to ensure it is clean and nothing clogs. Finally, you can wash the bag to keep dirt from building up.
Frequently Asked Questions
Here are what consumers are asking about these 2 products, which may help you answer any questions you have as well.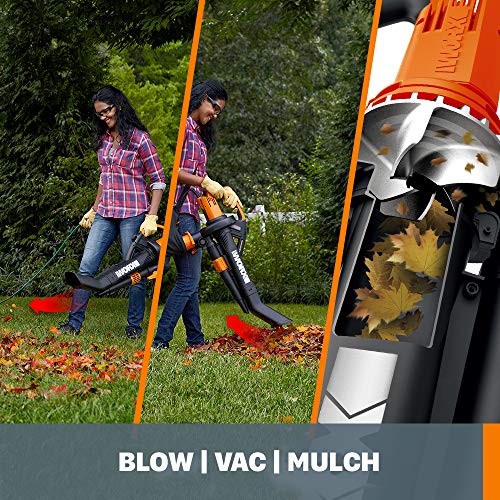 Q. Does the 6-speed variable control on the WORX WG509 really improve performance?
A. Yes. Having 6 speeds allows you to have a wider range of speeds to choose from, so you can customize power according the size and difficulty of the job.
Q. Do I need an extension cord to reach my whole yard.
A. Maybe. Although the cords are long on both models, you may still need an extension cord to reach the far corners.
Q. Are these machines waterproof?
A. No. You should not operate them when it is raining out or near water, as they are not waterproof.
The WORX WG505 Versus the WORX WG509: Who Wins?
My WORX WG505 versus the WORX WG509 comparison guide clearly illustrates all the great features that make up these 2 incredible machines. Reasonably priced and able to perform jobs big and small, it is easy to see why these 2 machines are tops in their class.
For those looking to get the best value for their money, WORX WG509 is the clear winner, giving you the greater value for your money. Priced just dollars more, it is a steal thanks to the elevated controls and mulching abilities. But the WORX WG505 is a close second, making either machine a great investment.
Bottom line, if you want to blow away leaves without blowing out your back, go out and get one of these machines today!
[rwp-review id="0″]