Do you love the taste of grilled food, but hate when it gets charred and burnt on the outside? Well, with The Blackstone Outdoor Gas Griddle, you'll never have to worry about overly-crispy, burnt food again! This griddle, as you'll see in my review,  cooks delicious burgers, steaks, and even breakfast foods, without giving you that char-grilled, acrid taste.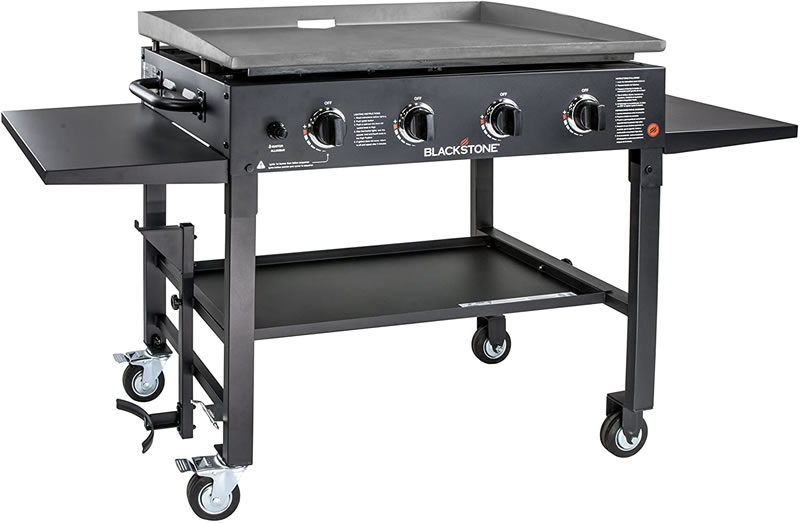 It approaches cooking from a different angle, eliminating the mess without sacrificing flavor. Even better, it lets you prepare foods outdoors you would never think of, like pancakes, quickly and easily. The result? Tasty, juicy meats, bread, and vegetables everyone will love.
What is a Gas Griddle?
A gas griddle is similar to a barbecue grill, with one significant difference:  it has a solid flat cooking surface, usually made of steel, similar to what short order cooks use in fast food outlets.  The flat surface prevents juices and oils from dripping onto the flame, which in turn eliminates food burning.
A barbecue, on the other hand, has a slotted cooking surface allowing grease to flow through onto the fire, causing the flames to flare up and char the food as you grill.
The benefit of cooking on a griddle is that the food retains its flavor better because the juices are quickly sealed in with the high temperatures; Which means no more dried out burgers or tough chicken legs. The griddle is also more versatile, allowing you to cook a wider variety of foods, such as teppanyaki, quesadillas, fajitas, pancakes and even grilled cheese sandwiches. Finally, since nothing drips through,  it is a bit easier to clean.
Key Features of the Blackstone 36 Inch Outdoor Gas Griddle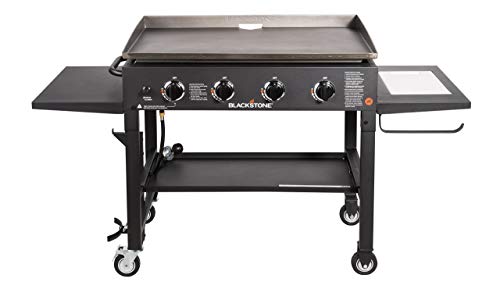 Large Cooking Surface
The Blackstone griddle top measures 36 x 20 inches, which means you have 720 square inches of cooking space. This allows you to cook for one or a family of 6 with ease. You can cook a complete breakfast on this griddle, from eggs and bacon to pancakes and even toast.
When dinner time comes around you can cook your steak on one side, jacket potatoes wrapped in foil in the middle and vegetables such as tomatoes and corn on the cob on the other side. This griddle will impress your friends too, as you can cook an entire teppanyaki feast or Mongolian barbecue like a professional.
Electronic Ignition
No more need for matches and burnt fingers with Blackstone's electronic ignition. It's simply a matter of turning on the gas bottle and pushing the starter button to instantly ignite your burners.
The electronic ignition is battery powered and uses only 1 AA battery which is easy to replace when you need to.
Durability
This griddle is built to last, with a powder coated black steel frame, stainless steel burners, and a thick cold rolled steel cook top. The cooktop provides a non-stick surface that's perfect for fluffy pancakes, seared steaks, and grilled cheeses year after year.
There are also four industrial strength caster wheels to move it where you want, two side shelves and a bottom storage shelf for extras and utensils. Oh, and it is easy to clean too.
Four Independent Stainless Steel Burners
The Blackstone griddle has four independently controlled burners giving you ultimate cooking control. So, you can cook pork and beans on one burner and rice on the other, adjusting the heat for each one accordingly.
It also lets you keep foods warm. For instance, you can sautee onions in a pot and turn off that particular burner when you finish. The cooktop in that section will continue to stay warm as the steel holds the heat, but your onions won't cook any further.
Built-In Grease Channel and Receptacle
The built-in grease channel draws oils and drippings away from your food, catching it in the detachable receptacle. This allows for healthier cooking and easy clean up once you've finished.
Easy To Transport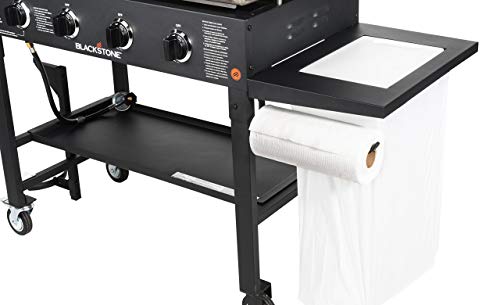 Move the Blackstone griddle around quickly with its four caster wheels. The griddle top is also removable, and the legs can fold up, so it's ideal to take camping or to your favorite sporting event.
You can even use it to cook up a storm at a social get together, school function, or a fundraising event at your local club.
Blackstone Outdoor Griddle Pros & Cons
Pros: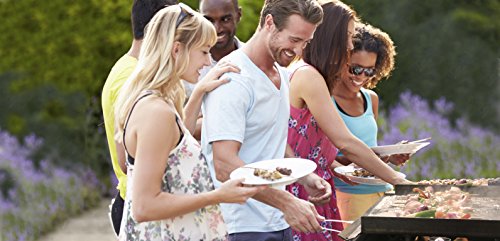 There is a lot to appreciate about this machine. To start, it's easy to clean, and food tastes better with each use. Each time you cook, oils soak into the surface, like a wok, enhancing flavors.
It's also large enough to cook everything you want at once. So you can cook for your family, or a party, without blinking an eye. And you can cook anything you feel like, No more staying indoors to make tacos on a warm summer day!
Best of all, it has excellent temperature control for cooking all kinds of foods. You can make different dishes simultaneously and never worry about ruining your food or overcooking something.
Cons:
There are one or two small issues with this griddle. The main issue is that the electronic ignition is on the left burners only,  so you need to ignite those first and then turn on the right side burners to ignite that side. This is not a big deal though because you only need the right side when cooking for a lot of people and it heats up quick. he
The other issue is the grease drainage hole is a little small, and if it's not angled correctly to flow into the receptacle, it will drip down the legs. Again, a minor inconvenience; just check that it is positioned right before grilling.
How Does the Blackstone 36 Inch Outdoor Gas Griddle Compare to the Blackstone 28 Inch Outdoor Flat Top Grill Griddle Station?
While the Blackstone 28-inch griddle has a lot of the same features as the Blackstone 36 inch griddle such as electronic ignition and a cold roll steel cook top, the 28-inch griddle has a smaller cook top and only two independent burners. The cook top on this model measures 28.5 x 16.5 inches giving you only 470 square inches of cooking space.
Also, the Blackstone 28-inch griddle only has two caster wheels, so you need to lift one end up if you want to move it around. Only having two separate burners makes it less versatile than the Blackstone 36-inch.  That's why for an additional $50 – $60 the larger griddle is a better value, especially if you can find gas griddle discounts for this unit.
FAQ
Question: Does the grill fold up to take camping?
Answer: Yes, the cook top and bottom shelf are removable, and the legs fold up, so it's very easy to transport.
Question: Will this griddle rust?
Answer: Yes, like cast iron, this griddle will rust if not properly taken care of. Make sure you keep it oiled and covered when not in use. If you do see some rust developing, just scour with table salt and some steel wool and then season again with oil.
Question: How do you season the griddle?
Answer: Your Blackstone cook top will come with a thin layer of soy oil on it to protect it against rust during shipping. Once you receive your griddle, you should season it before the initial use.
Flax seed oil is recommended for its first seasoning as it creates a durable bond and has a low smoke point but you can also use other oils like olive oil or vegetable oil. Included with your griddle will be a user guide and care manual which will explain the process of seasoning in more detail.
Customer Reviews
We've read hundreds of reviews, and almost everyone who has purchased the Blackstone Griddle loves it! From cooking for the family on the back patio to taking it camping and even to sporting events, the food cooked on it comes out fantastic. A lot of people have said that it gets even better the more it is used.
A few people have commented on the grease trap not being entirely effective at catching the juices, but this has not deterred anyone from using it or giving it five stars. A few talented people have suggested angling the griddle, so the grease flows into the trap better or attaching something else to more effectively catch the runoff.
Most customers, however, said it was the best purchase they have made and would highly recommend it to anyone who is looking for an outdoor griddle.
Final Verdict
The Blackstone Outdoor Gas Griddle is reliable, durable and well made. The 36-inch cook top provides ample space for cooking for a crowd or an entire meal for the family at the same time. Clean up is super easy and the fact that it can be disassembled makes it easy to take camping or to your next sporting event.
Cancel