Many people are understandably going to lament the fact that it feels like lawn care requires so many purchases. People will often end up with an entire garage full of power tools over the course of finding newer and better ways to care for their homes and their land. Finding machines that are versatile and that can serve multiple functions can make all the difference for homeowners, and the Toro 51619 Ultra Blower/Vac is one of them.
This is a machine that can do the jobs of three different power tools, taking up less space in the garage in the process. The Toro 51619 also manages to do all three jobs more effectively than many power tools, as is indicated by almost any Toro 51619 Ultra Blower/Vac Review.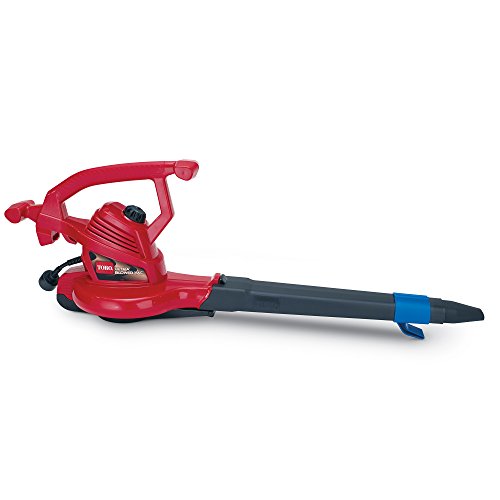 Large metal impeller: The Toro 51619 Ultra Blower/Vac is equipped with a large metal impeller, making it much more powerful than many similar devices on the market and making it particularly good at mulching.

Check the Latest Price on Amazon Here.
Versatility: The device is a fully equipped vacuum, with a concentrator nozzle to direct the vacuum pressure, a vacuum tube, a power insert, a cord storage hook for added convenience, and a bottom-zip bag. Thanks to the quick release latch, transforming this device from one machine to another is easy.
People will truly get the benefits of a leaf blower, a vacuum, and a leaf shredder thanks to this device. It's the sort of power tool that will get them through autumn more efficiently than almost any other, since they just have to switch the setting in order to get a completely new power tool.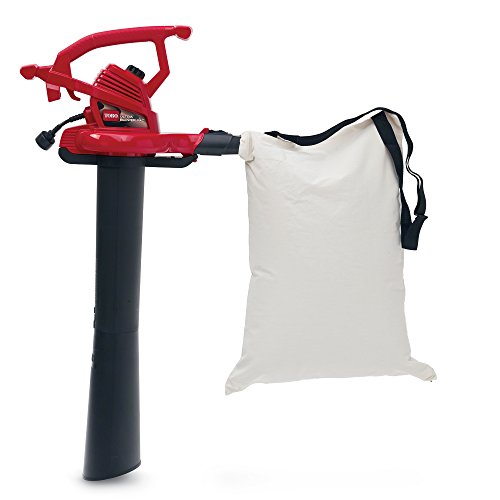 Speed Control: Customers will also get variable speed control whether they're using the Toro 51619 Ultra Blower/Vac as a vacuum or a blower at any given moment, allowing them to regulate the level of power that they're using.
Efficiency: People can shred leaves while generating about 88 percent less debris than they would otherwise. The device is powerful, and it is able to channel that power effectively.
Ease of Use: Anyone who has ever used these kinds of tools before knows that the cord can be cumbersome. The cord lock will keep it in place during use, and the cord storage hook prevents the cord from getting easily tangled when the device is no longer in use. People can actually store the components in the vacuum bag itself. The vacuum bag is easily emptied thanks to the bottom zipper.
Pros
The Toro 51619 Ultra Blower/Vac is a wonderfully powerful device. People will be able to more or less eradicate their leaf litter using this power tool. It was definitely designed with convenience in mind, both in terms of its usage and in terms of its storage.
It's also fairly light, easy to handle, and easy to maneuver. The sheer versatility and power of the Toro 51619 Ultra Blower/Vac make it a major find.
Cons
Some people have found that the power switch was overly sensitive, and that they would sometimes accidentally turn off the device when it was just supposed to be on low power. While there is a lot of speed control, some people found that the higher setting was very strong indeed, and that the machine was hard to handle at that point.
Other customers found the device too small for their purposes, although this is a fairly subjective characteristic. There also isn't an extension cord, which might be inconvenient for some customers.
The Toro 51619 Ultra Blower/Vac Versus the Toro 51621 UltraPlus Blower/Vac
For the most part, the Toro 51619 Ultra Blower/Vac and the Toro 51621 UltraPlus Blower/Vac are very similar. However, there are a few notable differences between the two:
The Toro 51619 is less expensive than the Toro 51621 by around thirty dollars, unless people are able to find leaf blowers on sale.
The Toro 51621 is better at reducing the mulched debris, since it reduces them by 97 percent instead of 88 percent.
 51621 is equipped with an oscillating nozzle kit, which can help customers save on cleaning time.
Customer Feedback
The Toro 51619 is a bestseller in its department. By all accounts, customers have been raving about how much they like it. They've reported that it is an incredibly powerful device that truly gets the job done thoroughly, whichever job it is. Customers have also said that the machine is very light and easy to handle, especially compared to many of the other power tools that perform similar tasks today.
Almost any Toro Ultra Blower & Vac reviews that people will read online will mention some of these characteristics, and finding thoroughly and convincingly negative reviews of the power tool is fairly rare. People have talked about how autumn will never be the same now that they have this power tool, which is like a new set of power tools.
What are included in Toro 51619 Package?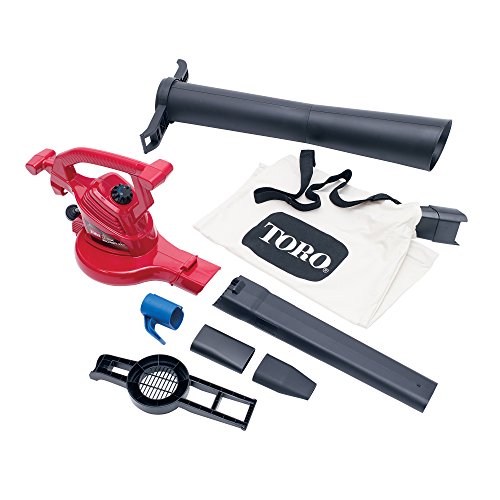 As you can see in the picture, it's a complete set for all your need:
Vacuum tube – Light yet Powerful
All Tube Combination for Blower or Vac Mode Usage
bottom-zip bag to store all your leaf break-down
concentrator nozzle
cord storage hook – very handle to organize your cord after done
Note that the Extension cord is not included that you need to purchase extra
Check out the 2016 Manuel Here to learn how easy it is to assemble it.
Frequently Asked Questions
Question: Is it difficult to switch from the vacuum to the leaf blower or leaf shredder setting when using this device?
Answer: No. The quick release latch allows people to do this almost instantly, without specialized tools.
Question: How loud is this device?
Answer: Opinions vary, but many customers report that it is a quiet device considering its capabilities.
Question: Is the tool easy to store?
Answer: Yes. The cord storage hook makes the cord easy to store, the vacuum bag makes the parts easy to store, and the device is light enough to hang on the wall.
Conclusion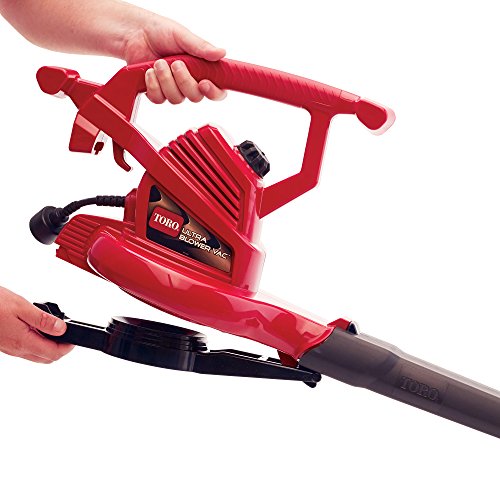 As almost any Toro 51619 Ultra Blower/Vac review will indicate, a lot of people have been able to benefit from this power tool. It has saved them time, saved them money, and saved them a great deal of the hassle that they will probably feel is just another part of autumn. This is a power tool that is easy to use, easy to handle, and easy to store.
Whether people are coping with autumn or waiting for autumn, this machine is one that is going to make things easier and not harder on the customers. Customers who like innovative new pieces of yard equipment should certainly consider looking into the Toro 51619 Ultra Blower/Vac, which could make their lives easier for months as they're trying to do something about their leaves.

[rwp-review id="0″]

Check Price