If you're looking for an eco-friendly mower that's powerful, quiet, and will mow your entire lawn on one charge, then you should definitely consider the EGO Lithium-Ion Cordless Lawnmower.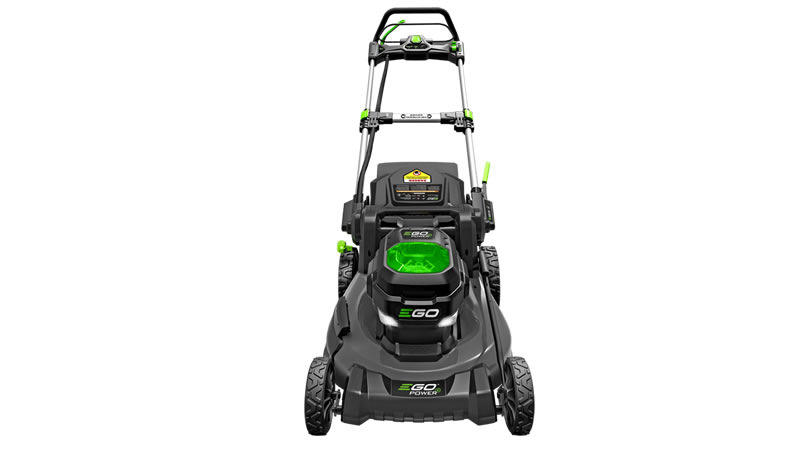 This mower will amaze you with its capability to mow through even the toughest growth without the need for messy gas, oil, fumes, and noise. My review will explain what it can do, how it can help you and the environment, and why it's a top choice of homeowners everywhere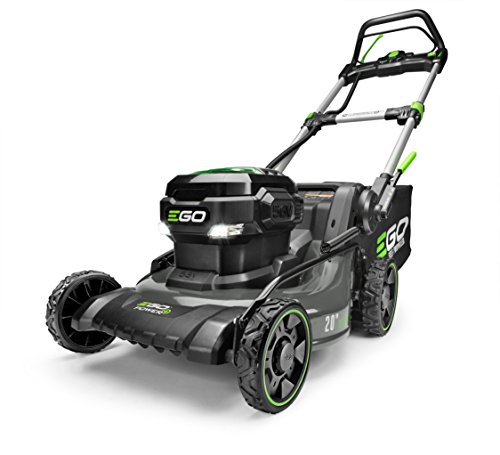 What Is A Lithium-Ion Cordless Lawnmower?
Unlike conventional gas mowers, a lithium-ion cordless mower runs purely on battery power, so there's no need to fill it with gas or mix up oil. As a result, it produces no fumes or emissions and runs much quieter than a gas mower, making it environmentally friendly.
In addition, cordless mowers have a lightweight design and easy start system, making them easier to use. Less weight means less push-power and the push button start and safety switch let's you start it up instantly. No more struggling with a pull cord to get going or fighting a big bulky machine.
A cordless mower can also save you money as you won't need to buy gas and oil or get your mower serviced every 12 months. If you have limited storage space, with a cordless mower you can just fold down the handle and even store it upright as there's no gas to leak out.
Key Features & Benefits of the EGO Lithium-Ion Cordless Lawnmower
Powered by a 56-volt lithium-ion battery and a 600-watt high-torque motor, this mower will cut through the thickest turf with ease.Plus the 20-inch wide cutting capacity means that you can make less passes to mow your entire lawn.
Easy Start & Easy Cutting Height Adjustment
This mower will start on the first try, every time with just the push of a button on the handle. This is much easier than the frustration of having a pull cord like a conventional gas mower. You can also adjust your cutting height with just the push of a lever. The adjustment height is from 1 inch to 3 inches so you can get the perfect height that you want for your lawn.
The battery will run the mower for about 45 minutes on one charge without any loss of cutting power. And the charging is quick too: just 30 minutes and you're ready to go. This allows you to mow whenever you need- no waiting or having to stop and start.
 LED Headlights/Quiet Operation
Speaking of mowing whenever you want, the EGO cordless mower has  LED headlights, so you can cut late at night or at the crack of dawn. Just switch on the headlights and you'll instantly be able to see where you're going. This mower is also around 30% quieter than a conventional gas mower so you won't disturb your neighbors if you're mowing early in the morning or the evening.
Mulching Or Bagging Options
With the EGO Lithium-ion Cordless Lawnmower you have the option to either use the mulcher function without the rear catcher or attach the collapsible cloth catcher and collect your clippings to add to your compost bin. And unlike a lot of other mowers, this mower also has the option of using the side-discharge chute for your clippings.
Folds Up Easily For Storage
Once you've finished mowing, just fold down the handle and store your mower vertically in your garage or garden shed to save space. This also makes it much easier to clean your mower or replace the blade if you need to.
The EGO cordless mower comes with a full 5-year tool warranty plus a 3-year battery warranty giving you peace of mind in case something goes wrong.
Pros & Cons of the EGO Lithium-Ion Cordless Lawnmower
To decide whether this mower is a good fit for you, let's look at the pros and cons associated with it:
Pros:
The Battery will power the mower for about 45 minutes on one charge without loss of performance. This makes more efficient and easier cutting.
It's lightweight so it's a good fit for people of all ages or sizes. It also makes it easier to carry up stairs or terraces.
You can use the same battery for other EGO garden tools, so you get the most for your money.
There is plenty of power, even on thick grass. This ensures you don't have to stop and remove weeds by hand or have to push too hard.
No set up required. Just pop in the battery and you're ready to mow.
Cons:
The only negative is that you can't adjust cutting height above 3 inches; However, you shouldn't really need to go that high, so it's not a problem for most people.
Safety and Maintenance Tips
Here are some tips to help you care for your machine and ensure you use it properly.
Safety
There's both a safety key and a bail switch which must be used to operate this mower to ensure safe operation. It is advised not to use the mower in the rain to avoid any possibility of electric shock.
Greater care needs to be taken when operating the mower on slopes so that you don't trip and fall. It's advisable to work across the slope rather than up and down.
Always ensure that the side rails are in place and locked before using the mower. Also, never operate the mower without the trailing shield and rear discharging door in place as these are designed to minimize stones and other objects from being thrown backwards and keeps your feet away from the blades.
Maintenance
The mower can be easily cleaned by first removing the safety key and the battery. The mower can then be turned on its side and grass clippings and other debris brushed off the blades and around the motor. Do not clean your mower with water. Just wipe with a dry cloth.
The blade can easily be replaced using just a wrench and a screwdriver and following the instructions in the user manual. Lubrication instructions are also included in the manual.
How Does The EGO Cordless Mower Compare To The Greenworks G-Max Twin Force Cordless Lawnmower?
While the EGO cordless mower uses a 56 volt 4 Ah battery, the Greenworks mower has two battery ports and comes with one 4 Ah battery and one 2 Ah battery which are used one at a time. This effectively extends the cutting time to around 70 minutes as the mower will automatically switch to the second battery when the first one is depleted.
However, unlike the EGO battery which charges in under 30 minutes, the Greenworks batteries take over 2 hours to charge for the 4 Ah and 1 hour for the 2 Ah. The Greenworks mower only comes with a 4-year limited warranty, unlike the EGO which has a 5-year warranty.
The EGO is also a slightly heavier and more durable mower than the Greenworks cordless mower. Also the Greenworks is not as easy to store as the EGO as there's no option to store it vertically.
Although the Greenworks appears to be a good cordless mower, overall the EGO is a more durable and powerful mower with better cutting capacity. It's also a better buy thanks to all the lawn mower discounts.
FAQ's
Question: Does this mower have enough power to cut tall grass?
Answer: Yes it definitely does but try to make the first cut on the highest setting.
Question: Is this mower self propelled?
Answer: No it's not but it is really lightweight and easy to push and maneuver.
Question: How well does this mower hand uneven ground?
Answer: It can handle uneven ground easily.
What Customers Are Saying?
Customer reviews are primarily positive regarding this mower with many people being extremely happy with the mower's performance and ease of use. Even customers who had switched from a gas mower to the EGO cordless were pleasantly surprised at the cutting ability of this mower. In fact, some people said that it cuts just as well as a gas mower.
From the hundreds of reviews we read, 73% of customers gave this mower 5 out of 5 stars. Comments like "powerful and quick", "wonderful mower" and "performs much better than I expected" were common amongst reviewers.
The only critical reviews we found were from customers who said that the mower did not cut well when the grass was wet and the blades would get clogged. In all fairness, this would happen with any kind of mower and it is usually better to wait until the grass has dried before attempting to mow.
If you're looking for an eco-friendly mower that's both powerful and durable, then the EGO Lithium-ion Cordless Lawnmower is definitely a good choice. It's solidly built but still lightweight and easy to push and will power through even thick or long grass easily.
When you add to this, the convenient vertical storage option and the super quick charge battery plus the 5-year warranty makes this cordless mower an excellent buy.