There's nothing better than having a freshly mowed lawn, but controlling unsightly, overgrown edges or the area around trees and shrubs can be tricky. Most mowers are too large to get close enough, leaving your outdoor space looking uneven and messy.  Luckily, there is an easy solution to all this: a lawn edger. Ideal to use along driveways, paths, garden beds and trees, it makes keeping the lawn well trimmed and tidy easier than ever.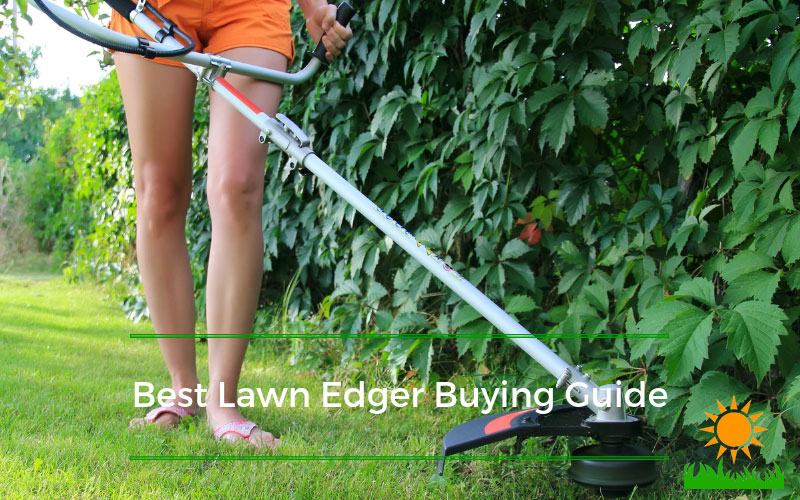 To help you find the right one, check out our guide to the best lawn edgers, complete with buying tips and brand reviews to ensure you have the information you need to make the best purchase.
Are There Different Types Of Lawn Edgers?
There are different types of lawn edgers, or trimmers, to choose from, so it's important to know all your options. Many are either gas or electric powered, but I do remember, many years ago, using a manual edge trimmer. Consisting of a row of blades arranged in a circle on a wheel, you pushed it along the edge, between your lawn and pathways, and it would give you a nice, neat perimeter line.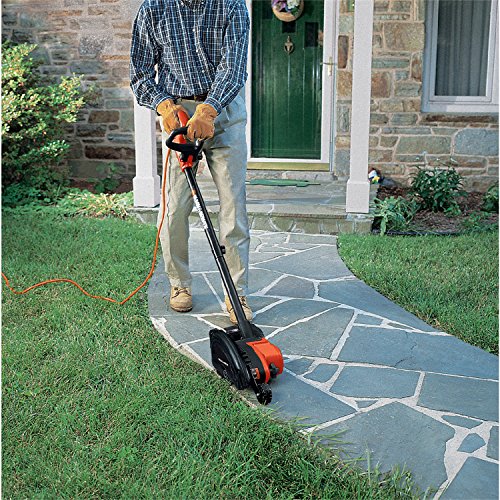 These days there are mostly powered edgers, offering both speed and convenience, but you can still get the manual style if that appeals to you. Many have a head that is adjustable and some trimmers, mainly battery powered ones, are available with hard plastic blades as opposed to metal.
There are also specialized weed eaters, which are quite sophisticated and super efficient. They have very sharp blades and guide wheels for added stability and control. Most of these edge trimmers run on either gas or electricity, are easy to start, making trimming your outdoor space super efficient.
What is the best lawn edger for home use? Our Top 5 Picks:
To help make it easier for you, we've reviewed 5 of the best lawn edgers available on the market today.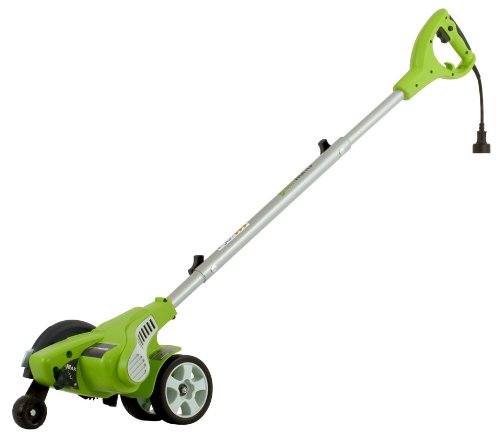 This electric lawn edger features a 12 amp motor, which gives you enough power to cut through even the most neglected edges or shrubbery. If you have a lot of dense areas to trim, this is a good option.
One stand-out feature of this trimmer is the spring assisted front wheel, which allows you to control the depth of the cutting blade from half an inch to about 2 inches. It also has an impressive 7.5-inch long blade that is double edged for greater durability and strength.
The handle is adjustable to match the height you need, and the power cord has a lock feature, definitely which means you won't accidentally get disconnected while you're working.
This edger comes with a full 4-year warranty.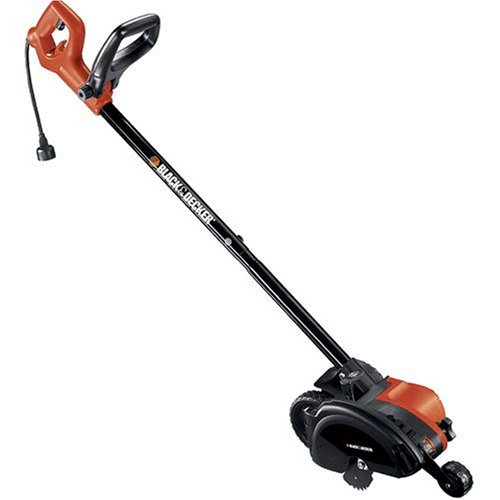 The Black + Decker Edge Hog runs on electricity and has a powerful two and a quarter horsepower motor, giving your lawn a nice, neat edge. What I like though, is that it can also double as a landscape trencher, which is ideal for trenching around garden beds to keep the grass away. It's also handy when you want to install some guards around your trees or lay some wires for outdoor lighting.
The blade can be adjusted to 3 different depths so that you can get just the cut your want and the handle is adjustable for either right or left-handed people. And with the built-in cord retention, your extension cord is kept safe and secure, and you won't accidentally be disconnected.
The Edge Hog also has a safety cut off by releasing the trigger, which is used to start the edger.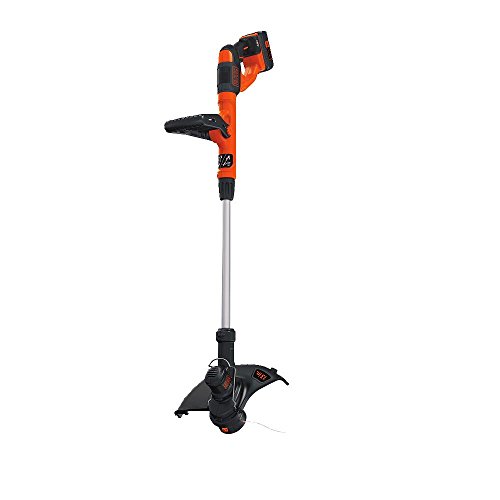 The LST140C is a traditional line trimmer, powered by a 40V max Lithium ion battery. The trimmer comes with 1 battery, so you'll never run out of power while you're trimming your lawn and garden edges, and the dual-mode switch lets you choose either high power for tough areas or extended run time; Which means you can have up to one hour of endless trimming.
This trimmer is quiet to use and incredibly easy to start. The pivoting handle is height adjustable for maximum comfort and in addition to the batteries, it comes with a charger and a 30-foot spool of line. The spool works on an automatic feed, so you won't need to bump or adjust the line during work time.
It easily converts from a trimmer to an edger with guide wheel just by rotating the head; the guide wheel makes it much easier to get an even edge, especially around your flower beds.
For those with larger outdoor spaces or intricate garden areas, this is a good fit.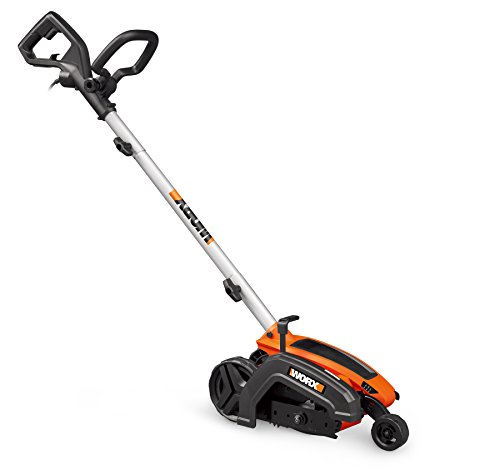 Quiet and easy to use, the WORX lawn edger achieves a perfectly neat and trimmed edge every time. The cutting blade can be adjusted to 3 different depth levels to suit any type of lawn, and the 7-inch blade makes cutting quick and efficient.
The handle is height adjustable and can pivot to make using it effortless, and there's also a cutting line indicator which gives you maximum control. Finally, the three guide wheels make it super easy to push along.
For those with small gardens or paths to trim, this is a solid choice.

or those with a lot of lawn edges to maintain and want something that is convenient, the Troy-Bilt Edger is for you. Gas powered, it has a 29cc, 4-cycle engine which requires no mixing of oil and gas and can power through the thickest brush;  the engine is also mounted on a steel frame for added durability and to make it easier to push along. And to make thing even simpler, it features a SpringAssist start which makes pulling the cord easier; you can also start this edger with a JumpStart tool which is available separately.
The blade on this edger is adjustable to 6 different depths, up to 2.5 inches deep and the steel blade is 9-inches long and heavy duty. The height of the cut is adjusted by a lever on the guide wheels, so it's a cinch to get a precision cut or to cut trenches around your flower beds.
The handle is ergonomically designed and can be folded down for easy storage, with foam grips for extra comfort during use. There are also idle controls and a throttle on the handle which gives you extra control while edging. This edger comes with a 2-year warranty
This is a heavy duty edge trimmer which will power through any type of outdoor space.
What Should You Look For When Buying a Lawn Edger?
To make edging your lawn easy and effortless, here is what you should ideally look for when purchasing a lawn edger: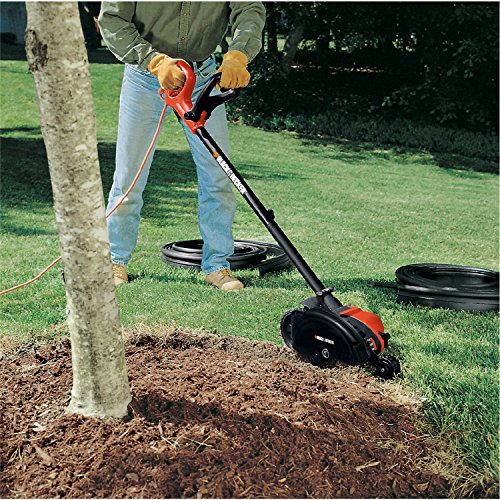 Easy start – electric and lithium ion powered lawn edgers are usually started just with the push of a button or pull of a lever. If you choose a gas powered edger to make sure it has an easy start option.
Lightweight – both electric and battery powered edgers are more lightweight than gas powered ones as you're not carrying or pushing around a tank full of gas.
If a gas powered edger is your preferred option make sure it doesn't require mixing oil and gas which saves time and unnecessary mess.
A cord lock or retention mechanism if choosing an electric edger – this means that you won't accidentally get disconnected if you stray beyond the reach of your extension cord.
An adjustable blade to give you a choice of cutting depth – this is necessary to give you that clean line between lawn and pathways as well as deeper trenching between the lawn and your flower beds.
A blade guard to stop debris from being flung around – this is essential if you encounter small stick or rocks especially when trimming around garden beds.
Conclusion
Our selection of the 5 best lawn edgers is sure to have one to suit any homeowner or gardener. You can choose gas-powered, electric or even a lithium ion powered edger and feel good knowing that whichever you choose, your lawn and garden will look beautifully manicured in no time!
[rwp-review id="0″]