If you own a home and value your life, not to mention your family's and random innocent strangers who walk by, then odds are you spend most of the winter grumbling and complaining as you shovel snow. Which, in my opinion, is the worst household chore ever. It is exhausting, time consuming, and for those not in the best of health, it can be dangerous.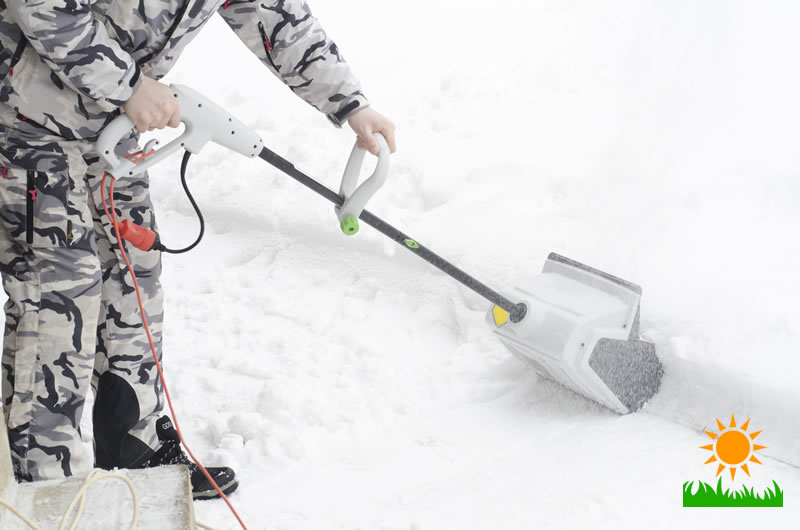 But I found a way to make the job easier and quicker- an electric snow shovel. Lighter and more efficient than a snow blower, it will remove snow without "blowing" a hole in your pocket. My Best Electric Snow Shovel Comparison Guide will tell you everything you need to know about these machines, from features to pricing, so you can choose the one that's right for you. You may even begin to like snow once you buy one… Maybe.
Electric Snow Shovel: What it Is & What it Does
If you're like me, you probably didn't even know there was such a thing as an electric shovel, so let me explain what they are and how they work. First off, an electric shovel is not a shovel. Yes, it kind of resembles one at a glance, but it is more like a narrow snow thrower.
Consisting of a long handle, or lawn mower style handle, with a wheel at the bottom and rotating blades, it lifts and throws snow to clear sidewalks, driveways and more. No more lifting and throwing, so anyone can use it.
The beauty of an electric snow shovel is it eliminates back strain and removes larger areas than a traditional shovel. As you push the machine, it clears and throws the snow to the side, leaving you with clear walkways, steps and more in just minutes.
An Electric Snow Shovel Versus a Snow Blower
The difference between an electric shovel and electric blower lies in the size and pricing. An electric shovel is smaller than a blower, so it's easier to maneuver and works great on walkways and drives. They can work for small yards too, but it will take longer to get the job done, which kind of defeats the purpose.
In addition, electric snow blowers are more expensive, so unless you have a large yard or property, they are not worth the expense. Plus, many snow blowers run on gas, making them less environmentally friendly and a hazard if you have small children. Not to mention the gas blowers require more maintenance and upkeep to maintain.
Electric Snow Shovel Pros & Cons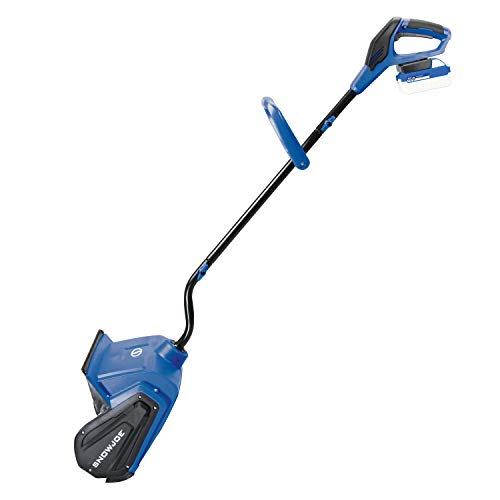 As with any device, there are pros and cons to owning one. Let's examine the good and bad points:
Pros
Electric shovels make cleaning snow from your property quick and simple. Since they are electric, they pick up and throw the snow, so all you have to do is push. This makes it easier on your back and joints and cuts cleaning time in half.
Cons
The one downside is that most models have a cord, which limits how far you can go. However, you can add an extension cord, eliminating this issue.
Top Rated Electric Snow Shovel Buying Guide
Now that you see all the things and electric snow shovel can do, it's time to see which are the best models and why. These models are all solid choices, but each has something different to offer and they all cone at different price points.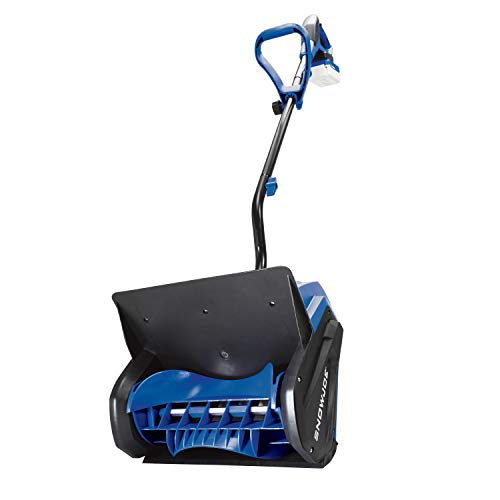 At just over $100, this electric snow shovel from Snow Joe earns high marks for its quality construction and exemplary performance. Fitted with a 7.5 amp motor it can handle jobs of all sizes and is just as good as, if not better than, many snow blowers.
Ideal for clearing snow from sidewalks, decks, steps and driveways, it clears a path that is 12" wide and 6" deep, for quick cleaning that goes down to the pavement. And if that isn't impressive enough, the motor allows it to move up to 300 pounds a minute and throw it as far as 20 feet, which means snow goes in the street, so you only have to pass through once.
The blades are plastic, so they smoothly lift snow and ice from streets and sidewalks. The plastic blades also allow you to clear wooden decks and other similar items without gouging or ruining the wood. This model does not include a cord, but you can attach any standard extension cord to the plug to use it.
Fitted with an adjustable metal telescoping handle, it can adjust to most user heights and is light and easy to push at just 12 ½ pounds. Best of all, it is rust-resistant, making this model the best value for your money.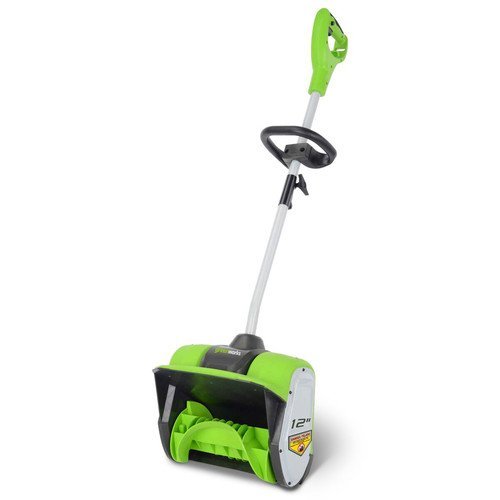 If you have a small home, a deck, or live in an area with lighter amounts of snowfall, this model from GreenWorks is a smart choice at around $75. Lightweight and durable, it boasts a 13" wide blade area, to cut a wide path. This is great for small areas, as you can walk through once and have the whole area clean.
The motor allows the shovel to throw snow over 5 feet, and it can clear down up to 6", making it perfect for light to moderate snow climates. It can also work in deeper snow, but that will require multiple passes.
The plastic blade is ideal for walkways and decks, as it won't nick or damage wood and it comes with the cord so you can just plug and go. Also, this model works with wet or dry snow, so you can shovel as it's snowing to keep your home clear at all times.
Economical and easy to use, it is compact and can be stored in a garage or closet without taking up too much space. Requires minimal maintenance: just wipe it down after each use and it will last for years. This model is a good fit for apartment dwellers and those with small areas to clear.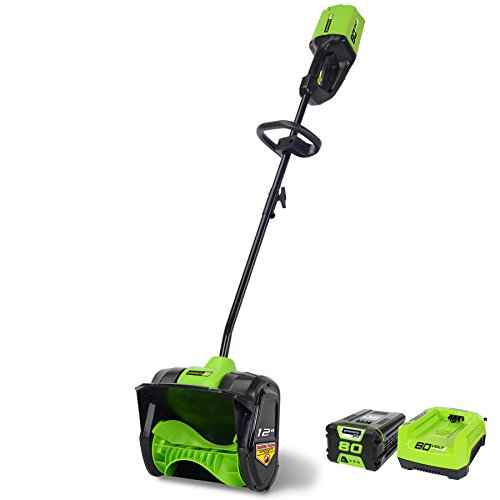 For those with larger properties, or long driveways, the Pro 2600602 from GreenWorks is a great find. A bit on the expensive side at around $300, it is well worth the investment thanks to its superior quality and wider range of motion.
One of the biggest pluses of using this model is that it is cordless. This allows you to go greater distances, including places you normally can't reach, even with an extension cord. Plus, you don't have to worry about tripping over the cord or it being in the way.
The 2Ah battery gives you a charge of over and hour, so you can finish even the biggest jobs and there is a charger that comes with it, for fast, effective charging overnight. The blade is plastic, but it can handle ice without issue, so it's perfect in all weather and terrains.
With a 12" blade width it can clear snow 6" deep instantly and makes light work of large yards and driveways. This model is built to last and a smart choice for users with large yards and lots of property.
As you can see from My Best Electric Snow Shovel Guide, these machines make quick work of the snow and eliminate the aches and pains that come with it. Light and durable, they work in any area to create clear, clean paths that make traveling safe for you and your neighbors.
Affordable and user-friendly, they are a great investment for any homeowner and will make you love the snow again. Trust me!
Snow Shovel Buying Considerations
Before buying any of the electric blowers featured, here are some things to consider:
Adjustability: Look for a model with adjustable handles so it can conform to your height and be easier to use. If you have to bend over or strain to reach the handles, it will cause you just as much pain and annoyance as using a regular shovel.
Size: Models come in all sizes, so choose one that fits you and your property. A machine that is too big may prove difficult to push, while one that is too small may not work for larger homes. Test a few models to find the perfect fit.
Property Features: Do you have a lot of steps or a deck? Many models are built specifically to work on stairs and other hard to reach places, so make sure the one you choose fits your property.
Motor Power: If you get a lot of snow where you live, or have a lot of ground to cover, you'll want a model with more horsepower to handle deeper snow drifts and greater amounts in a timelier manner.
Electric Shovel Safety Tips
Electric shovels are relatively safe, but here are some basic guidelines to ensure you use it correctly:
Keep the blade area clear of debris and do not try to pick up rocks or twigs with it. Twigs and other items can jam the blades and damage them. Also, pay attention to the types of blades it has. Plastic blades should not be used near rocks or thick branches.
If the blades jam, unplug the unit before checking to see what the problem is. Never put your hands in the machine; if it is jammed take it to a professional to fix.
Always unplug the unit when wiping it down to avoid it accidentally starting.
When cleaning the shovel, never use water, especially near the motor or cord.
Make sure the plug and/or extension cord is secure; since it is electric, you can get electrocuted if it falls into water.
Store away from children. An electric snow shovel is not a toy and should only be operated by adults.
Maintenance Tips
To keep your electric shovel running smoothly year after year, you need to take care of it. Compared to other snow removal machines, maintenance is easy. Here's what you need to know:
Wipe down the unit after each use. Once you're done clearing snow, use an absorbent towel to wipe down the outer casing and blades (make sure to unplug it first). Drying the unit prevents rust.
Store in a cool, dry place. Excessive heat or moisture can damage the motor, so keep the unit somewhere it can't get wet and isn't humid.
Keep the cord dry. In addition to getting hurt or electrocuted, a wet cord or plug can short out the whole motor, so pay attention and make sure the cord is properly secured.
[rwp-review id="0″]