Raking leaves is a task that few people enjoy, and it presents itself ever single year. If people don't rake their leaves as soon as they start to fall, they're going to end up with a cushion of leaf debris that will cause all sorts of problems, so removing the leaves is essential. However, removing the leaves with the aid of a powerful leaf blower instead of a rake can really make all the difference. The leaf blower does a lot of the work.
People aren't just relying on their muscle power in order to get the job done. Any Hitachi RB24EAP 23.9cc 2-Cycle Gas Powered Handheld Leaf Blower review will indicate that this is the device that can get people through difficult autumn chores.
RB24EAP Features and Benefits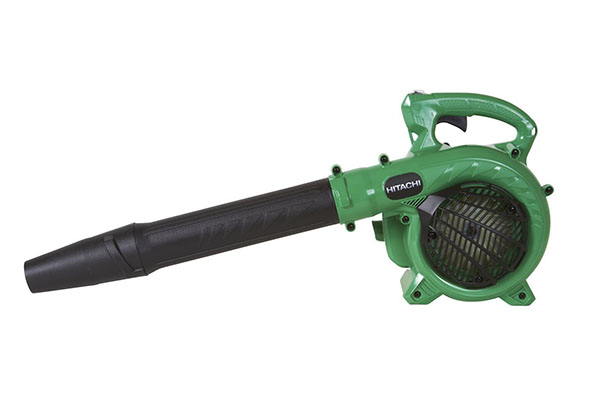 The air volume of the Hitachi RB24EAP 23.9cc 2-Cycle Handheld Leaf Blower is 441 CFM, so the device is going to be able to move the leaf debris quickly and effectively. The air that the leaf blower emits is going to be traveling at 170 mph, which will give customers the air pressure that they need to really move the leaves.
The Hitachi RB24EAP doesn't even weigh nine pounds, which should make handling it easier for everyone compared to the larger and more cumbersome leaf blowers.
The 23.9 cc Commercial grade 2-stroke engine is powerful and durable. Homeowners will be able to use this device for years, and those will be years in which it is making their lives easier in more ways than one.
Pros
Environmentally conscious consumers will be happy to know that this device doesn't use very much fuel. In fact, that's one of the reasons why this is such a durable leaf blower. The high-quality engine also enhances durability while making this a more effective leaf blower. People will get high air volume, and the air will be emitted quickly. This leaf blower really does the work for you.
The leaf blower is also designed to be easy to maneuver in general, with its aerodynamic shape. The Hitachi leaf blower is also less expensive than plenty of other leaf blowers on the market, despite being just as good as many of them or better. People won't specifically have to look for leaf blowers on sale for this model, since it already might as well be on sale.
Cons
Some devices like these have air filters, and this one doesn't, which might be a problem for some consumers. People who are concerned about outdoor air quality might be somewhat concerned. The leaf blower may use less fuel than many others, but that still might be too much for some consumers. Customers might also want to be able to adjust the blowing tube length more easily than they can with this leaf blower, since this is a feature with other leaf blowers.
The fan speed also cannot be easily adjusted, which might be a drawback for some consumers. Really, this is a great device that just doesn't have some of the supplementary features that some people want.
Leaf Blowers Compared
The Husqvarna 952711925 125B 28cc 2-Stroke 170 MPH Gas Powered Handheld Blower and the Hitachi RB24EAP 23.9cc 2-Cycle Gas Powered 170 MPH Handheld Leaf Blower have plenty in common. They have a similar design setup and they're both gas-powered. However, there are some important differences:
– The Husqvarna leaf blower is somewhat heavier, since it weighs slightly over nine pounds instead of under.
– People can adjust the fan speed using the Husqvarna leaf blower.
– The blowing tube length cannot be adjusted very easily with the Hitachi model, and it can be with the Husqvarna model.
– The Husqvarna model is also slightly more expensive than the Hitachi model, although they're both less expensive than many other products in this range.
Customer Reactions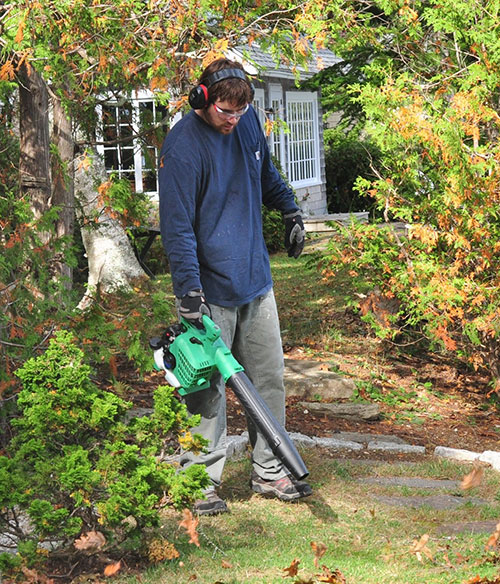 Customers all across the target demographics have been raving about this leaf blower, which is clear from any Hitachi RB24EAP 23.9cc 2-Cycle Gas Powered Handheld Leaf Blower Review. They've talked about how easy it is to handle, for one thing. While durability is important, at the end of the day, that's a long-term consideration. The device has to be convenient to use in the meantime, and this leaf blower definitely fits the bill.
Customers have also been enthusiastic about the fact that this leaf blower doesn't use all that much fuel. They were astounded by the fact that a leaf blower can be this powerful with this much of a forceful emission of air without all that much fuel. In many ways, the Hitachi RB24EAP Handheld Leaf Blower exceeded their expectations for devices of this sort. Owners have talked about the fact that cleaning up their yards is now a breeze thanks to the fact that they are able to use an efficient leaf blower like this.
Frequently Asked Questions
Question: Does this leaf blower have batteries attached?
Answer: This leaf blower does not. It is gas-powered only. Batteries are neither available nor required for this leaf blower.
Question: Is this leaf blower equipped with an air filter?
Answer: This leaf blower does not have an air filter.
Question: How powerful is this leaf blower?
Answer: This leaf blower emits air traveling at 170 mph and it is 441 CFM, making it a very powerful leaf blower that should allow customers to get rid of their leaves effectively.
Conclusion
Almost any Hitachi RB24EAP 23.9cc 2-Cycle Gas Powered 170 MPH Handheld Leaf Blower Review will vouch for just how powerful this device is. People who want to be able to remove the leaves from their lawns with reduced effort will be able to do so thanks to this device. It's a leaf blower that will make the process of leaf removal much easier on everyone. It's also a leaf blower that is fairly easy to handle, given its maneuverable shape and light weight. People won't always get all of the features that they want with this leaf blower, but they will definitely get exactly what they need.