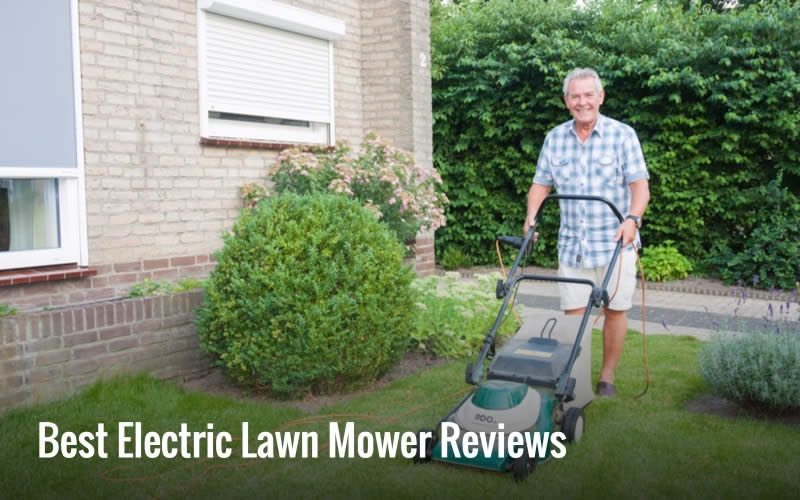 Ahhhh, I don't know about you but I love the smell of fresh cut grass.
What I don't love so much is mowing the lawn to get that dewy fresh scent.
Between the noise and the gas smell, mowing with a traditional gas mower is annoying- for you and your neighbors. It's also expensive: all that gas and maintenance (think spark plugs and oil filters) really adds up and can put a serious dent in your wallet.
Luckily, there is now a way to have the best of both worlds: an electric lawn mowers. Electric lawn mowers are a homeowners dream, allowing you cut your grass quietly, quickly and for just pennies a day. To help you say goodbye to gas and fight the right machine for you check out our Best Electric Lawn Mower Reviews.
We'll break down how they work, what to look for and everything else you need to know to make an informed decision that will be easy on your nose- and your wallet.
Electric Lawn Mowers: What They Can Do
Electric lawn mowers are quickly becoming a staple in homes everywhere and for good reason: their efficient, save you money and are good for the environment. Unlike gas mowers, they require no maintenance: no oil filters to buy or spark plugs to change.
Just plug it in and your ready to go. There is also a cordless option, which requires nothing more than letting the battery charge overnight.
Oh, and on top of all that they are virtually silent and save you money because you don't need to buy gas or oil every time you use it. Sounds like a win-win in my book.
The Benefits of Going Electric
As you can see already, there are numerous benefits to using an electric lawn mower. Let's see what they are:
Economical: Yes, they are a bit more expensive price-wise than a gas mower, but the money you save from no maintenance or upkeep more than compensates and puts money in your pocket in the long run. All you need to do is care for the blades every season- no gas or oil to use, making it a no-fuss machine that puts money back in your pocket.
Efficient: Electric mowers are easy to use. No filling tanks or struggling to get it started. Just plug it in and start mowing. Oh, and there's also the cordless option: just charge the battery overnight and you're ready to mow by morning.
Environmentally Sound: Going electric lets you do your part for our environment and not add potentially noxious chemicals to the atmosphere. Not to mention your neighbors will sing you praises for not having to smell gas every time they step outside.
Top Rated 4 Electric Lawn Mower in 2020 Reviews
Ok, now that you know what to look for, here is an up-close look at the top 5 models on the market: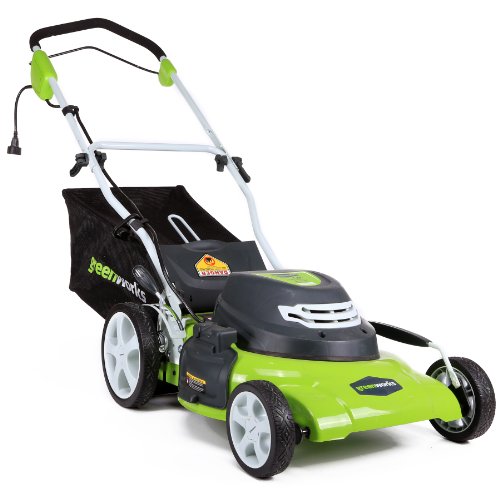 If you want a bang for your buck this model is the way to go, with a powerful motor and multi-purpose design- all at a low price.


Coming in at under $180 this electric mower has lots to offer, starting with a 12 amp motor and 20″ cutting deck to cut your lawn quick and easy. Combined with a 3-in-1 feature that bags, mulches or side discharges, this machine can handle all your yard needs.
Plus, it has 7 different height adjustments and is light and sturdy, so anyone can handle it with ease and it can cut grass of all different lengths. This machine is a great value and versatile enough for any mid-size yard.
This economical model is a perfect fit for smaller yards, with a strong 12 amp motor and 14″ cutting deck– all for under $100.
Compact, with a built in grass catcher, it quickly cuts and bags grass, making the hole process faster. the catcher detaches, so you can dump leaves and grass wherever you want them. It is durable and lightweight, so it's easy to push around a front, side or small back yard.
It's small size makes it ideal for those with limited space, but it will more than get the job done, with 3 height adjustments and a simple push start design.
If you have a larger yard or need something to handle all types of jobs then this is the way to go. Available in 20″ and 16″ models, this cordless, mower is the epitome of form and function and will make mowing the lawn a dream.
Coming in at just under $350 it is a bit pricey, but it is totally worth it. To start, it comes with 2 GMAX 40V Li-ion batteries, so you can always have one charged and ready to go. A battery can charge within an hour and provide 70 minutes of running time– which means it can handle even the biggest yards.
Even better, the GMAX battery system also distinguishes running time and conserves energy based on the thickness of your grass, maximizing power.
As if that wasn't enough, it also has 5 height adjustments, has dual blades for a more efficient cut and can bag or mulch, making it versatile. With a 12 amp motor and 20″ deck, this machine really gives you a wide variety of uses and is a smart investment.
Designed to maximize storage capacity and provide you with a clean cut yard, the EM1500 is a good fit for those with an eye for detail or those who prefer manicured lawns.
Priced at under $150 this machine has a 10 amp motor and has 6 different heights, allowing a close cut every time, even under plants and shrubs. It also has Edge Max, giving your lawn a sharp, crisp look that rivals pictures in a magazine.
Made to collect and go it picks up 25% more grass than some of the larger models, cutting down on mowing time and is a good fit for front yards or those who like to get creative. There's also a 17″ model for consumers with larger yards who are looking for that designer touch.
Made with your comfort in mind, the SPCM gets the job done quickly and effectively, thanks to it's size and features.
With the ability to go anywhere thanks to it's cordless design and a large deck size you can easily mow up to a 1/3 of an acre in not time: no obstacles and nothing to slow you down. It also has a 36-Volt removable battery, for quick charging from anywhere.
It has the ability to mulch, bag or discharge, so you can cut and go with no slow-down and best of all, it goes according to your speed, for smooth, efficient mowing that feels like a walk in the park.
At right under $300 this machine is big on style and function and is a great pick for those with large yards or a small farm.
What To look For in an Electric Mower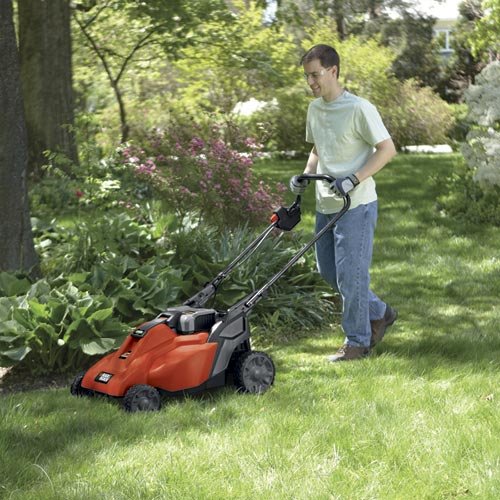 Now that you know what the can do and how they can help you. you need to know what features to look for when buying one. Here are the main features to look for:
Size: You need a machine that is compatible with your yard and you, so size matters.You want to pick a machine that can cover the amount of area you need and feels comfortable when you push.For instance, models that have adjustable heights are smart if multiple people cut the grass or you are extremely tall or short.
Power: The number of amps is important, as a smaller motor may not work well in a dense yard or if it is very large. You want a machine that makes the job easier- if you have to struggle it defeats the purpose.
Cordless: If you have a lot of dips and turns to your yard or it is expansive then a cordless unit is best. The last thing you want is to have to constantly stop to untangle a cord, so this is an important detail.
Multi-Purpose: Many electric mowers can cut, mulch, bag and more, making them all-in-one machines for all your lawn needs.Some even have attachments for pruning, shaping and other jobs, so think about everything you need to do and choose the mower that can fit all your needs. It will save you money in the long run.
Blade Capacity: Larger blades can cut quicker, cutting down on mowing time. If you don't enjoy mowing your lawn or are pressed for time due to a busy schedule opt for a model with a larger bade.Also, larger blades are a good choice if you yard has lots of branches from nearby trees littering your lawn. A larger blade will chop it up without damaging the machine.
Electric Mower Maintenance Tips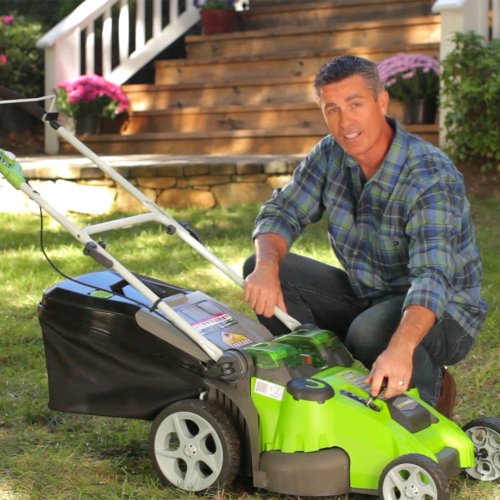 Electric mowers are great because maintenance is minimal. Here's what you need to do:
Blades: sharpen the blades every fall and spring to keep them sharp and maximize cutting. This is the main way to care for an electric mower and keep it working properly.
Deck: spray and wipe down the front deck with a cloth after every use to ensure there are no leaves or mud caked on. This prevents build-up that can slow down the machine.
Battery: charge the battery as directed for optimal power and keep it dry.
Pros & Cons of Electrical Mowers
To fully understand how an electric mower can help you we need to examine the pros and cons of owning one.
Pros
On the plus side, an electric mower is easy to use and can just charge and go. Goodbye pull-strings and hello push start. There are also no additional expenses like oil, gas or spark plugs. It also does not require a lot of upkeep- just wipe it down and check the blades every season.
Gas models require daily and weekly maintenance, costing you money and precious time.
In addition, gas models emit odors and fumes- not to mention they make a lot of noise. Electric mowers are good for the environment and don't emit terrible odors that can hurt you and the ozone layer.They're also nice and quiet- no disturbing the sleeping baby next door- or your own.
Cons
On the down side, many electric mowers need to be plugged in, which can be a bit of a hassle to drag around and limit you. However, with a heavy extension cord you can go very far and with a little maneuvering you can get into most places.
Also, electric mowers are a bit more expensive to buy than a gas one, but the initial cost is offset by the lack of maintenance and extras, so you actually save in the long run.
Q & A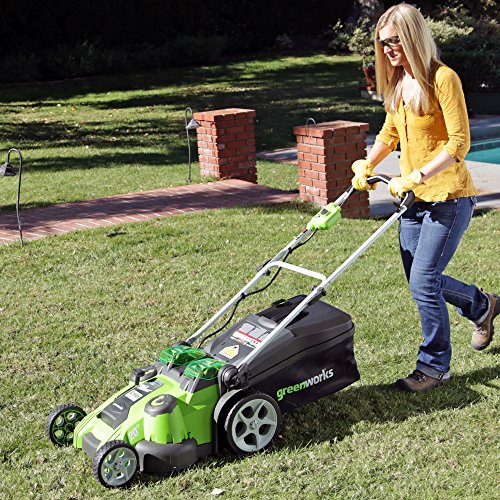 To help you better Gage the benefits of an electric mower, let's look at some frequently asked questions:
Q : Do the batteries on these models have a long shelf life?
A: Yes, on average a battery should last you anywhere from 5-10 years before it needs to be replaced.
Q : Can they really save you money?
A: Yes, they can. Since you don't need to buy any parts, like spark plugs and don't need to use oil or gas, they can save you a nice amount of money each year.
Q: Are they easy to use?
A: Very easy. there is no pull-string, no gas to put in and no loud noises to bother your neighbors. Simply push a button and start mowing.
As our Best Electric Lawn Mower Reviews show, these machines are the ideal way to mow your lawn- no matter how big it is. They can cut, mulch and bag, making yard work simple and easy, so you can have more time to enjoy the beautiful weather. No more being stuck on a Saturday mowing, raking and bagging all day long.
They also help you to save money and save the planet thanks to no fuel emissions and no maintenance that keeps your money in your pocket- where it belongs. Safe, user-friendly and built to last, electric mowers are a smart investment in a brighter, "greener" future!