One of my favorite memories growing up was backing out the riding mower. I was pretty short, so I had to lean down to hit the pedals several feet below me. I pulled awkwardly out of the garage, whipped it back straight, and kicked it into high speed, tearing across the lawn. I was Mario Andretti out there, tearing through the back nine on our property.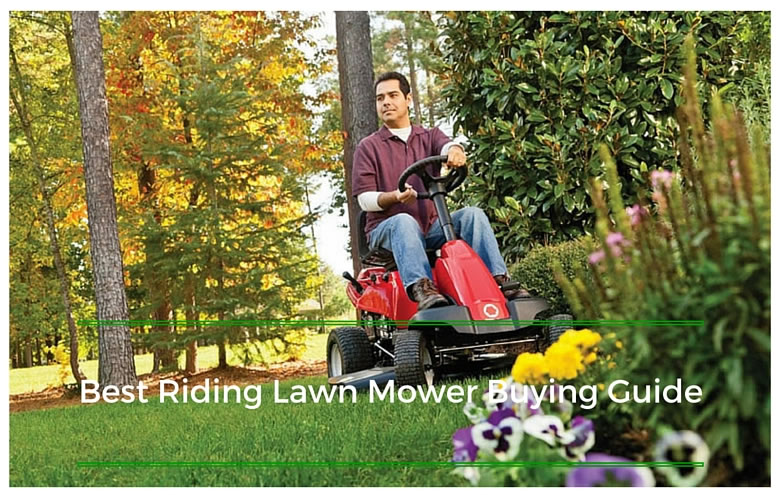 I sure didn't cut the grass straight or even, and we might have had to replace the blade because I hit a few rocks and roots; but those were some of the best moments that I had on that lawn- and I think everyone should be able to enjoy the experience of absolutely obliterating large swaths of your lawn with a powerful riding lawn mower or lawn tractor.
Unfortunately, before you go buying a lawn tractor to start maintaining your lawn or to drive down the road in town (we won't tell anyone) you first need to compare the different types of lawn mowers available, and the size of your lawn to ensure that you're always giving yourself the competitive advantage against unruly weeds and grass.
Advantages of Riding Mowers over Push Mowers
It can be tough to decide whether you need a high quality riding mower. It really comes down to three distinct decisions: the quality of the riding mower you choose, your budget, and the functions and features that you could have with your mower.
The Best Riding Lawn Mowers and Tractors Guide
If you live in a residential neighborhood and have a decently sized yard, we recommend the Troy-Bilt 420cc – one of the best rated lawn mowers. It's not extraordinarily robust or powerful, but it's great on relatively stable ground, and it's a great, moderately priced purchase. Plus, it has several nice features that really make it stand out:
Troy-Bilt designed this model to go where larger mowers can't, and it's easier to store in your shed. The size of the deck doesn't seem that important now, but it makes a world of difference when you've got a lot to store.
A Comfortable, Mid-Back Seat
Don't hurt your back or struggle and strain when you're mowing. It's got a retro lightly cushioned design that breathes well and is still compact. It's the best riding mower under $1500.
Tight, 18 inch Turning 

Radius

 with Manual Take-off
You can't stress manual take off enough, it really engages the blades fast. Plus, with the tight turning radius, you won't miss an inch!
Durable Wheels

 that Should Last a while
The Troy-Built has 13″ x 5″ reinforced wheels on the front and 16″ x 6.5″ wheels on the back
Check out why others love it with 4 stars+ and latest price here.
This powerful Poulan has a tried and true build that has been trusted for years, and it comes with a sizable 2.5 gallon tank to fill with gas. The transmission is controlled by hitting the pedal (called fast auto drive transmission) to give it plenty of speed, while the 20 HP engine keeps it nice and smooth. It's really slick and has some great features:
Quieter and more fuel efficient with 

a 

20HP

 Engine.

Perfect for bigger guys or gals. It was very comfortable and made for an excellent ride.
It has large wheels to keep it from getting stuck in the grass.
The larger model, the Poulan 24 HP with a 54 inch deck  sounds like a great deal, but it costs considerably more, and has the same size gas tank; which means it runs out of gas faster than the 20 HP model.
Plus, besides the larger engine and the bigger deck, it's practically the same mower. Still, they're highly versatile, easy to use, and are very fast. Neither model has a fuel gauge, which makes it hard to judge when you should fill up, unfortunately.
When I was a kid, I wish my parents would have had this ZTS Mower. It's fast, agile, and durable. Plus it comes from a name you can trust; Husqvarna.
Powerful and Fast
It's got a powerful 24 HP engine to deal with even the biggest yards, and you'll have a large deck to do it with.
Easy to use blade activation
The blades are activated electrically, making your job even easier.
Ultra smooth ride and low maintenance
This is one of the few models on the list that's actually Dual hydro-gear EZT, meaning that there's next to no maintenance on this model, a definite plus.
If you're springing for the best riding mower out there, this one is it.  See why users rate it 4+ Star Review here.
Husqvarna developed this model to mow larger 3 acre yards, to make tighter, cleaner turns than a brush-hog to get better results. This riding mower is very adjustable, and it can mow backwards and forward (like the Poulan model) with hydrostatic transmissions. The controls are notoriously easy to use, in good locations, with meticulous labeling systems.
We really like that it's got thick, durable blades
Everyone is going to hit some (if not more than "some") rocks when they're mowing. The blades on this mower are thick and high quality.
Haul equipment, or use tractor attachments
This Husqvarna model is powerful and flexible to use. It has many different tractor / towable tools  and even a mulch kit.
With a price tag under $1000 for a riding mower, you kind of take what you get. It's far less powerful than the other models we've mentioned today at 190cc, and it's got a tiny 26″ deck. The transmission operates with a friction disk with 3 forward speeds and 1 reverse speed, as well as providing an electric no-recoil start with 3-inch blade attachments.
This mower is loud, but it gets the job done.
The WE-One is a little loud and annoying, but it's perfect for small to moderate yards when you really don't want to push mow.
You really can't ask for more from a Riding Mower that's cheaper than all of the alternatives.
​
What to Consider When Buying a Riding Mower?
Picking your transmission
When you're picking movement speed, you've got to consider manual (that give you the most speed) or automatic transmissions (that give you the option to change your speed when you're working around obstacles), as well as hydrostatic transmissions that use fluid instead of belts to help transfer power from the engine to the wheels to give you a smooth mowing experience for a long time.
Unfortunately, these types of models can be expensive.
Other engine considerations
It's not all about power and speed when you're choosing the best engine for your home. You're going to want a combination of power and durability, because you don't want to be performing a lot of costly repairs.
Check and make sure that the engine has a quality cooling system, as well as:
Easy access to air filters.
​

An oil filtration 

system

 to lengthen the amount of time between oil changes.
​Is the oil easy to change, or is it a hassle?
Is the engine a 

single

 cylinder or twin cylinder

 (single cylinder engines will only mow less than an acre)?
Our Favorite Features

 to Look for:
Cruise control makes it easier to mow larger yards. Imagine not having to depress the brake to mow.

Cut width is important to consider

 when you're deciding how you're mowing around small spaces or if you've got a huge area to mow.
Cutting width makes sure you get the most out of your mowing.
​Turning speed variations help you mow what you need to in fewer passes.
​

Mulching and bagging capacities

 are great if you need to just throw them off to keep your yard clean and manicured. They're easy to use, easy to take off, and handy to empty.
​Parking options (so you can hop off and pick something up without shutting the mower off) are important when you might have unforeseen obstacles in your path.
​Side discharge mowers shoot grass that's coarse or tall out of your way so they don't choke up the mower after the blade rends them out of the other end.
Yard tractors have attachments that let you till your garden, aerate the soil, and use other handy tools which helps you if you have to till your yard or move heavy objects. We'll describe some of these other options later in the review.
Types of Riding Lawn Mowers and Tractors
There are four basic types of riding mowers/tractors on the market today.
Riding lawn mowers

 are typically considered to be the least powerful, averaging yards between 1/2 acre and 1 acre of land space.

Lawn Tractors 

have more powerful designs and are usually made to mow up to 2 acres. You can attach a lot of extra options to these models of tractors that you can't add to small models, but be sure not to over-engage the engine.

​Garden Tractors

 are the most powerful, and they have heavy duty transmissions. You can use a garden tractor on yards that are 3 acres or more.

Zero Turn Radius Mowers (ZTS) 

– If your yard is full of obstacles, you should get a zero turn mower! They turn on a dime, pivoting at the sharpest angles possible to get the best angle around a tree or bush.They can't perform a lot of different tasks, but they zip ahead of other mowers and do a great job around tight spaces (such as a flowering bush or garden bed).
Questions to Ask When You're Buying Your Riding Mower or Tractor
Do I just use regular gas for my mower?
Actually, regular gas can corrode and damage your machinery over time. It's best to add small amounts of fuel stabilizers or ethanol-free pre-mixed fuels.
What kinds of extended warranties are offered on this riding mower?
Warranties vary depending on the models that you choose.
How often do I have to perform maintenance?
You should perform maintenance every time after you mow, and before you store it for the winter if you want it to last a long time.
Are all Riding Mowers and Lawn Tractors the same thing?
It's easy to see the misconception, but the major difference is power. Garden tractors are considered the most powerful because they operate tillers.

Smaller mower models might not be robust enough or have the right attachments to operate yard tractor equipment.
Maintenance to Keep your Riding Mower New
Perform maintenance each time you mow, completing each of the following steps:
1. Before you start, disconnect the spark plug and inspect it for wear. Tighten any loose fasteners.
2. Make sure the shields and deflectors are in place and undamaged before you start the mower.
3. Check and make sure that your tires are properly inflated. Poorly maintained tires can get expensive.
4. Clean off dirt and debris from the mower blade, fuel-fill areas, and oil fill levels.
5. Check the fuel and oil levels. After this step, reconnect the battery or spark plug.
6. Brush off the engine and cooling fans, inspect the muffler and spark arrestor and mowing blades (without engaging the blade).
7. Always let the engine cool off before you put it in the garage.
​
Go Ahead, Choose One of These Great Models, But Remember:
Always stay safe, and wear protective eye wear. Mow during the day, and don't mow around other people (that's how windows get broken). Try turning on some music, drinking a nice cold glass of sweet tea, driving your mower.
Take care up hills and inclines, but enjoy the journey- with the right mower, yard maintenance can be a chore to remember.
Take your time and pick the best riding lawn mower or tractor for your lawn. Often, the best models can last for as long as a decade, especially if you perform the maintenance listed above.
[rwp-review id="0″]