If you're looking for a new way to maintain your lawn, you may want to consider using a hand reel mower. Yes, hand push mowers are making a comeback and are nothing like the old clunkers your grandpa used to have. Great for people with small to medium yards, or anyone who is environmentally conscious, they are extremely lightweight, well designed and very durable.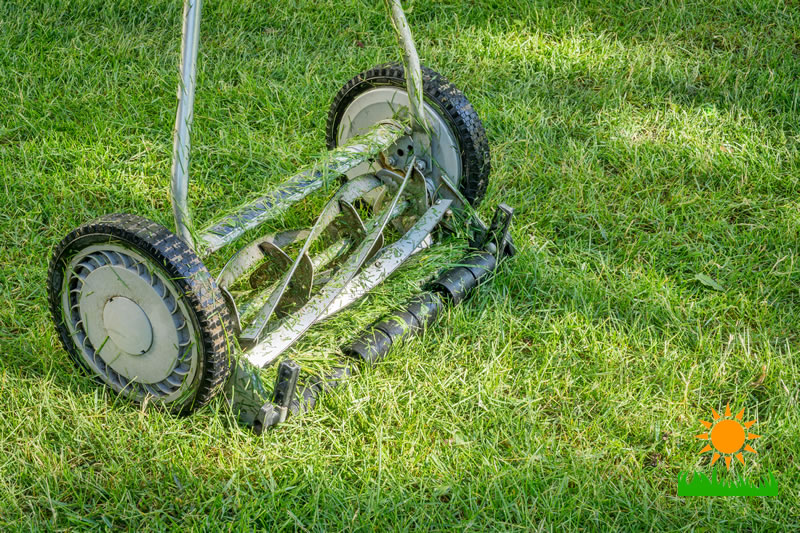 Let's delve into why you should consider a hand reel mower, how it benefits your lawn and then review some of the best walk lawn mowers available today.
How Does A Hand Reel Mower Work?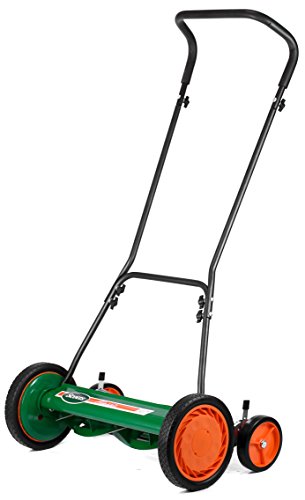 With a hand push mower the blades rotate vertically and cut your grass just like a pair of scissors. This gives your lawn a nice clean cut and is much different than using a powered mower, which tends to shred and tear each blade of grass.
There are also a variety of different options when it comes to hand reel mowers, from ones with only three blades to more advanced models with seven blades. The more blades a reel mower has, the thicker grass it can cut easily; So for instance, if you have a lawn of mainly St Augustine grass, then a reel mower with 5 to 7 blades would be best for you.
Finally, using a hand push mower provides you with free, natural fertilizer;  Most don't have catchers, so the clippings are scattered around on your lawn. Mulched grass clippings break down very quickly and as they do they release nitrogen into the soil which in turn feeds the grass.
Top Rated Hand Push Lawn Mowers
If you're looking for a well-maintained lawn, the American Lawn Mower will give your grass a precision cut without too much effort. Ideal for small lawns and narrow areas of turf commonly found along sidewalks and driveways, it cuts a variety of grass lengths easily and comfortably.
Made from tempered alloy steel it weighs only 21 pounds, making it lightweight and easy to maneuver. Honestly, it is one of the lightest mowers that we have reviewed to date; it's also one of the most versatile.
The cutting height is adjustable from 1/2 inch to 1 1/2 inches, so it can cut through longer, thicker grass if you're willing to use a little effort.  It also comes complete with 8 1/2 inch high impact, polymer wheels and a zinc-plated handle with plastic grips for an easy stride and natural feel.
Plus, the roller wheels make it easy to pull backward without engaging the blades, so it can roll over concrete areas and patios without being damaged.
It comes with a 90 day warranty and is a solid value for your money.
Fitted with five blades and a 16-inch cutting width, the Scotts can easily handle thicker grasses such as St Augustine,  so it's an ideal mower for thick, lush lawns.
To start, the blades are made from heat treated steel to give your lawn that scissor-cut look each time you mow. These blades are built to last and will keep your lawn looking great for years to come. And the cutting height can be easily adjusted from 1 inch to 3 inches using the Quick-Snap height adjuster; similar to the height adjustment on a powered mower.
In addition, it has dual wheels which help reduce drag and give you better maneuverability; which means you can use this mower easily even if you have an uneven ground or rough terrain. The main composite wheels are 10 inches in diameter with radial tires and the tracking wheels are 6 inches in diameter.
Finally, it weighs approximately 34 pounds and has a soft foam grip for mowing comfort. Oh, and there's a 2-year warranty.
Perfect for a well-maintained lawn requiring weekly or monthly trimming, this mower is easy to use and well-built.
It features a three bladed mower with a 14 inch cutting width, so it's a match made in heaven for small yards and softer grass varieties. It works well on both wet and dry grass but is not good for most weeds, especially broadleaf varieties.
But if you keep your lawn relatively weed free, this mower, with an adjustable height of  1/2 inch to 1 1/2 inches, will work just fine even in the early morning when there's a bit of dew.
As for its construction, top of the line materials are used. The reel and bed knife blade are made from alloy steel with steel side plates, while the 18 1/2 inch wheels are made from a high-impact polymer with molded tread. This ensures the blades won't become dull and the wheels won't wear down.
In addition, the handle has plastic grips for mowing comfort and very lightweight to push weighing only 20 pounds. And if you let your lawn get a little long, this mower will still cut through it if you use a little effort and maybe go over some patches a couple of times.
It also comes with a 1-year warranty.
For those who are environmentally conscious and don't want to use a powered mower, this Greenworks mower is the way to go.
This mower has a 16-inch cutting width and 10-inch front wheels with rear rollers for easy maneuverability. The cutting height can be adjusted from 1 1/8 inch to 2 1/4 inch giving your lawn that perfectly manicured look every time. And the loop style handle has a foam covering for mowing comfort.
What a lot of people rave about is the fact that it comes with its own catcher for those who like to bag or compost their lawn clippings. It can be used either with or without the catcher, which is great if you have some longer grass to mow the first time around.
Once your lawn is regularly maintained, use the mower without the catcher to give your lawn the benefit of the mulched clippings.
This is a great mower for small yards, but be aware that if you have a lot of twigs or other debris you may need to rake these up first so that they don't get stuck in the reels of the mower. This is the case with most reel mowers but removing any stuck twigs is easy by just turning the reel backwards.
The Greenworks reel mower also comes with a 4 year warranty so you can be assured that it's well built and durable.
The Sun Joe manual reel mower is great for small lawns. It's easy to push and maneuver thanks to its dual wheel set up and has an 18 inch cutting width and a 9 position manual height adjustment of up to 2.44 inches. Which means that you can have your lawn at the exact height you prefer.
The 5 cutting blades are made from steel so they're durable and easy to cut with and it has its own catcher so you have the choice of either bagging or composting your clippings with the bag or going bag free and mulching your lawn.
The handle has a foam grip for comfort and the mower weighs just 28 pounds so it's very lightweight and easy to use.
If your lawn has been left for a while and the grass is a little long, you may need to do the first cut on the highest setting first. Then after the first cut, lower the setting and run over the lawn again.
This should give you the desired cut that you are after. Once your lawn is at the correct height this mower will easily maintain it and keep it looking great all season long.
This mower comes with a 2-year warranty which is a plus.
What Are The Benefits Of Using A Hand Reel Mower?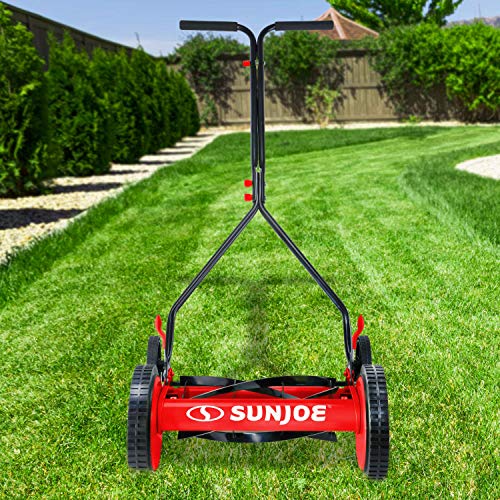 There are several benefits to you and your lawn associated with using this type of mower. Let's take a look:
It cuts each blade of grass cleanly, lessening the chance of disease attacking your lawn and giving it a neater look which is why reel mowers pulled by tractors are most often used on golf courses and baseball stadiums. They give the lawn that well-manicured look.
They are more environmentally friendly as they don't use any energy other than you pushing it along. This means no more smelly gas fumes, no need for charging batteries and of course, far less noise.
Pushing a hand reel mower is great exercise. Although today's reel mowers are much easier to push you'll still get the benefit of a reasonable workout while you're mowing your lawn; there's also the added benefit of being outdoors and getting some fresh air.
They require much less maintenance than a powered mower and are far safer too. You don't need to worry about your mower shooting out rocks or other hidden debris that could easily take out someone's eye.
They are generally compact in size and relatively lightweight so they're extremely easy to store. This is great for people who live in small homes where storage space is limited.
What Are The Safety And Maintenance Requirements Of A Hand Reel Mower?
For those new to hand push mowers, and to help you get the most from it, here are some basic safety and maintenance tips: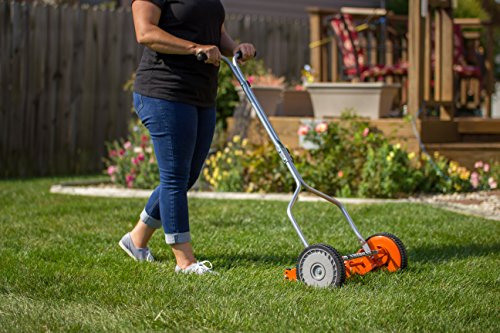 Maintenance
Keep your mower clean by hosing off dirt and debris regularly.
Check the blades at least once or twice a season and sharpen if necessary with a sharpening stone and some cutting oil.
Check the alignment of the blades to ensure they are cutting evenly using a piece of paper. The alignment can be adjusted by turning the screws on either side of the cutting bar.
Lubricate the wheel drive gear assembly using wheel-bearing grease at least once a season.
And that's all there is to maintaining your reel lawn mower. No more annual tune-ups, messy oil changes or having to buy replacement batteries.
Verdict
For people with small to medium lawns who don't mind getting a good workout when mowing their patch of paradise, a push reel mower would make an ideal choice. It's also better for the environment as it has zero emissions and only uses man power.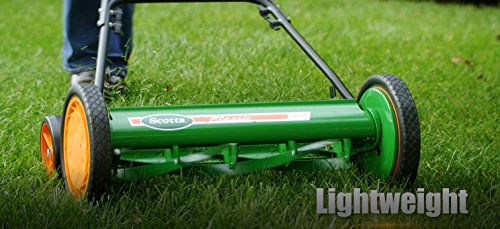 And because reel mowers cut your grass cleanly just like a pair of scissors, your lawn will look healthier and much more manicured. Plus there's the added advantage of free fertilizer when you leave the mulched cuttings to break down and feed your lawn.
After all, there is a good reason why groundskeepers who maintain golf courses and baseball fields prefer to use reel mowers.