The Weber Spirit E210 is an affordable and effective solution for anyone looking for a gas grill. It's easy to install and it delivers impeccable results for anyone that uses it, making it a joy to use. Plus, it's durable enough to be the last gas grill you buy for a long, long time.
Simplicity and Style in Streamlined Package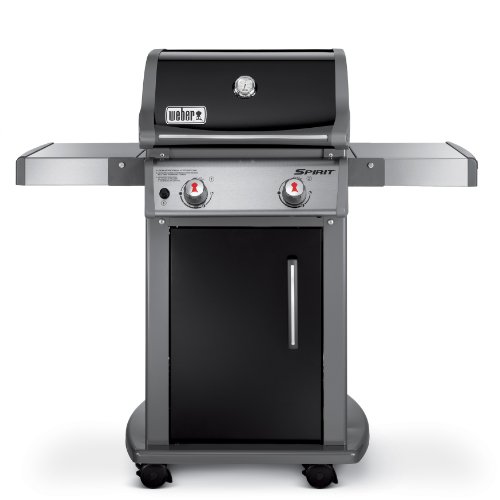 One of the most common phrases of 2016 is "feel the burn." You'll definitely be feeling something after you've experienced the high quality Weber Spirit E-210. It's one of the most highly praised models, balancing simplicity and style in one streamlined package that has everything you need for your family cookouts and more.
You'll love how easy this model is to operate, the results you get every time, and the price you'll pay. In our Weber Liquid Propane Gas Grill Review we'll cover all of the best features for a gas grill, as well as the reasons that this grill was rated among the top gas grills on the market today.
Some of Our Favorite Features of the Weber 46110001 Propane Gas Grill are:
Feature #1: Plenty of power
You never have to worry about your meat not getting the sear or quality that you want with this grill. It's got a great design that keeps heat where you need it (over the meat) to get it done in a timely fashion. Plus, it's efficient enough to last a while.
The Spirit 210 is capable of reaching temperatures well over 500 degrees Fahrenheit in as little as five minutes, depending on the ambient temperatures around the grill. You can even lower the temps of the grill to a consistent 400 degrees for a more flavorful slow cook or roast.
Feature #2: High quality porcelain-enameled cast iron cooking grates with an electronic crossover ignition system
The E-210 leaves little to desire with a well designed cooking grate system that leaves the burn marks you crave on your meat. Plus, it's porcelain enameled, so it's wear and food resistant.
Feature #3: Lots of cooking area for about 4 people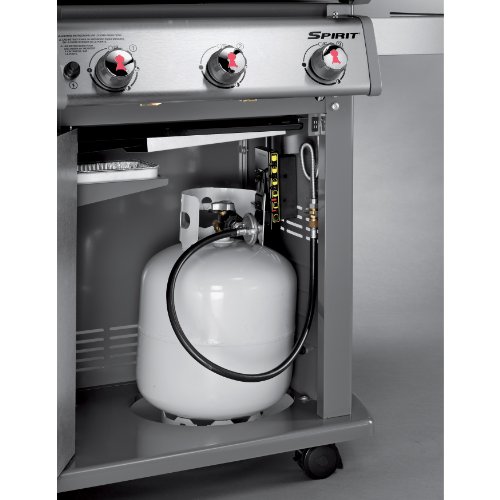 You'd need around 450 square inches of cooking space with plenty of heat (50,000 BTU) to get the job done.
You'll never have to worry about flipping the meat, because there is plenty of space and heat in this grill.
Feature #4: Burners are evenly spaced to distribute heat evenly and effectively
When you're cooking, you want to place the meat anywhere and get it done. Such is the case with this Weber model. It'll deliver perfect results, every single time with 26,000 BTU a piece output.
Feature #5: Very sturdy, high quality design
You can tell just by looking at it that the design was well-thought out. The parts are decently heavy and everything seems well-built and high-quality. The grease drains are awesome too- eliminating the mess and the flare ups.
Feature #6: Easy to use control panel
No more struggling to light your grill and get to cooking with the E-210's easy cooking system. Everything is in the front, easy to use, and precise.
Feature #7: Large fold-able stainless steel tables
If you need extra cooking space, the Weber 46110001 is for you, because you'll never have to worry about a place to hold your beer or place a plate of meat that's ready to go on the grill.
Feature #8: Handy Propane Fuel Gauge
Don't worry about running out of fuel! The Spirit E-210 has a handy gauge that always tells you when you need more fuel before you start cooking.
The Perfect Summer Awaits You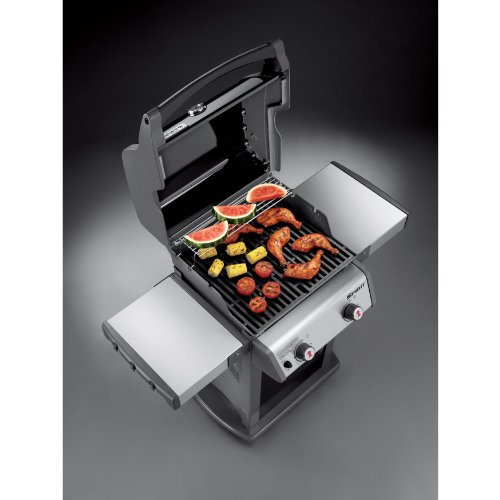 Imagine sitting out in the sun with your family or going to tailgates for your favorite game. You could even take it to the beach or to a sunny park by the stream; enjoying sensationally cooked meat at the perfect temperature.
Add in a few beers, a few lawn chairs, and some good friends and music and you're sure to have a good time. Our family of four likes to put on some old time classics, throw down some steaks, and party.
Why Buy a Weber Gas Grill?
Just like summertime is incomplete without grilling, you'll find that liquid propane and your favorite cuts of meat are incomplete without a high quality Weber grill. One of the biggest things to remember when you're purchasing a grill is that you're purchasing a brand, a reputation and a warranty. There aren't many brands out there that can compete.
The best part is that the Spirit E-210 comes with great gas grill discounts– meaning that you never have to worry about spending a lot of money. If you're wondering where to buy the Spirit E-210, check out this Gas Grill Buying Guide for details.
How Do I Know Which Grill to Get?
Unless you're only cooking for you, you're going to want plenty of space. The leading gas grilling experts advice at least 100 square feet for every person that you're grilling for.
They also recommend that you have 100 BTUs for every square inch of space that you're grilling on, but of course the size of the grill and the materials that its made from play into the heat transfer from the burners as well.
Additionally, you should Consider:
Q. How many burners you'll need. Typically, more burners is better, and you want them evenly spread across the grill instead of vertically.
Q. How much money do you have to spend on a new gas grill?
Q. Do you need extra tables to hold stuff (like delicious cooked meat)?
Q. How important are the burners and grates? Do you want grates that leave sear marks?
Q. Would you like a propane gauge to help tell you how much propane you have to use?
Q. Are controls important? How accurate does the heat distribution need to be?
Q. How much space do you have to grill? Are you grilling on a deck or patio?
All of these questions and more come into play when you're buying a new grill. Luckily, the Weber Spirit E-210 is compact, easy to use, and high quality. It's got plenty of features in a stable design with well-thought out placement that leaves nothing to be desired. It's a little expensive, but we believe that the pros outweigh the cons, as we'll discuss in our Weber Liquid Propane Gas Grill Review.
The Weber Spirit E-210 has a comparable amount of power as the upgraded Spirit E310
The Weber 46110001 would be considered the little brother of the 310 model, because the E-310 has three burners, putting out an impressive 12,000 BTU differential. The extra power is all put necessary with the increased space, but the equipment in these two models is identical.
What this shows you is that you really get what you pay for with Weber, when you buy it. You get the same high quality equipment even on more affordable models, without breaking your budget.
What the Customers Say: Weber Liquid Gas Grill Customer Reviews: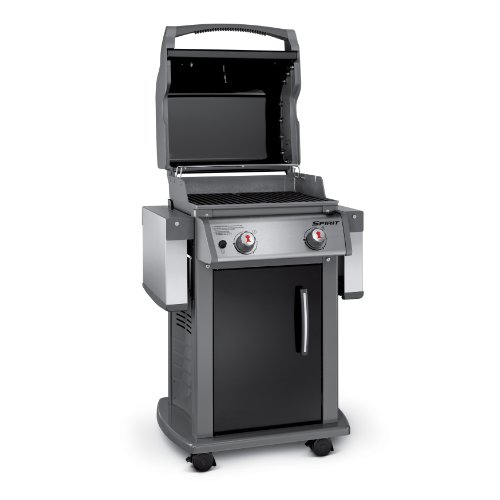 Customers love this product. It's one of the highest rated, top-selling grills on Amazon for a reason- it's simple and it delivers results. It's easy to put together, stands the test of time, and gets the job done. You don't have to waste your time figuring out if you've got gas, either. Don't over torque the tables when you're putting it all together, or you could be disappointed.
Verdict: Our Weber Liquid Propane Gas Grill Review:
The Weber Spirit E-210 is perfect for almost anyone. It's a little pricier than other models, but the build quality more than makes up for it. You aren't going to have to worry about buying parts or another grill, because this one is sturdy enough to get the job done.
It's got the space, the power, and the features to make sure that your grilling experience is one to remember forever.

[rwp-review id="0″]