It's hard to pick a good mower, and it's usually a pretty hefty purchase when you do. You don't want a lawn mower that's going to let you down, and you certainly don't want to pour a lot of money into a lawn mower that isn't going to do the job. Luckily for you, the Poulan Pro PB20VA46 20 HP Riding Mower packs the punch that you need to get the job done when you're mowing a medium to large sized yard (up to 5 acres). It's quick, trustworthy, and powerful when you need it to be to guarantee that your grass is going to be be cut right.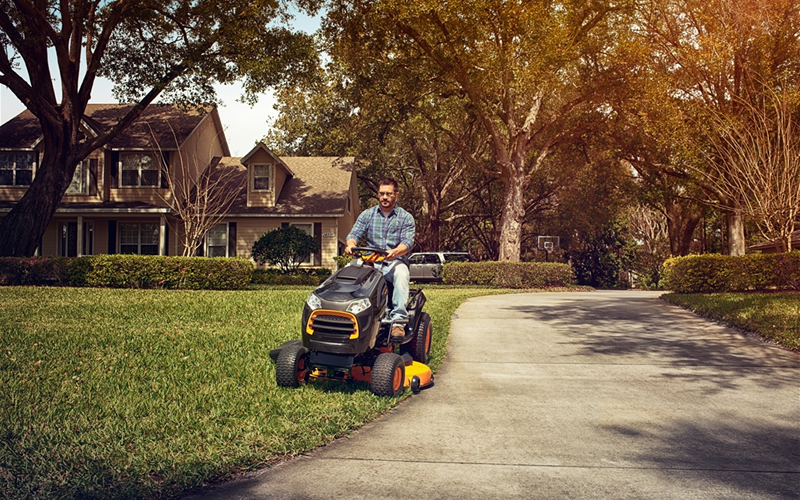 In this Poulan Pro 20 HP Riding Mower Review we'll discuss how this riding mower gives you the best bang for your buck when push comes to shove. You'll also learn a little bit more about the features and accessories that this model offers, as well as the features that make it an even better buy. In fact, Poulan Pro has a storied reputation going back as far as the 1940's that ensures that you're getting a quality piece of craftsman material.
Some of our favorite features on Poulan Pro PB20VA46 include:

Feature 1: The powerful 20 HP V-twin motor that ensures you have the power you need to get the job done
There's nothing worse than starting a job and being unable to finish it. The 20 HP V-twin motor keeps on going to ensure that every single blade of grass is annihilated and cut to an even, measured amount. Expect nothing less than the best from Poulan Pro, with a storied history of quality products for over 70 years.
The Briggs motor is built with quality parts and won't let you down even on the longest days with the biggest yards. You can park, hop out and pick something up and even mow backwards, meaning that you can get every patch of grass, every time you mow. Plus, the mower's gasoline tank holds 2.5 gallons, so you can mow a huge area with one tank fun of fuel.
Feature 2: The wide 46″ cutting deck clears a lot of grass, fast
Riding mower experts will tell you, you need pretty good-sized cutting deck to ensure that grass is properly cut down on larger yards, otherwise you'll be taking a lot of extra passes through your field. You never know when you'll need to have the extra space, even if your yard is only 2-3 acres. Even better, the cutting deck is completely backed with a 10 year warranty, giving you a little bit of respite when you make this purchase.
You know that you'll never have to worry about the mower when you purchase it, because the most valuable and expensive pieces will be covered completely.
Feature 3: Powerful four cycle/two cycle switch makes sure that you can cut wet grass or dry grass in a fashion that makes your mower last a long time.
The Poulan Pro 20 HP Riding Mower is one of the most versatile mowers on the market today. This is because it gets up and going faster than many other models, and has several transmission settings to guarantee that you can get the job done at your own speed.
The adjustable deck makes sure that you get the results that you want, and the transmission lets you cut through practically any depth of grass (within reason of course). The 20-inch rear/ 15-inch front tires set the mower up a good distance over the ground too, so you don't have to worry about getting stuck or breaking down.
Feature 4: Aggressively priced to make it a better value for customers.
The Poulan Pro PB20VA46 20 HP Riding Mower is priced below $2,000, with many of the features of more expensive models (including higher cost motors) as well as a comfortable seating system that's plushy, with lots of support for your lower lumbar region when you're working hard, or have to sit in a chair for a long period even in the hot sun, and the cutting deck is flat and even to keep your knees and joints flexible.
There's not a lot of mowers on the market today that really give the versatility that other vans do. You don't have to worry about losing out on features either, because this mower doesn't pull any features to save a buck.
Feature 5: Operates with a faster-than-light ready start switch.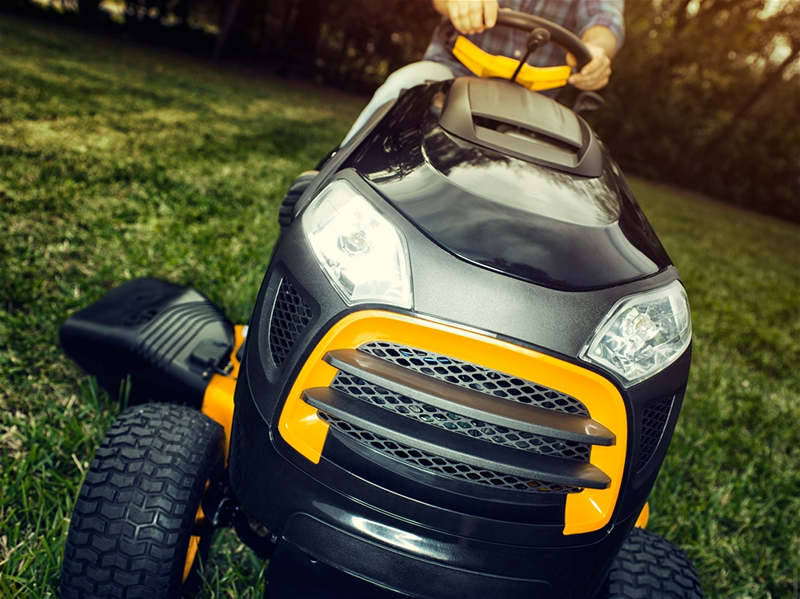 Never worry about pull-cords again with the handy ready-start switch. It starts the first time, every time too- and it's so easy your kid could do it. The interior is designed in a way that makes it easy to maintain, and it really stands the test of time.
The ignition is covered in the warranty, so if it goes faulty, you don't have to worry about it failing over the lifetime of your mower. The pedal control is fast too, and the auto drive transmission ensures that your ride is smooth.
6. Sturdy, reinforced deck and steel body frame that makes it last a long, long time.
Other mowers have flimsy designs that don't hold together over the long haul. The PB20VA46 ensures that your purchase will last a while, and that you won't have to make any mechanical changes other than repainting it in another century.
7. Comfortable to operate, easy to maintain.
This mower is one of the best riding mowers to buy because of how easy it is to operate and how easy it is to maintain. The top opens up to show the battery cables oil/transmission fluid storage compartments to ensure that you can do all the repairs that you need to to keep this awesome piece of machinery in tip-top shape.
The pros and cons of the Poulan Pro PB20VA46 20 HP Riding Mower
Pros
Large and powerful mower with 4 cycles to give you plenty of transmission options.
Easy to maintain and operate over the long run, especially when you consider the extended warranty.
Large fuel tank gives you plenty of mobility for large yards.
The large wheels and capable transmissions make it easy to traverse rough terrain
Very affordable with comfortable seats and powerful drive train.
The shoot easily adapts to allow a bagging/mulching option
Allows for plenty of tools or power options. Doubles as lawn tractor to perform all of your complex operations, including adapters to use a till, rake, fertilizer spreader, or seeder without buying a lot of expensive machinery
46″ reinforced mowing deck is covered by a complete 10 year warranty
Cons
Some people have suggested that their mower's transmission can be faulty in some situations, while the blade continues to spin. If this occurs to your model, just disconnect the battery cables and call Poulan Pro.
This model is matched with a lower priced model (listed below), which offers similar feature, but a lot less power. Considering the fact that the higher powered model is only about $200 more, it provides 4 more inches of coverage as well as a tighter turn radius.
What to Consider when Buying your next riding mower
You should always consider five things when you buy your next riding mower:
The size of the yard that you're mowing
How steep/ rocky the property is
The length/thickness of your turf or acreage
Do you need a yard tractor or just a mower (because zero turn riding mower options can be nice if you don't need extra features)
Does the model come with a good warranty and high-quality product standards?
How it Compares to the Poulan Pro 42″ 960420165 PB185A42 Briggs 18.5 HP Pedal Control Auto Drive Cutting Deck Riding Mower
The Poulan Pro 42″ 960420165 PB185A42 Briggs 18.5 HP is practically a smaller, less capable version of the more robust model, at a good portion of the price. The complaints of this model are that the cup holder is too close to the grass bagger (unless you like your drinks green) and that the pedals are too small for a bigger person.
Both models are of great quality, very quiet and very powerful, but the Poulan Pro PB185A42 has a considerable amount less power than the bigger 46″ version.
Common questions about the Poulan Pro PB20VA46 Riding Mower
Q: how many wheels does the mower deck have? It's kind of hard to tell.
A: The deck has two wheels in front, none at the rear of the deck. The deck "floats" and the wheels are off the ground. Unless you have lowered the deck completely to the ground, the wheels on the deck don't roll on the ground.
Q: how high is the deck off the ground?
A: When the blades aren't engaged, it sets about a half a foot off of the ground.
Q: what is included with the purchase?
A: All models should come with two keys in a sealed packet, parts pamphlets, warranty information, and a small amount of oil. You'll need to install the steering wheel, fill the tank, put in oil, adjust the seats, install the blades, and inflate the tires.
Our overall Poulan Pro PB20VA46 20 HP Riding Mower Review
We really like this mower. It's affordable, fast, and high quality. We give it high marks in our rating categories:

[rwp-review id="0″]