Spending time outdoors is one of the best parts of summer. And to make the most of your outdoor space, you'll need a nice patio set to lounge on, especially when friends pop over. We've done a lot of research to find you the five best outdoor sofa sets. There's definitely a set to suit anyone's outdoor space.
What Are The Different Types Of Outdoor Sofa Sets?
Outdoor sofa sets can come in a variety of materials and seating arrangements. They can be made from metal, wood, plastic or most commonly, PE rattan wicker. The rattan wicker style has become very popular in recent years because it's designed to be both sturdy and durable.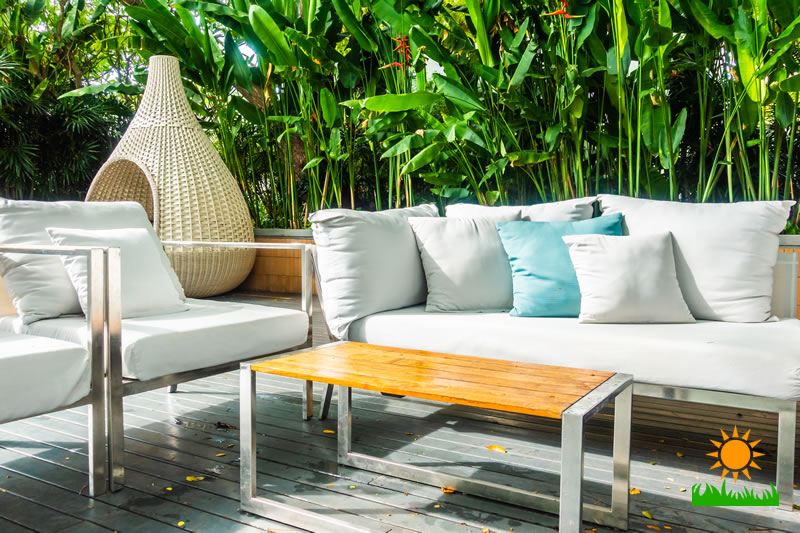 Sofa sets also come in various seating configurations from smaller sets with armchairs and 2-seater sofas to modular designs which can be arranged to suit any type of outdoor space. Most sets also come with a table which usually has a tempered glass top on it.
What Should You Look For When Buying An Outdoor Sofa Set?
When looking for the right outdoor sofa set, here are some things to consider:
Make sure it's made from a weather-resistant material like PE rattan wicker, which is designed to withstand most conditions.
Ensure that the chairs are comfortable and that the set has enough seats for your needs. If you're a family of four, ideally you want six seats for when you have company.
Cushion covers should be removable so that you can easily wash them when they get dirty or bring them in in bad weather.
Outdoor furniture which is lightweight is ideal if you want to store it in the garage over winter.
The Five Best Outdoor Sofa Sets
Let's look at some excellent outdoor sofa sets that are both durable, affordable and stylish:
1. Goplus Outdoor Garden Patio Set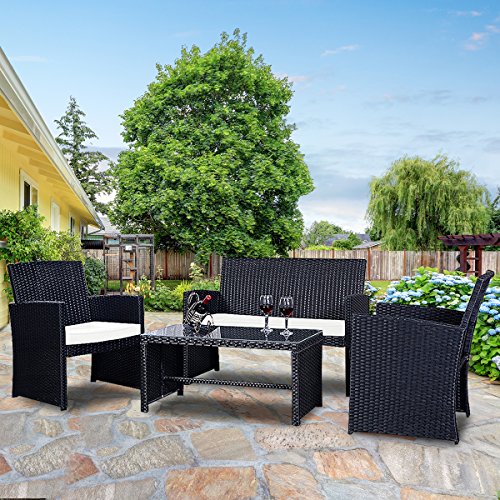 The Goplus outdoor setting is both sturdy and attractive, with wicker that is woven by hand to give it both strength and that warm hand-made look. Complete with two armchairs, one two-seater sofa and a table the set is made of commercial grade PR rattan wicker and a powder coated steel frame, making it weather and UV resistant. You can leave it outside all year long and it will not fade or deteriorate.
The table features a removable tempered glass top which is solid, durable and easy to clean while the sponge padded cushions are zippered and removable for easy washing.
It's ideal for patios, balconies, verandas, terraces and outdoor decks. You can even place it beside the pool so you can enjoy your morning coffee or midday snack in comfort. Pop on a couple of extra cushions and you'll have a very stylish outdoor sofa set. An excellent value for your money when compared to other sofa set sales.
2. Best ChoiceProducts Outdoor Patio Set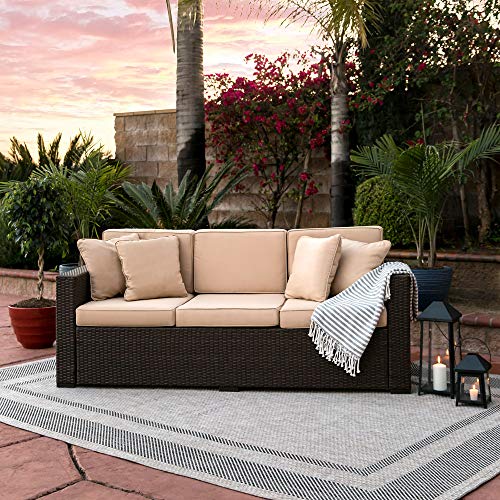 For larger families or those who want to entertain guests, this seven-piece outdoor sofa set is a dream. Sturdy but lightweight, the main selling features are its modular design, allowing you to configure it in several ways and the aluminum frame and high quality, weather-resistant wicker make-up.
The table has a tempered glass top which is tough and easy to keep clean and all the cushions, which are made from spun polyester, come with removable covers so you can easily wash them.
Because of its modular design, this sofa set can fit into a variety of different spaces such as balconies, patios, and decks. For instance, this set would look lovely arranged in an L-shape in a gazebo next to the pool.
3. Merax Patio Rattan Sofa Set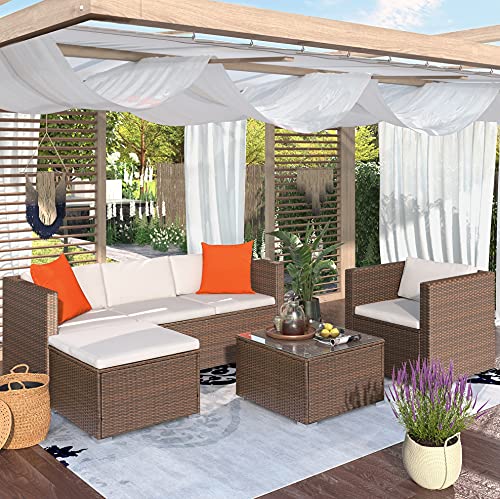 Made from all weather PE rattan wicker, this sofa set fits in perfectly on your patio, porch or outdoor deck. Made using a strong steel frame it won't crack, split, fade, rot or deteriorate, even when left out in bad weather.
Made up of two armchairs, a 2-seater sofa, and a table, it comes complete with 3 cushions for extra comfort; in addition, the cushion covers are removable so you can wash them.
If you live in an apartment and have a patio, balcony or small deck, then this set would be ideal because it's not too big or bulky. It's a great set for the price and with some extra cushions, it would look great in any home.
4.Best Choice Products Outdoor Patio Set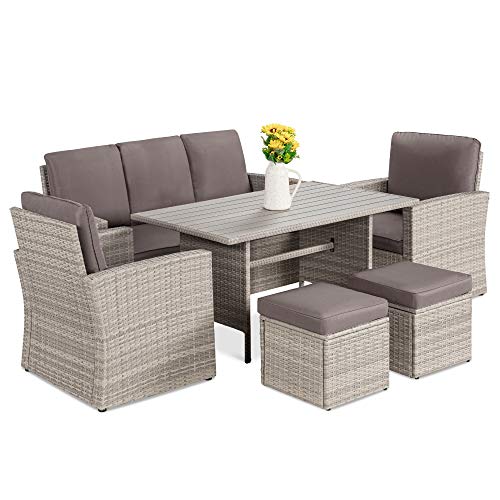 Designed to last for years to come this five piece set features 2 armchairs, a 2-seater sofa and a table made from a mix of sturdy steel and high-quality wicker construction; the tabletop is made of tempered glass.
One of the sturdier sets on the list, each seat can support up to 300 pounds and the entire set is weather-resistant, so it can stay out all year round.  However, the cushions, which have removable covers, should be brought indoors to keep them looking fresh and new.
This set is good value for money and would look great out on your patio or even beside the pool. It looks quite stylish and is comfortable to sit on while you have your morning coffee or as you entertain friends for brunch.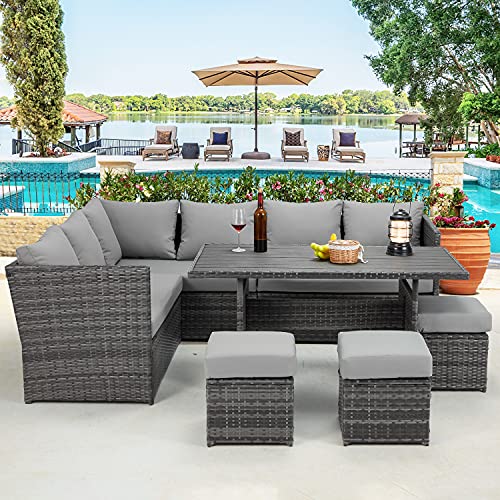 Stylish and comfortable, this sectional patio set can be arranged any way you like, so it can work in multiple outdoor spaces. And while it's a seven piece set, if you need more seats you have the option to purchase it as a nine, ten, eleven or twelve piece set, giving you even more versatility.
The frame on this set is built from rust-resistant steel and the wicker is weather-resistant and durable. And the cushions have zippered, removable covers so you can throw them in the washing machine when they get a little soiled.
Because of the modular design, this set will suit most outdoor areas including verandas, patios and decks. The seats are so nice and comfortable that you may end up spending all day outside relaxing on this set. Throw on some colorful cushions and invite your friends over for a barbecue. They'll love you for it!
Our collection of best outdoor sofa sets are all weather-resistant and durable so you can leave them outside and they will last for many years to come. There are different seating styles to suit different outdoor spaces. All the sets come with cushions with removable covers so that they can be easily washed.
So whether you have a small balcony or veranda, a medium-sized patio or outdoor deck or a large pool area, there's sure to be a set that's just right for your needs.