Are you a plant-lover, but have limited space in your yard and home? This can be a tragic situation to be in.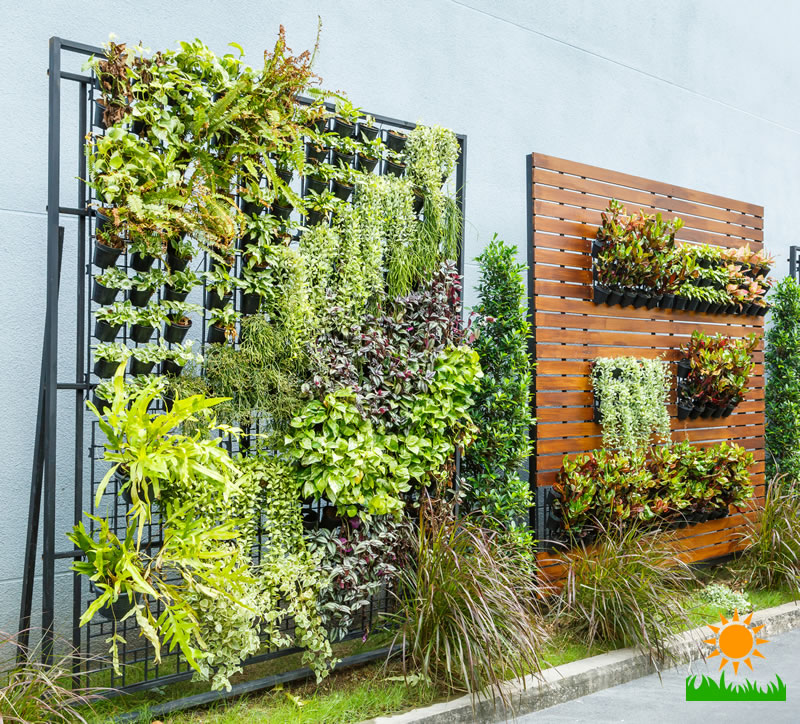 There is good news, though: you can fit plenty of plants just about anywhere, if you get creative! Following are 23 DIY vertical garden ideas, to get you started with enlivening your yard and home.
See Our Favorite Vertical Garden Designs and Ideas
1. Make A Garden Shelf In An Afternoon

Build Something
A shelf is an excellent way to maximize space in the home. Did you know that shelves are not only great for storing books, but for holding plants as well? You can make this crafty, space-efficient garden shelf in just an afternoon!
2. Super-Cute and Space-Efficient Hanging Planter

Paper And Stitch
This vertical garden idea is nice and affordable. All you need are some basic, few-buck planters, and some rope, some paint, and some washi tape. The result? A vertical garden that is cute, stylish, and colorful!
3. A Decorative Living Succulent Wall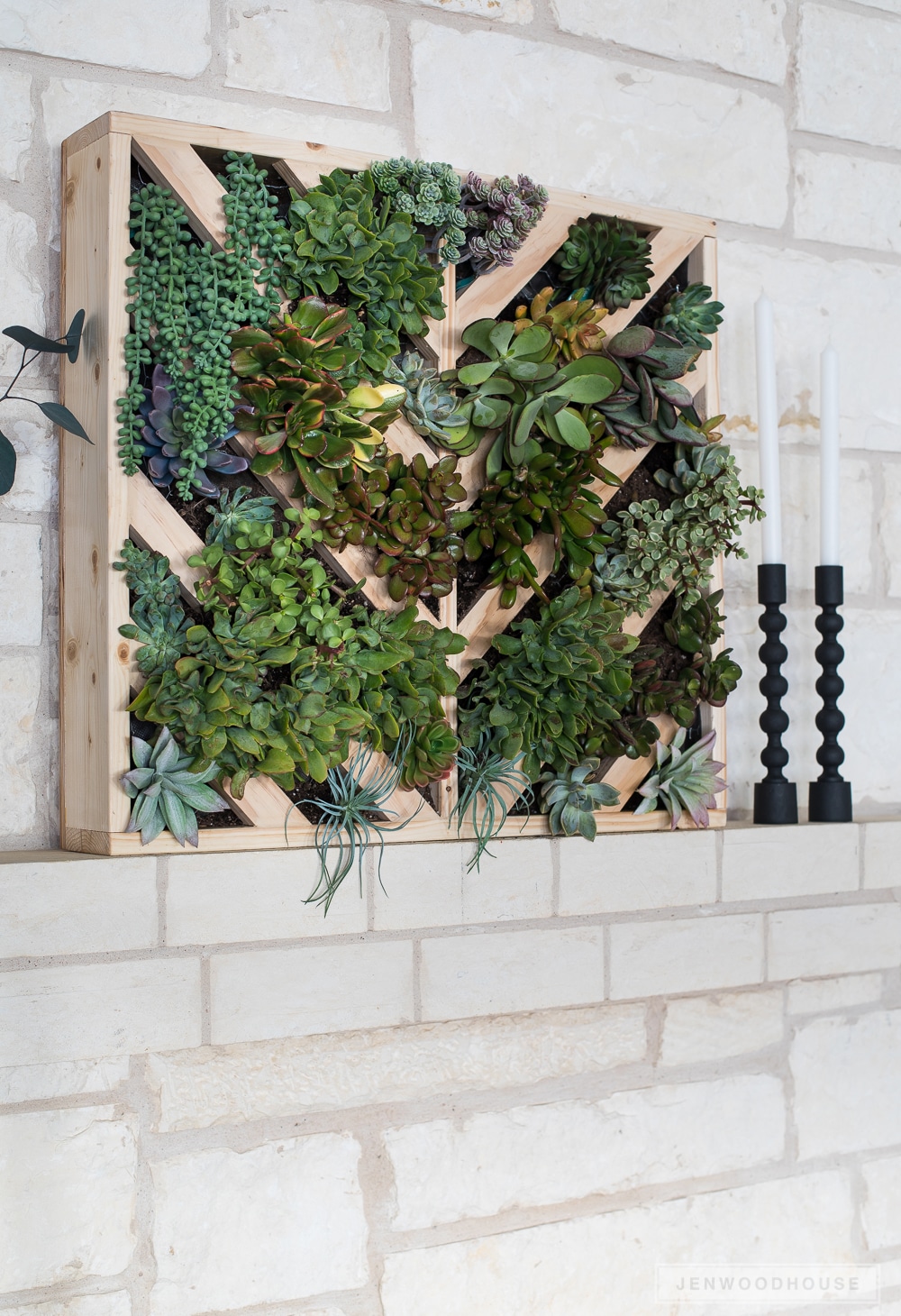 Jen Woodhouse
This DIY vertical garden idea is just gorgeous. Succulents are beautiful plants, and very popular in home decor. They require little care and can adapt to most environments well. For a beautiful, living display, you can even grow the unique little plants on your wall.
4. A Modern Herb Garden In Your Own Kitchen

Inspired By Charm
Herbs in the kitchen? Convenient! You can have fresh basil and rosemary literally at your fingertips when you cook. You can also make your herbs into decor that is as lovely as it is practical. Like this modern vertical garden. Take a look!
5. Simple Tin Can Fence Garden DIY

Ciera Design
Simply by painting some tin cans, you can make planters that are super cute. Drill them into the fence, and you have fun and crafty vertical garden DIY.
6. A Twist On The Classic Clay Planter

The Horticult
This one is perfect for apartment-dwellers. There is open space everywhere if you know how to look! Hang clay planters off your balcony, for a pleasant botanical view.
7. Build Your Own Vertical Garden Ladder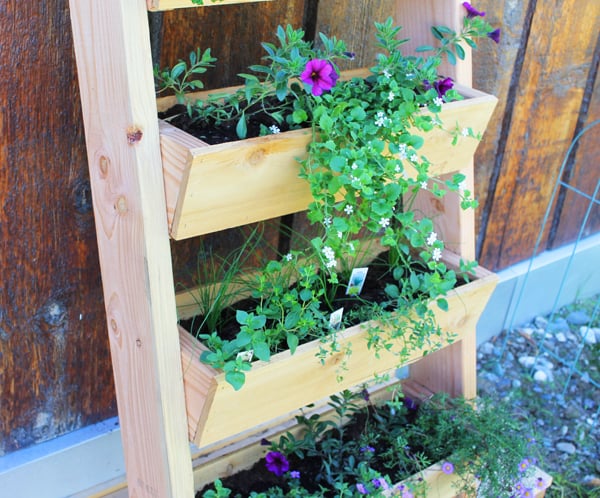 Ana White
One of the best places for a vertical garden is a ladder… especially one that you have made yourself. This way, you can include boxes to hold the soil. Follow this easy DIY to make your own vertical garden ladder at home!
8. Make A Gorgeous Plant Wall Out of Wood and Leather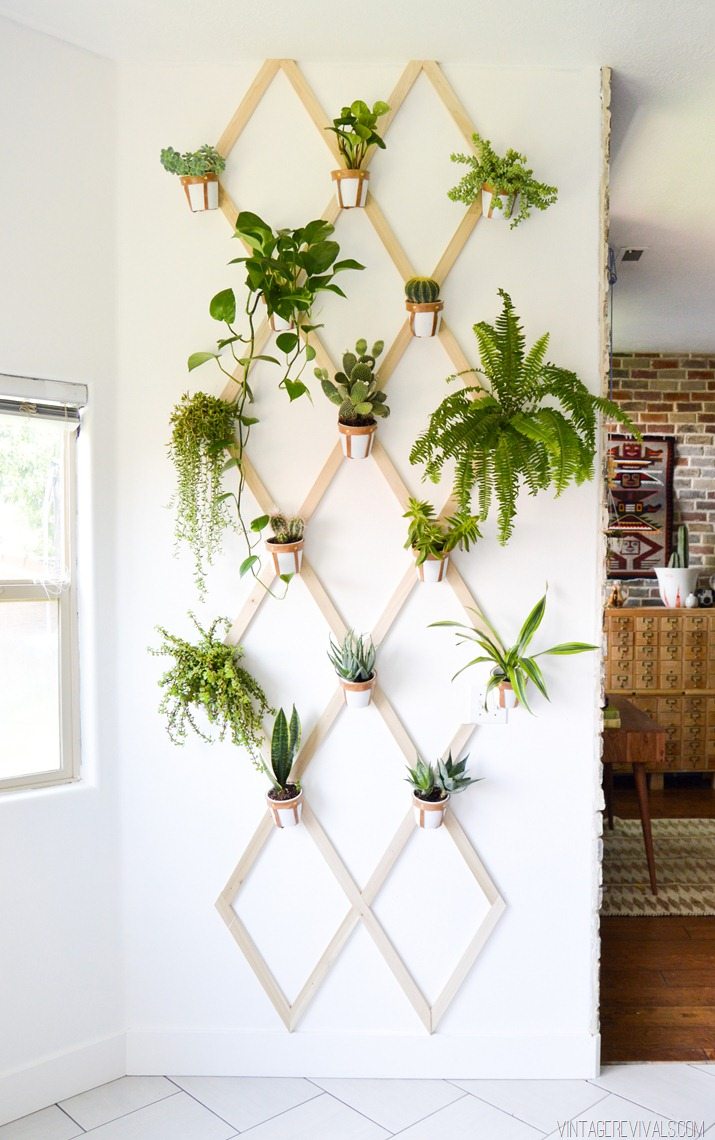 Vintage Revivals
This is a stunning way to integrate plants into your home. Craft your very own wood and leather trellis plant wall. Include vines, ferns, succulents… whatever indoor-loving plants you like! There is plenty of room on an open wall.
9. Cat-Proof Planter

Source
Do you have naughty cats that dig in the garden? Then this may be the vertical garden idea for you…. Confound your kitty, and hang your plants safely out of reach with a shoe organizer.
10. Terracotta Pot Plant Wall DIY

Home Made Lovely
Terracotta pots are affordable, useful decor. They are perfect for holding plants, and you can even save space by hanging them from a wall. Make a wall out of chicken wire, and create gardening space out of nowhere!
11. Clever Chicken Wire Planter

Slow And Tellu
If you do lots of yard work or farming, then you probably know that there are all kinds of things that you can do with chicken wire. This is a pliable and durable material. You can even turn some chicken wire into a space-efficient and really beautiful hanging planter!
12. Oh-So-Easy Trellis Planter

Source
This one is so simple, yet so clever! All that you need is a trellis, as well as some pots and some hooks to hang them from the trellis with. This will give your home a truly classy, and rather vintage appeal.
13. A Fun Crooked Flower Pot Tower

Million Moments
Stack some pots crookedly, to save space and to create a super cute vertical garden display.
14. Turn A Drab Old Pallet Into A Lovely Vertical Garden

Design Sponge
Wood pallets… perhaps you have seen one used for a garden before. But have you seen a vertical pallet planter? This will transform a drab old pellet into a lovely display just bursting with flora! Include eye-catchers like succulents, flowers, and more.
15. DIY Vertical Garden Planter For Your Wall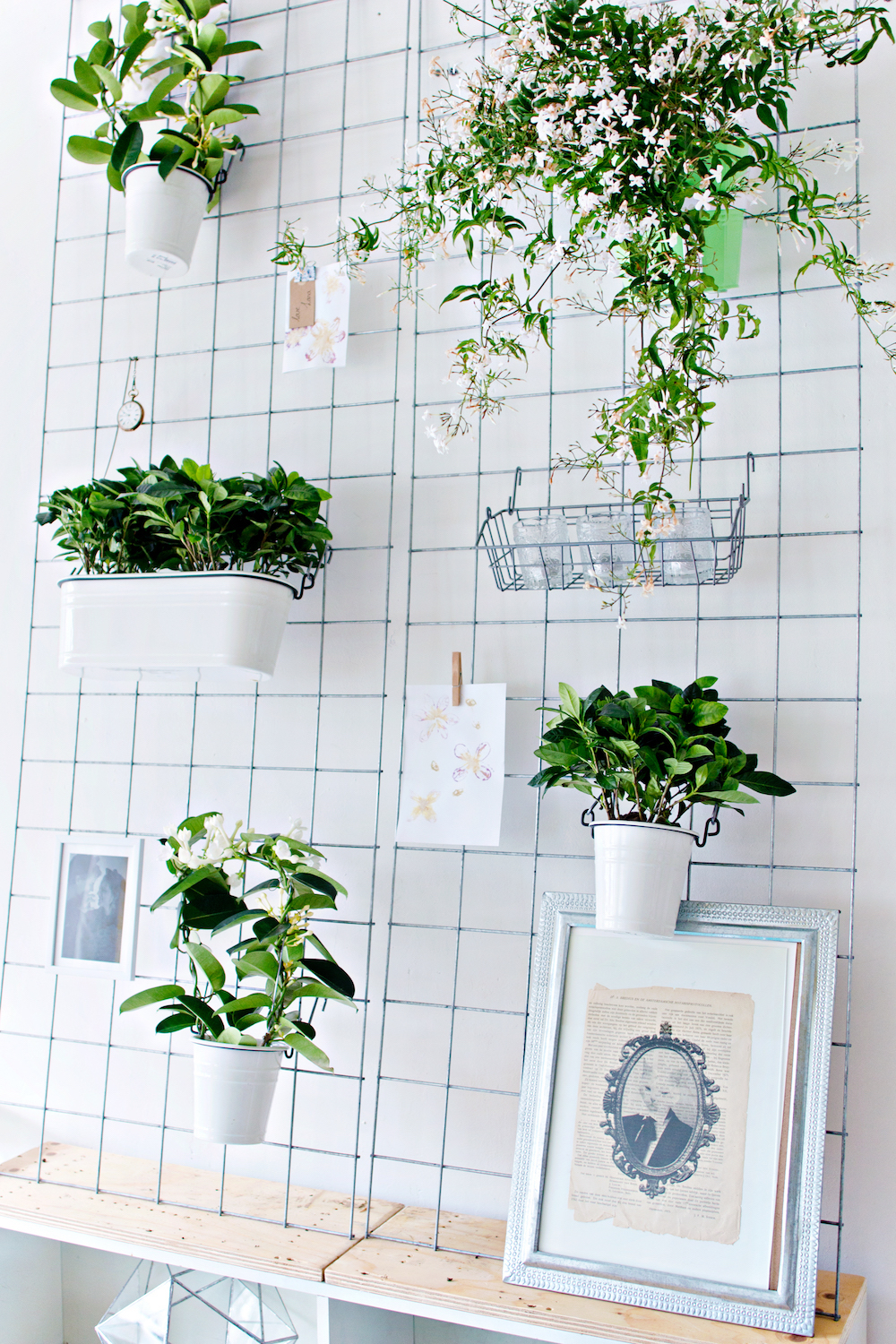 Lana Red Studio
With this vertical garden idea, you can actually create gardening space in your home out of thin air. See how!
16. Hang Some Beautiful Terrariums In Your Home

Afloral
Terrariums are terribly cute, allowing you to grow your own little plant world in a glass display container. They are also so easy to make, and you can hang them just about anywhere! Learn how.
17. Modern Vertical Garden Box DIY

ManMade
Make a vertical garden with a handy garden box! You can stack these for a garden that is space-efficient, aesthetically appealing, and practical.
18. Creative And Eco-Friendly Recycled Bottle Planter

Source
We all know that there are almost too many bottles everywhere. When it comes to eco-friendly crafts, these can be quite useful. One of these is a recycled bottle planter! Plants your garden in bottles, for an eco-frendly and chic look.
19. Hanging Basket Vertical Garden DIY

A Beautiful Mess
This is a twist on the classic garden basket, turning it into a three-tier wonder. This will allow you to hang three or more plants in a spot that could normally hold just one! All you need are some sturdy baskets and some polyester rope for this hanging basket vertical garden DIY.
20. A Magnificent Wooden Vertical Garden Tower

Fine Gardening
This is a stunning wooden vertical garden tower. As you can see, it maximizes the space in the gardening area, and makes for an impressive decoration as well!
21. An Ingenius Vertical Garden Pipe Planter

A garden made with a pipe is without a doubt one of the top vertical garden ideas out there. These take up almost no space at all! At the same time, you can fit so many plants in them. Win-win!
22. A Simple and Unique Ladder Trellis DIY

Home Is Where The Boat Is
If you are looking for a DIY vertical garden idea that is unique, yet simple, look no further! All that you need for this lovely homemade trellis is a ladder and your favorite vine.
23. A Picturesque Stackable Herb Tower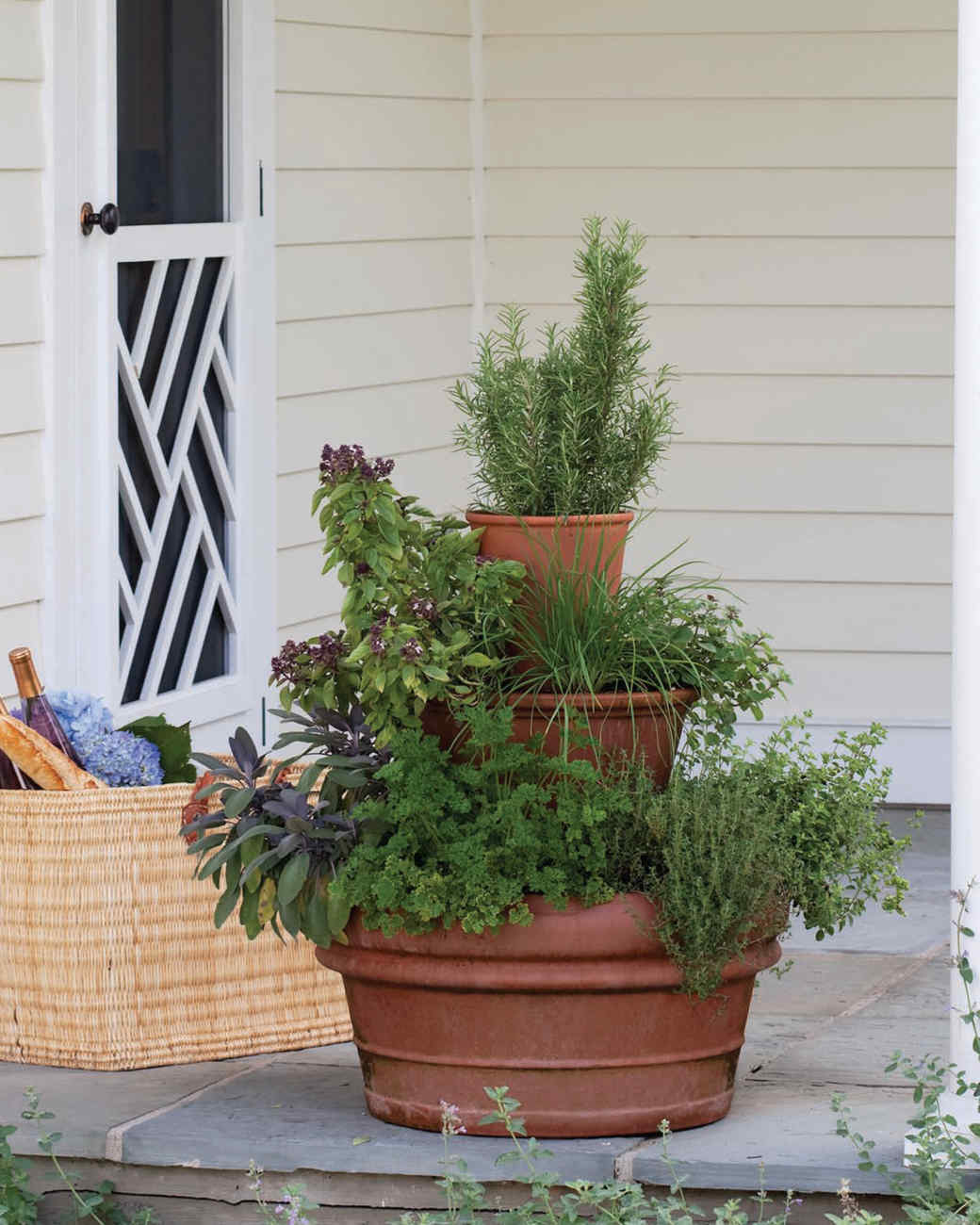 Martha Stewart
This one comes from Martha Stewart herself: a stackable herb tower. Place three pots in the space of one!
So, what do you think? Does one (or several) of these catch your eye? Many of these DIY vertical garden ideas are so simple, you can get started right away, and have some fun. Turn your environment into a miniature green paradise, no matter the size of your home!