When it comes to DIY projects for your house, don't assume that that means interior work only. You have a huge backyard you can play with! As children, we were always told to go and play outside. The rules may have changed slightly, but the idea is still the same.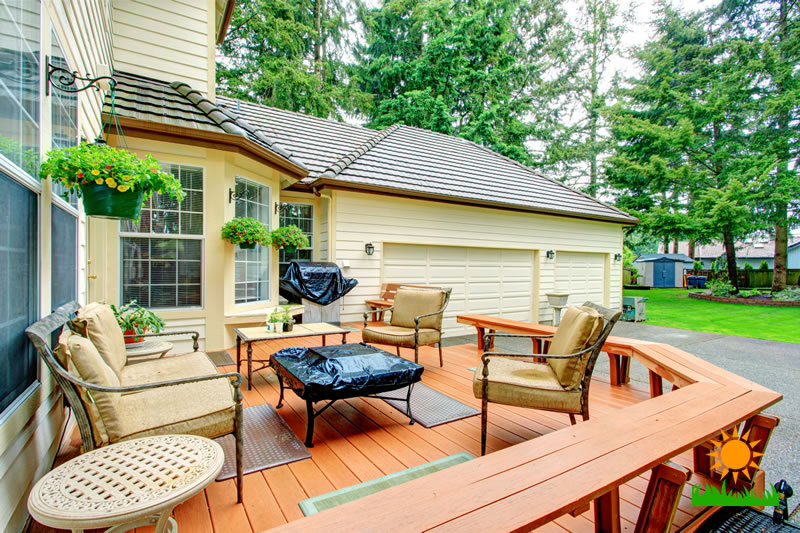 Get out there and have some fun! In case you can't think of anything, we have put together a great list of some impressive DIY backyard ideas.
Project Ideas to Enlight your Backyard
1. Build Your Own Patio- Not as Hard as You Think
When you hear the word patio, you think of some fancy, concrete laid, professionally done outdoor area. Well, throw those preconceived notions away because your very own epic patio is just around the corner!
As you can see from the photo, the objects that make it so special (lighting, lawn chairs, posts) call all be bought relatively cheap.
2. Outdoor Seating- Think Outside the Box

Pinterest
It's safe to say that the nation has fallen in love with wooden palettes, and for good reason. They can be used for just about anything! If traditional lawn chairs aren't your thing, consider this couch idea. This way, you can stay comfy without getting your clean couches dirty.
3. AC Units- Eyesore of the Outdoors

Pinterest
We all have one, and unfortunately, they're essential to comfortable inside living. It's unfortunate that they're so ugly, but now you can do something about it! You can easily build your own A/C unit cover. This is a sample of a simple yet classy design. Feel free to get creative!
4. Glow in the Dark Walkway-……. We're Listening

Pinterest
You read correctly, now you can make your walkway glow in the dark. Say goodbye to those annoying sidewalk lights that are always getting knocked over and hello to a much cooler alternative. This special paint is solar powered, and after it's done soaking in the sun, it really will glow in the dark!
5. Pergolas- Always a Good Idea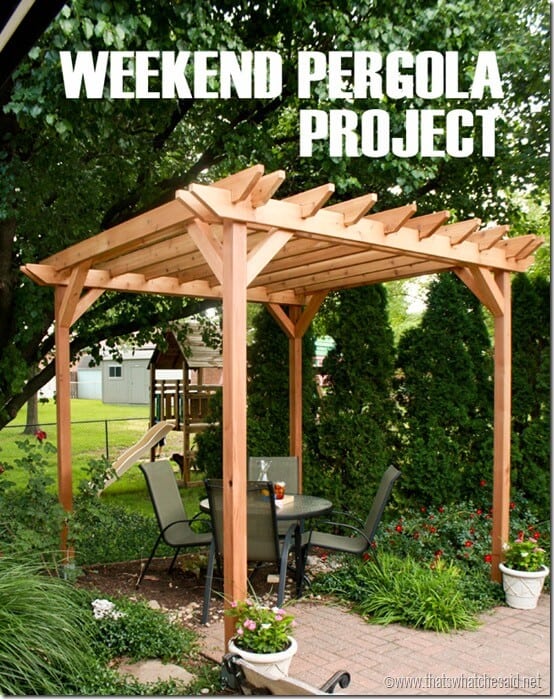 That's What Che Said
If you've been dreaming of having a pergola, then dream no more! You can build one yourself, in just a weekend! Set aside some, bribe a few friends with alcohol, and start building. This always adds that little extra pleasing aesthetics.
6. Hammocks-Relaxation Contraptions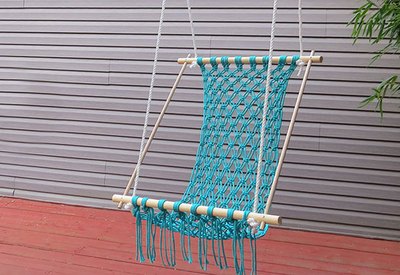 Hunker
I don't think there is anyone alive that does not enjoy a relaxing hammock swing. Did you know you can weave your own? Make your own macrame hammock chair (or five) for those days when you just want to relax outside.
7. Firepits-Must Haves for any Yard

Source
I think it's safe to say that everyone needs a fire pit in their lives; otherwise, how would you roast the s'mores? If you love s'mores as much as I do, then don't hesitate to build your own fire pit. It's easy! With a little bit of elbow grease, you can make yours look just as beautiful as this.
8. Built-in Icebox- Best Table Ever
If your house is where the party is, then this table is not optional. Make grabbing a beer more convenient than ever by building a table with built-in iceboxes. This is especially useful since benches are always a struggle and probably claim the most amount of trip-ups than any other piece of furniture.
9. Stone Walkway- Easier Than Ever
Source
Walkways are a great way to add some nice aesthetic detail to any yard, front or back. Don't let the large project intimidate you, all you need is some concrete and a stencil.
Instead of trying to figure out how all the stones can fit together, let this little device do it for you!
10. Garden Ponds- Not as Hard as You Think

OHMY Creative
Have you always wanted to have a water feature, but couldn't afford the installation? Well, now you can install your own! I think this way is better,  as you can choose the size and style you prefer. Find a free weekend and build your own pond!
11. Turn Tires into Seats- Some Rope Required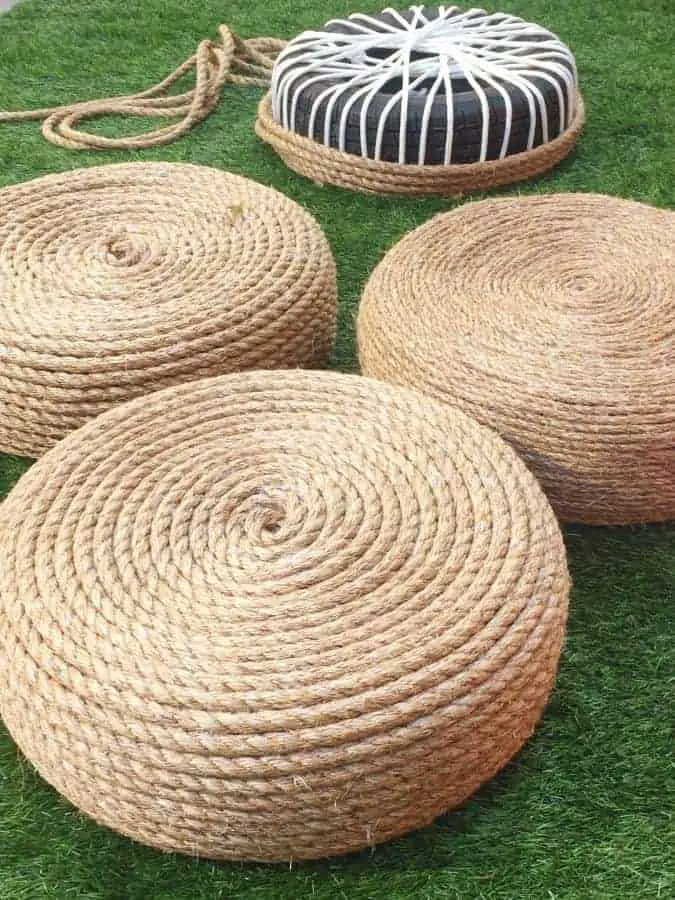 1001 Gardens
If you happen to have any old tires lying around, this is the perfect solution. Make your own ottoman/ seat/ footrest/ table out of tires and rope. That's all you need! All it takes is four simple steps, some hot glue, and you're done.
12. Fairy Gardens- A Little Overdone but Still Cute
Alannageorge
If your children believe in Santa Claus, why not fairies? This trend has taken off quickly, but are you surprised? Look how adorable this is. Not only is it a cute detail in your yard, but also a fun project that you can build with your children. To make it even more magical, you can drain the water or move the tea set around to make it seem like fairies visited while your child slept.
13. DIY Hose Holder- I'll Explain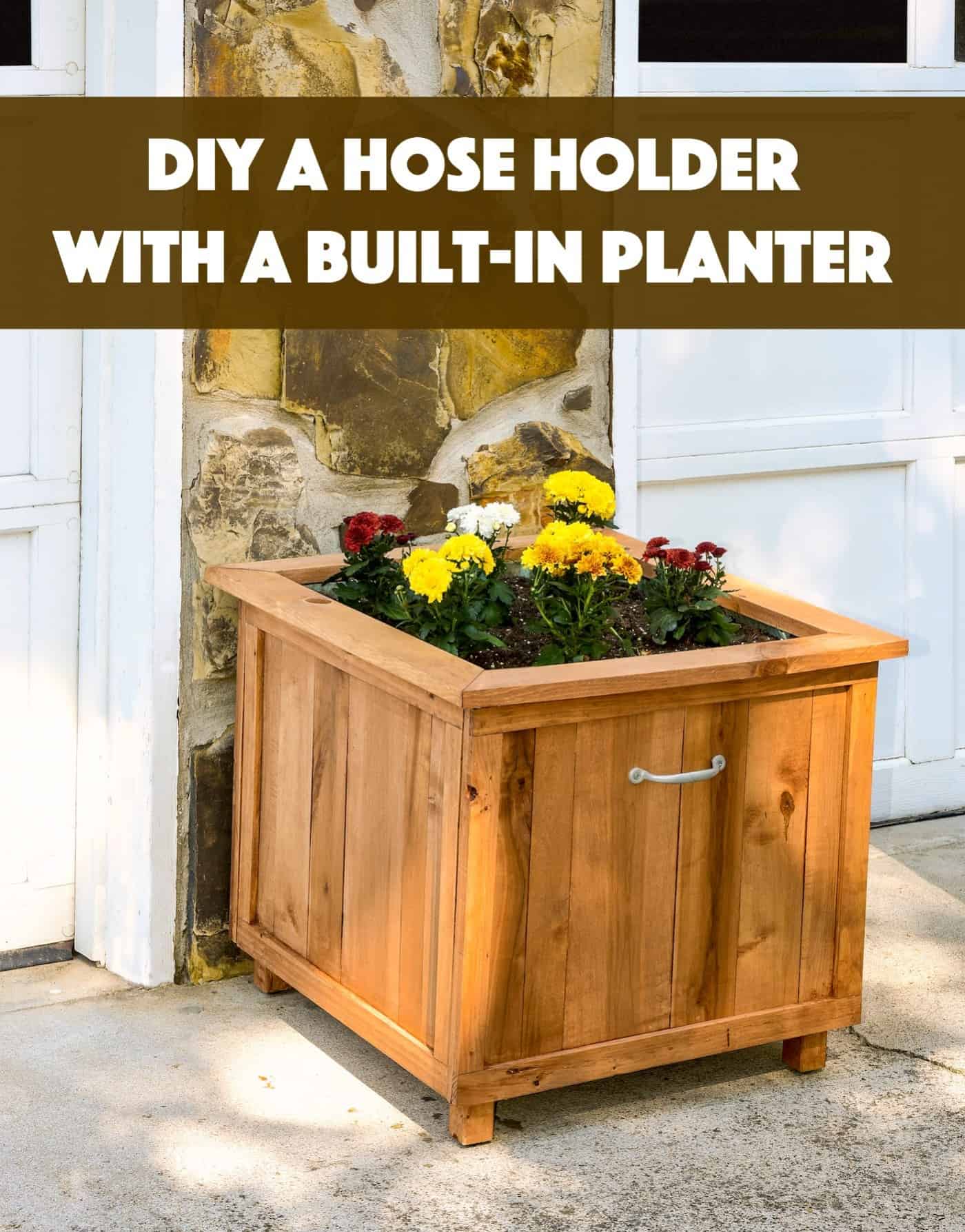 Diy Candy
There really is no pretty way to store your hose, am I right? For the most part, we just coil it up as prettily as possible. This idea is a great alternative. You can make a two in one hose holder and garden planter. No one will know the bottom is hollow until you open it up! This is a great idea for the avid gardener.
14. Moss Graffiti-For the Artist in You
That's What Che Said
This might be one of the best ideas I've ever seen when it comes to outdoor decoration. You'll be sure to blow away your guests with this unique and quaint project. If you have a boring wall you'd like to decorate, or any blemishes you'd like to cover, the answer is moss. You can write words, or create whole scenes with a few ingredients and minimal aftercare.
15. Treeless Treehouse-So Then is it Really a Treehouse?

Made With Happy
ou can call it whatever you want, but either way, your kids will love to have their own little place to play in your yard. If you don't have a tree, or one big enough to support a house, you can still build a pseudo treehouse for your children to run up and play in. Or if you have a stump that needs covering, this is the perfect answer.
16. DIY Planters- Never Throw Away Old Wood
Stuff Seth Makes
If you have a bunch of old pieces of wood lying around, don't throw it away! Instead, you can make it into some really cute and creative planter boxes. The design shown is one way to do it, but don't feel like you need to limit yourself, mix and match colors and stains however you please into whatever design you want!
17. Light Poles- Outdoor Lighting Hack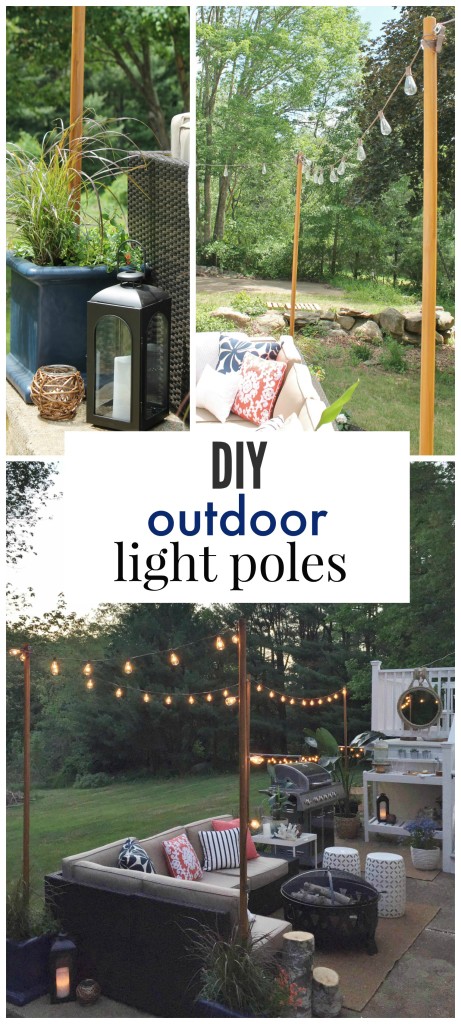 City Farmhouse
The right amount of outdoor lighting is crucial when it comes to those relaxing summer nights in the backyard. Say goodbye to glaring lanterns and candles that can be knocked over. By installing a few poles around your patio or seating area, you create the possibility of stringing up some really nice lights to generate the perfect atmosphere.
18. DIY Storage Box- You Know You Need One
Handy Man Daughter
Outdoor storage boxes are a must if you have any sort of fabric that needs to be protected from the elements. Sure you can keep them inside, but it's such a hassle to drag them out the door every time you want to chill outside.
With this box, you can keep the lawn chair seats, pillows, or blankets for those nippy nights.
19. Rope Swing-Nostalgia at its Best

The Merrythought
If you are the proud owner of a large strong tree, then you need a rope swing. Not only are they adorable in themselves, but also fun for people to swing in. And I mean people, not just kids! As an adult, I still fully enjoy swings, and I'm sure you do too. Make some memories with this vintage idea.
20. Stone Counters-For the Grill Master in You

Pinterest
Do you like to grill? Then you need to try out this DIY counter. If you're as good as you think you are, you need plenty of space for prep and serving.
With this idea in mind, you can build your own with your own specific measurements. What makes this fun is that you can choose whatever color palette and material you want!
I hope you have enjoyed this list of great backyard DIY ideas! And that you found them as useful as I did. Feel free to incorporate any and all of these concepts into your own yards. I know I will be!
Please let us know what you think, and tell us if you have tried them yourself DIY.